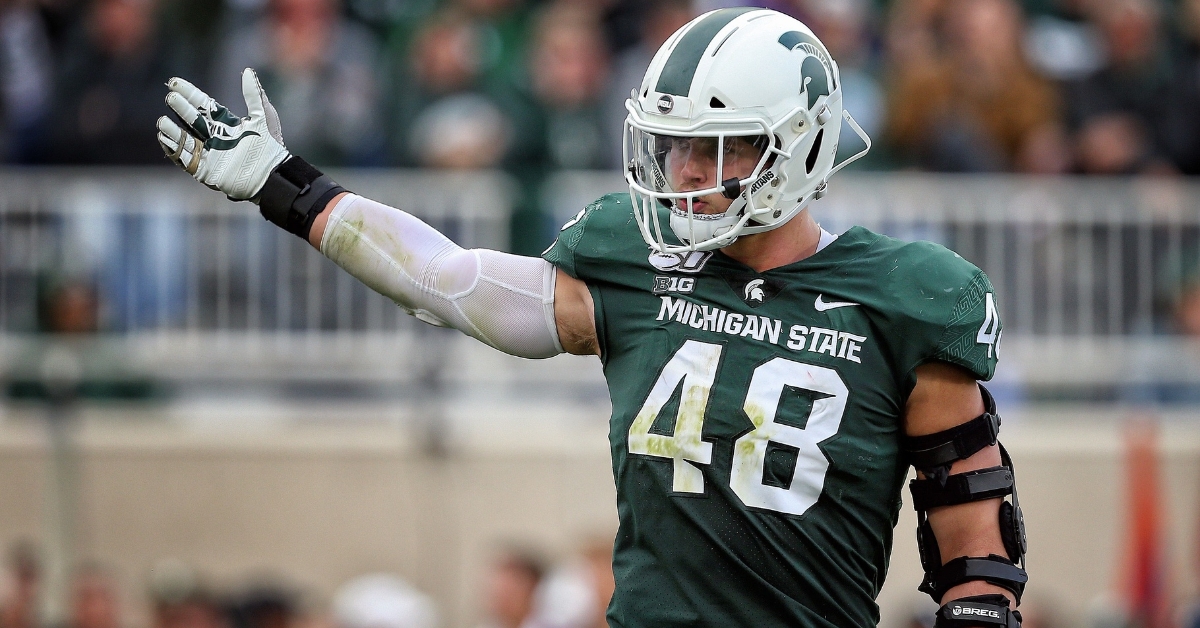 | | |
| --- | --- |
| Bears have eyes on two defensive standouts in NFL draft | |
---
I know all this draft talk and projection is all smoke and mirrors at this point, but it is still worth taking a look and diving into. That especially comes full surface when teams elect to meet with a player during the senior bowl workouts, both with general managers and coaches alike.
That is precisely what happened with the Bears during the senior bowl as they spent significant time getting to know Kenny Willekes and Kyle Dugger as they could be viewed as second-round targets for the Bears in the upcoming April draft. A lot can happen from now until then, but let's look at why the Bears have invested some advanced time in these two.
With the NFL scouting combine this weekend in Indianapolis, it is an excellent time to focus on the Bears and other teams to see if they continue to talk to people, they have in the past. One of those players is Michigan State defensive product Kenny Willekes.
Willekes was a two-time first-team Big Ten award winner and took home the defensive lineman of the year award in 2018 after racking up 8.5 sacks that season. The following year Willekes won the Bulsowrth Trophy, which is awarded to the best college player to have started his career as a walk-on, so hard work is undoubtedly not an issue with Willekes.
Between his on-field excellence, he displayed at Michigan State and his ability to grind his way to the top after coming to the program as a walk-on certainly makes him an interesting prospect target. It is no secret that the bears will be looking to add to both the offensive and defensive sides of the ball this season so Willekes may be a fit.
He may not be the best player in terms of position, but his work ethic is like none other. Should the Bears indeed want him as their pick, he would most likely be a project that will not earn starting reps right away. That would be nothing new for him as Willekes would have no trouble working to make a spot.
The second of possible defensive standouts the Bears may be looking at for a second-round pick is Dugger. Unlike Willekes, Dugger was not a walk-on, but he also was not a D1 player. Instead, Dugger made his mark for Division 2 Lenoir-Rhyne University as a prolific safety. When meeting with Dugger during the senior bowl, the two sides discussed what it would be like to play on the Bears defense.
Uninfluenced by who he was talking too, Dugger responded by saying playing with the stars the Bears have on defense would be an absolute honor. He also felt that being able to play alongside those types of players and practicing with them every day would help him elevate his game to an all-new level. Dugger's game is highly regarded at this stage of the draft process, meaning his name will draw a whole lot more interest from this point forward.
There isn't a ton of film or information out there regarding this safety, but this prospect is quite the find. He occupies a position of need for the Bears now that Ha-Ha Clinton-Dix is hitting the open market, and playing next to Eddie Jackson could turn him into a legitimate starting safety for years to come in this league.
Not only do the Bears appear to be targeting each of these men, but they could be targeting them in the second round as pieces to add depth to their defensive side. The positions they play are certainly positions of need for the Bears, and with the team unsure of Leonard Floyd's future as an edge rusher, then indeed drafting for Willekes makes a ton of sense.
On the flip side, the Bears will need to fill the safety position, and to me, that is the most critical part of the defense that needs to be solidified. Not only is Clinton-Dix set to become a free agent, but so is Devon Bush, DeAndre Houston-Carson, and Sherrick McManis are also expected to join him, making the safety a considerable need this offseason.
After inking Jackson to a long-term deal this offseason, the Bears would be wise to draft someone who could grow alongside him in the secondary. Finding a complimentary piece to Jackson at the backside of the defense could keep the secondary as a unit of strength for the Bears' foreseeable future.