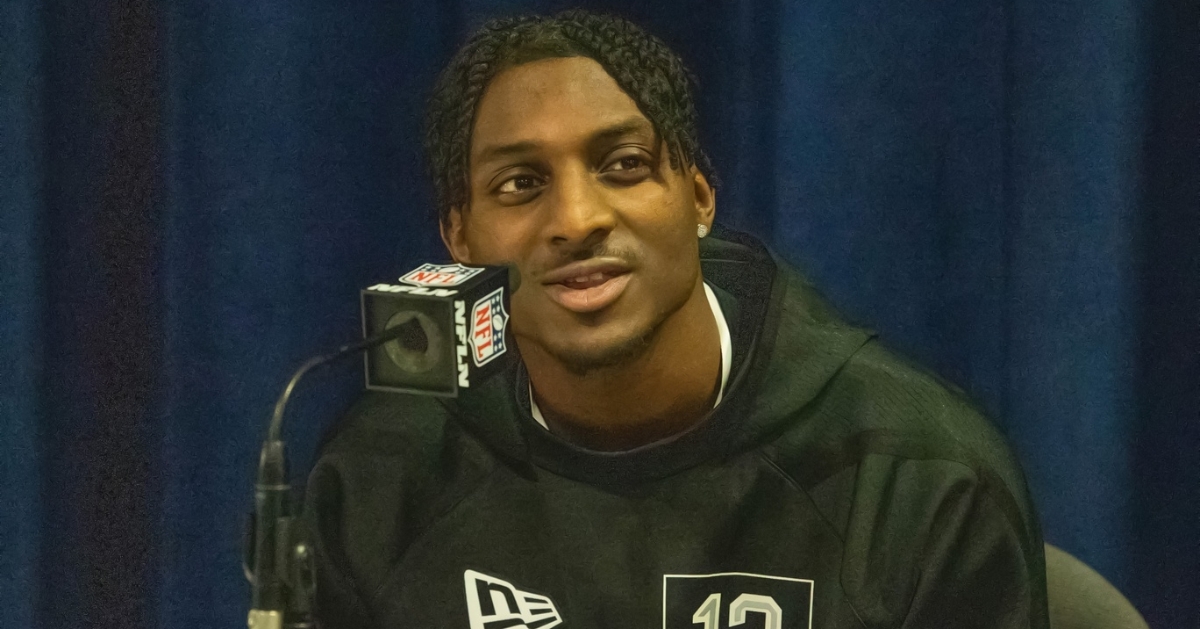 | | |
| --- | --- |
| Bears have second meeting with speedy SMU WR | |
---
| | | |
| --- | --- | --- |
| Friday, April 15, 2022, 3:45 PM | | |
With the Draft officially two weeks away from yesterday, it is time to get serious about what this team will do. Considering they don't have a first pick, the Bears will be on the clock two weeks from today and will look to capitalize on their No. 39 and 48 picks.
Most mock drafts have the Bears going offensive line in this range with the defense starting to get some love in the secondary. I still expect them to target a WR with one of these two picks as Justin Fields needs another target. Given what fans saw from Darnell Mooney last season, he will be the No. 1 option this year and will look to break out even more in year three.
If the Bears are looking for a WR with their first selection, they are in luck as this draft is loaded with WR talent. Although many of the top players will be gone around this time, there are plenty of players worth drafting who could end up being steals. One of those players is SMU WR Danny Gray, who just had his second meeting with the Bears brass.
Not one of the big names in this year's class, a lot of scouts feel this guy could be this year's version of Darnell Mooney with a better overall outlook. The 6-2 199-pound WR has good size for an NFL WR, but offers 4.33 speed which is elite. He was one of the fastest players at the combine this year, and someone, the Bears, would love to get their hands on him to add more speed to their roster.
It is no secret that teams have virtual and in-person meetings with players around this time, but this is the second time the Bears met with him. That is not only noteworthy, but it leads me to believe they love what they see in him and would be willing to make him one of their early-round picks.
Despite not coming from a Power five school that sees amazing competition week in and week out, SMU is no slouch. They Play in the American Conference and still have stiff competition throughout the season. This year, Gray used that to his advantage as he is coming off a strong season with the Mustangs finishing with 49 receptions for 803 yards and eight scores.
That comes out to 16.4 yards per catch, ranking in the top five in Division one. In other words, Gray may not be a number one in terms of production, but he is a big play waiting to pop off at any moment. His 4.33 speed is also something to note, as that would provide the Bears with the speed they were lacking on the outside this season.
Projected as a day three option similar to Mooney, I wouldn't be shocked to see him go in round three, given the overall potential he has. No one expected Mooney to turn into the player he is, but the Bears certainly will take that steal. Now the question is, would lightning strike twice when it comes to Gray?
Given his size, skillset, and blazing speed in the open field, this is a player the Bears scouts should be all over in terms of scouting. Granted, this is a new regime running the show, but there are still some holdovers from Ryan Pace that played a part in drafting Mooney. If those same guys are looking at Gray, it might show they do know what talent looks like from every angle.
While Gray is not listed as a top 20 receiver in terms of draft rankings, he is the perfect day three player who could rise to the challenge. We have seen it with Mooney. Stephon Diggs was a fifth-rounder and has now emerged into one of the game's best, so that is something to look at too. Just because you are drafted in the fifth round doesn't make you bad, as other teams don't value what you bring to the table.