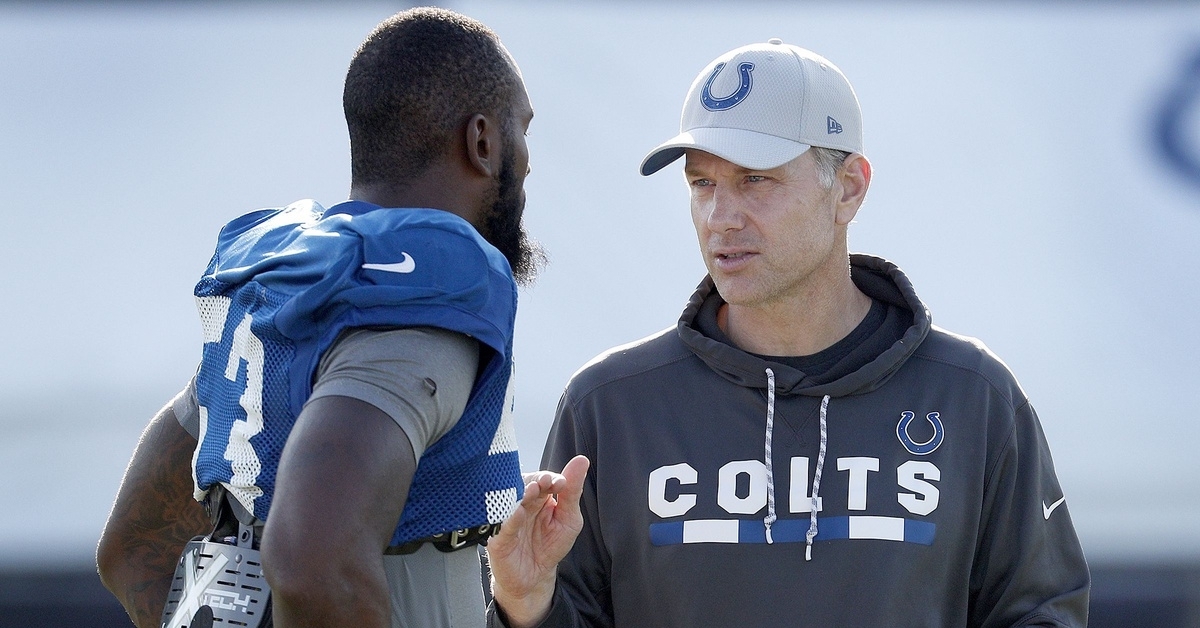 | | |
| --- | --- |
| Bears Head Coach Candidate: Matt Eberflus | |
---
| | | |
| --- | --- | --- |
| Saturday, January 22, 2022, 3:39 PM | | |
Nearly two weeks into the Bears offseason, Chicago is still searching for their next head coach and GM. It hasn't come without trying, as the Bears have arguably been the most active when it comes to getting people in for interviews. None of those interviews have translated in a hire to this point, but it does seem like Chicago has a guy in mind, and that hire could be coming in the coming days because of it.
Typically when a team narrows down their final candidates, you get a sense of who they like based on how quickly they get a second interview or make a move. Not only do the Bears have the first finalist for the Head Coaching position, but they are being brought in for a second interview as Matt Eberflus appears to be the favorite right now.
A 20 year veteran to the coaching ranks, Eberflus has been a fast-rising candidate for the past several seasons and was in on a few head coaching jobs last season. Eberflus started at the collegiate level working as the University of Missouri Defensive coordinator from 2001-08. Gary Pinkel was the head coach of the Tigers back then and is the winningest coach in that Programs history. If you are going to start in college, why not begin under one of the more underrated coaches.
Following that run, it was time to take his talents to the NFL, where several teams wanted to see what he could do. In 2009, Eberflus joined the Cleveland Browns staff and was the linebacker coach for the next two seasons. That was one of the positives to take away from the Browns those two years as their linebacker group often graded as a top 5 unit those two seasons.
The next stop on his NFL journey was the Dallas Cowboys, where he made a lateral move to become their linebacker coach from 2011-17. Eberflus also took on a passing game coordinator role in 2016, so at one point, he held two different positions within the organization. That is not easy to do, but credit Eberflus because he handled that with relative ease. During his final two seasons in Dallas, teams started to take notice of him, which landed him in his most recent job as the Indianapolis Colts defensive coordinator.
In his four years since coming over to the Colts, Eberflus is gaining plenty of popularity among NFL organizations for his job with that team. During his four seasons, the Colts have made the playoffs twice and came one game away from making it again this season. What you notice about the Colts season this year is their defensive performance, where they were ninth in the NFL in yards allowed, but most importantly, fifth in points allowed. Eberflus is the main component of how much that defense improved, and now teams are looking at him as a head man to see if he can improve the overall organization.
Not only did Eberflus hear his name pop up instantly with the Chicago Bears, but his organizational friend and partner Ed Dodds also had his name brought up, and both were given interviews on the same day. Less than a week after those interviews, Eberflus has been named a finalist for the Bears job and is now in the process of getting a second interview. Dodds pulled his name out of the Bears GM consideration three days ago, so that takes the possibility of a Dodds-Eberflus tag team out the window.
One thing that immediately attracted the Bears to Eberflus was his overall energy and excitement for the game. That is something that Nagy lacked a lot and having an energetic coach goes a long way for the team. The sexy trend has been hiring offensive-minded coaches with innovative playcalling, but the Bears tried that route with Nagy and thus may be looking to go back to a defensive mindset.
One knock that Eberflus has that hangs over his head is that he directly connected to the Jason Garrett-led offense in Dallas. That is not someone you want to be compared to, but Eberflus has saved his name since going to the Colts. Should he get the Bears head coach opening, look for him to round out his staff with an offensive play-caller to get the most out of Justin Fields and a defensive staff that can use that same energy he brings to the table.
Seeing his name as a finalist for any job shouldn't come as a complete surprise which leads me to believe that he interviewed exceptionally well for the Bears, especially when you consider that his name has been flying around the head coaching rumors for a few years. Expect the Bears to announce a few more finalists in the coming days as fans start to get an idea of what this team wants to do.