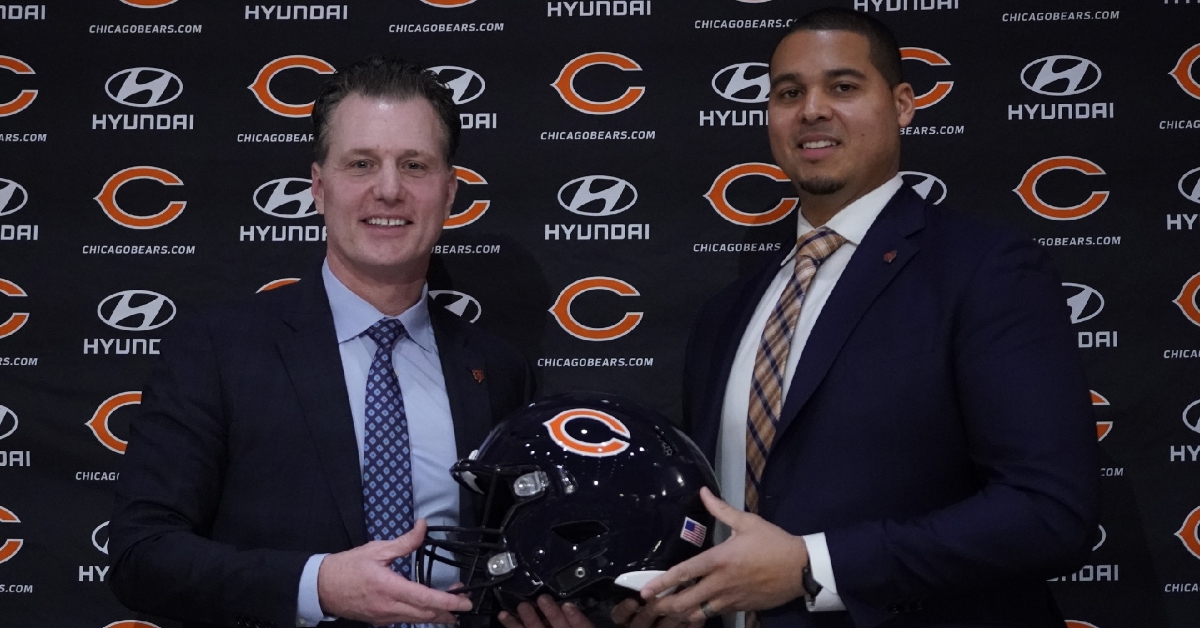 | | |
| --- | --- |
| Bears hold all the cards on NFL draft night | |
---
| | | |
| --- | --- | --- |
| Thursday, December 29, 2022, 10:32 AM | | |
This has been a rough 2022 NFL season with the Bears sitting at 3-12. However, things have gotten a lot more interesting. As things sit, Chicago is firmly locked into the second pick of the NFL draft, with a slim chance to grab the No. 1 pick. A big reason for that was the Texans' upset win against the Titans on Sunday.
If the Bears want that No.1 overall selection, they need to do the easy thing first by losing out, and unless they get help from Houston, that may not be enough. Is owning the No. 1 pick all that different from holding the No. 2 pick? Well, it is if you know what you are looking for, and since 2001 we have seen teams trade into the No. 1 spot to take guys like Michael Vick and Jared Goff.
What do those names have in common? Both are QBs which tends to be what teams are looking for when trading for that No. 1 pick. For the first time in what feels like forever, the Bears do not need a QB, so if they were to end up with the No. 1 pick, they wouldn't have to use it on a QB. However, several other teams behind them need a QB, and this is where the No. 1 pick could come in handy for the Bears.
While it is doubtful, the Bears will land the first pick, just being in a position to have it has to get you thinking, as the Bears have an opportunity to pick anyone they want. They can also trade that pick and further help their team's future. When you look at the teams around the Bears in the draft order, many of them need QBs, and the Bears could use that top pick as leverage to make something happen.
Take Houston, for example, which owns the No. 1 pick right now. Should they fall back to No. 2, you can bet they will still want a QB. However, they may want the No.1 pick to ensure they get Bryce Young. With the 11th pick in the first round, you could see the Bears trade from No. 1 to No. 2 and acquire the No. 11 pick to give them two potential playmakers.
Seattle is in the same position as the Texans, although they pick No. 3. This is a team to watch more so than Houston because if the draft order stays put, they will pick right after the Bears. Despite Geno Smith having a great season, he is not the future, and the Seahawks need to find their next franchise starter. Why not package the No. 3 pick for Chicago's No. 1 or No. 2 while also giving the Bears the No. 12 pick? Again, two potential playmakers in the top 15, which is a GM and Head Coaches dream.
Several other teams, like the Indianapolis Colts, Atlanta Falcons, Carolina Panthers, Tennessee Titans, and New York Jets, have question marks and may want to trade into the Bears spot. However, only Atlanta and Indianapolis are in the top 10 and only have one first-round pick.
Considering the scenarios presented above, fans may want the Bears to lose their next two games to ensure they end up with either the No. 1 or No. 2 pick so they can use it as leverage. Matt Eberflus has insisted that he will play Justin Fields and try to win these last two games, but what is he supposed to say?
There is a lot of value in winning these last two games, as it would give the team some confidence heading into next season. However, it could be costly come draft night. If I am the Bears, I look to better my draft position as much as possible to put myself in the driver's seat come April.
They may not pass the Texans, but it will benefit them as long as they stay ahead of Seattle. If the Seahawks want a QB bad enough, they will do what they need to move into the No.2 spot and prevent someone else from doing it. That could mean giving the Bears an additional first-round pick to help speed up this rebuild.