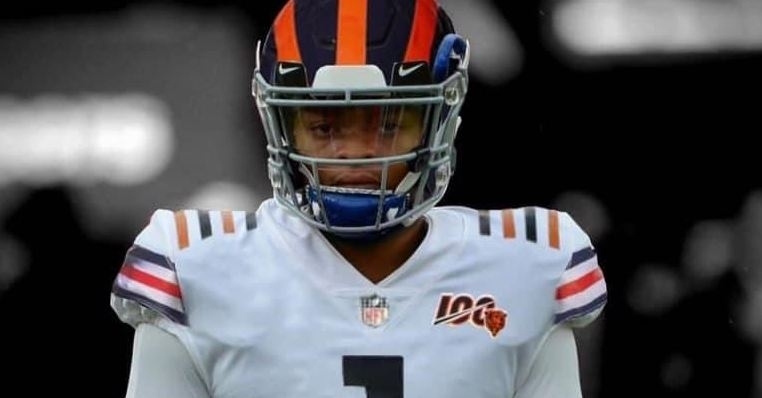 | | |
| --- | --- |
| Bears land their franchise QB in Justin Fields | |
---
| | | |
| --- | --- | --- |
| Friday, April 30, 2021, 8:19 AM | | |
With the 11th pick in the 2021 NFL Draft, the Chicago Bears select Justin Fields QB Ohio St. University. Those were the sweet words from Roger Goodell last night as the Bears shocked the world by drafting one of the top QB's in this year's draft class.
After talking about moving up and trading for a QB for weeks, Fields fell right into their lap as they were able to trade from No. 20 to No. 11 with the Giants to get their man. This is massive news for the Bears fans worldwide as this signifies the beginning of what hopes to be a long relationship at QB and perhaps gives them their first franchise QB since Jay Cuttler.
At 6-3 227 pounds, the athletically gifted Fields was a can't miss prospect who, for some reason, saw his draft stock fall in recent weeks. While that is still unclear, it benefitted the Bears this time around as Matt Nagy got the guy he wanted, and hopefully, this isn't another Mitch Trubisky mistake 2.0. Fields not only comes with a big and accurate arm, but he ran a 4.5 40 time at his pro day, putting his speed on full display.
In eight games during the 2020 season, Fields was hit or miss sometimes but still put up great numbers. He carried the ball 81 times for 383 yards and five scores to go with 2100 yards passing, 22 TD's, and 6INT. Five of those six interceptions came in two games where he threw three against Indiana and two against Northwestern. Both resulted in wins, however, which is all that matters when on the field.
In 34 collegiate career games, compiling 22 starts, Fields was impressive as he never lost a regular-season game as a starter and only lost those two playoff games. He surpassed 1100 yards on the ground with 19 TDs, while completing 68.4% of his passes for 5701 yards, 67 TD, and 9 INT. He defines a dual-threat QB and gives the Bears a chance at having the best QB in the NFC for years to come.
Fields is a Heisman trophy finalist QB, the Big Ten QB of the year, First-team All-Big Ten, and second-team All American as the kid knows how to win and is a baller. Not to mention he played a significant role in the Big Ten to reverse their decision on the 2020 season as he put together a petition hoping to change the mind of the conference to allow football to be played.
Ranked as the third or fourth-best QB prospect in this class depending on who you ask, Fields operates with plenty of confidence and has overcome tons of adversity already. That confidence and work ethic to overcome adversity will come in handy at the NFL level as he will continue to get better and become a great starter within a few years.
Drafting Fields will make things interesting in Chicago this season as the Bears have both Andy Dalton and Nick Foles on the roster. This pick signals the end of the road for Foles, in my opinion, as I don't see the Bears holding on to three starting QB's at this point. Dalton will be the starter for now, but this could be another situation where he only starts a handful of games before turning things over to Fields.
The Bears were awful at the QB position last season, and yet they still managed to make the playoffs for the second time in three years. Come to think of it, since Cutler left Chicago, and the Bears haven't had a reliable option at the signal-caller position. That is why there was such importance put on QB in this draft. Fields is an intriguing prospect who comes with tons of big-game experience and game-changing abilities.
The fact that he made it through the top 10 without getting drafted was a surprise, but it also guaranteed that Chicago had a chance to land him or Mac Jones should they see the fit. They wanted a QB for months in the NFL draft and saw the need to trade up and get one if the opportunity was there. The further Fields fell down the draft board, the easier it became for the Bears to make the decision they did.
He now goes from one of the more prestigious college football programs to join one of the original NFL franchises and instantly will become the face of the franchise. It was a great night to be a Bears fan again as the front office finally made a QB move worth getting excited about.