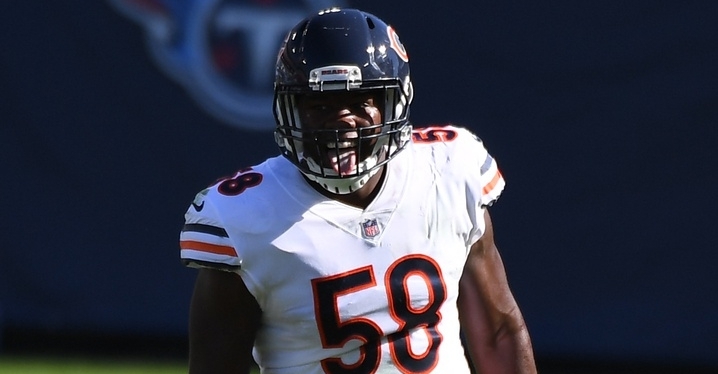 | | |
| --- | --- |
| Bears LB Season Preview: Roquan Smith, Nicholas Morrow, Matt Adams, more | |
---
| | | |
| --- | --- | --- |
| Thursday, July 21, 2022, 8:35 AM | | |
With today's addition of the season preview position stories, we move from the defensive line to the linebacker group as they too will have a much different look. Besides going from a 3-4 to a 4-3 scheme, Khalil Mack is no longer on this Bears roster as he was traded to the Chargers this offseason.
You also have Robert Quinn and Tashaun Gipson moving from linebacker to DL, and this unit will be filled with a lot of new names with the Bears trying to rebuild this defense.
Roquan Smith:
The one constant that will remain at linebacker is Roquan Smith.
Now in his fifth year out of the University of Georgia, Smith is this team's defensive leader, and there really is no argument against it. Since breaking into the league in 2018, Smith has been a tackling machine among league leaders in tackles. Also, Smith approached 200 tackles in 2021 and finished the season as the team's new all-time tackling leader.
Nicholas Morrow
Given the new system that was put in place, the Bears knew they were going to have to address the linebacker position at some point this offseason and did so by adding Nicholas Morrow, Matt Adams, and Joe Thomas. Of these names, Morrow has the best chance to emerge as a starter after spending his first five seasons with the Raiders.
During his time with the Raiders, Morrow saw action 62 times, with 29 coming as starts. A versatile playmaker who can make plays with the best of them, Morrow missed all of 2021 with an ankle injury, but now feels he is as healthy as ever and ready to contribute.
Matt Adams
Another guy that could be considered a favorite to start is Matt Adams, who spent some time with Eberflus the last few years. Primarily a special teams player during that time, Adams did a great job making the plays he needed to make when given a chance to start. The familiarity with Eberflus and his system is enormous because it should give him a leg up on the rest of the players competing for that spot.
Thomas hopes for better fortunes in 2022 as he spent the last few years in Green Bay. Mainly a reserve player who was used sparingly at best. He has made eight starts across the last three seasons, where he has 110 tackles and 1.5 sacks. Those numbers will drastically need to increase if he wants the opportunity to start in 2022.
Unlike a lot of the other positions on this roster, the Bears are not as deep at LB as other teams, and this is something they need to worry about as the season goes on. That is where second-year pros Caleb Johnson and Noah Dawkins come into play. All three bring their own set of skill sets to the table while any sort of production from them will be huge.
Jack Sanborn
However, the one guy I have my eye on to be a potential surprise player on this team is undrafted rookie Jack Sanborn from Wisconson. Sanborn appeared in 44 games over four seasons at Wisconsin, generating 227 tackles, 27.5 tackles-for-loss, 10 sacks, four interceptions, eight pass breakups, three forced fumbles, and two fumble recoveries.
Last year he was named first-team All-Big 10 after appearing in 12 contests and establishing career highs with 88 tackles and 14.5 tackles-for-loss while also recording 3.5 sacks. A Chicago area native, Sanborn attended Luke Zurich High School. That is exactly the type of player the Bears have been lacking the past few seasons and Sanborn is more than capable of becoming a reliable option on this team.
While things do look bleak a the LB position, there is plenty of potential for things to turn around in a hurry. If their play picks up, so will the Bears defense as that unit needs to get back to playing top 10 caliber defense for them to have any chance of moving up in the standings.