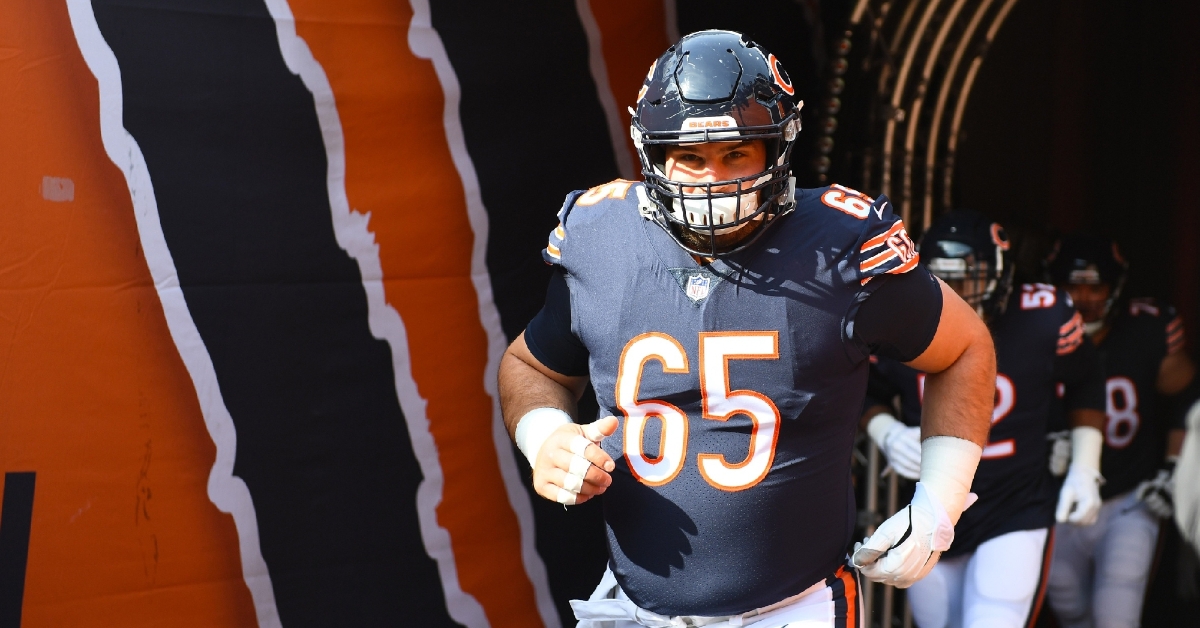 | | |
| --- | --- |
| Bears look to lean on Whitehair's experience | |
---
| | | |
| --- | --- | --- |
| Thursday, November 14, 2019, 9:20 AM | | |
Right before the regular season got underway, the Bears decided to make a vital move that could be a significant piece for their future. That decision was signing Cody Whitehair to a massive five-year contract extension with a lucrative pay increase along the way.
When you ask Bears GM Ryan Pace on what he thinks of Whitehair, and his answer is quite simple. Whitehair is precisely the type of player the Bears want to have on their team moving forward, and he isn't afraid to express that daily.
"Cody embodies everything we look for in a Chicago Bear," general manager Ryan Pace said to Bears.com when the contract was announced, "and I'm excited for us as an organization to extend him five more years. He is a great talent and unselfish teammate with a ton of pride in being a leader for us."
With the Bears facing a must-win game last week, Chicago decided to change things up offensively along the line by asking a little more from the rural Kansas kid. After playing guard all season long, Whitehair was told he would be moving back to center ahead of the Detroit game, a position he played during his first three seasons with the Bears.
When you ask offensive line coach Harry Hiestand what went into the decision to move Whitehair, it was less about the overall skill between both Whitehair and James Daniels, but instead the need for some experience in the middle of that unit. With 22-year-old Rashaad Coward playing guard to his right for the first time, and Daniels in just his second season, the decision to move Whitehair will be a beneficial maneuver long term.
"Moving [Whitehair] over there now kind of balanced us up a little bit," said Hiestand, "Instead of [Daniels] and Rashaad learning on the job next to each other, now you've got a guy that's been in their situation considerably more, and that's a help for Rashaad and his development."
Now looked at as one of the leaders on the offensive line, the 27-year-old Whitehair embraces the opportunity to step into that leadership role. He sees a big responsibility in that role as one who can give instruction to the younger players and provide stability in the line moving forward.
"Just keeping them calm, letting them know that they're doing the right things," said Whitehair. "They've done a great job up to this point. Just keep encouraging them and helping them out when they need help."
When spoken to at practice on Wednesday, Whitehair acknowledged that he started to find his groove once again at the center position and that the rest of the players were embracing the change on the line. He is remaining focused on improving every day, and especially when it comes to long snapping, which is something he has not worked on in 10 months before this week.
"Obviously, there's a little rust, as you saw Sunday if you were on the ground," said Whitehair. "I'm excited about the opportunity. It's kind of like riding a bike, so you've got to knock the rust off a little bit and get back at it."
You could see some of that rust on Sunday, as a few of his snaps were a little off target against the Lions. Luckily, none of those snaps resulted in turnovers or loss of yardage plays. Still, Whitehair is a perfectionist and will continue to work on minimizing his mistakes as quickly as possible.
"I think if you tend to think about it," said Whitehair, "it gets in your head and becomes a mental issue, so it's just a matter of getting back into the routine of things. That will come.
With the Bears' upcoming game against the Rams being his second game since going back under center, Whitehair will have an extremely tall task as he looks to keep Aaron Donald out of the backfield. Not only does Donald do a great job stopping the run, but he continues to be one of the games premier pass rushers, often taking two or three guys to hold him back. Whitehair knows his hands will be full, but also is looking forward to this challenge.
"I think that's the hardest part of being a center," said Whitehair. "It's one of the hardest blocks in football, to be able to snap the ball and get your hands on a zero nose."
With the Bears sitting a perfect 1-0 with him at center this season, Chicago will now lean on his leadership and smarts on the field as the team is hoping his position change creates stability with a potential late-season run following. That is precisely what Whitehair wants as he still believes in what the Bears have on this roster.
"The coaches believe in me," said Whitehair. "I'm in a really fortunate spot. I look forward to that opportunity."