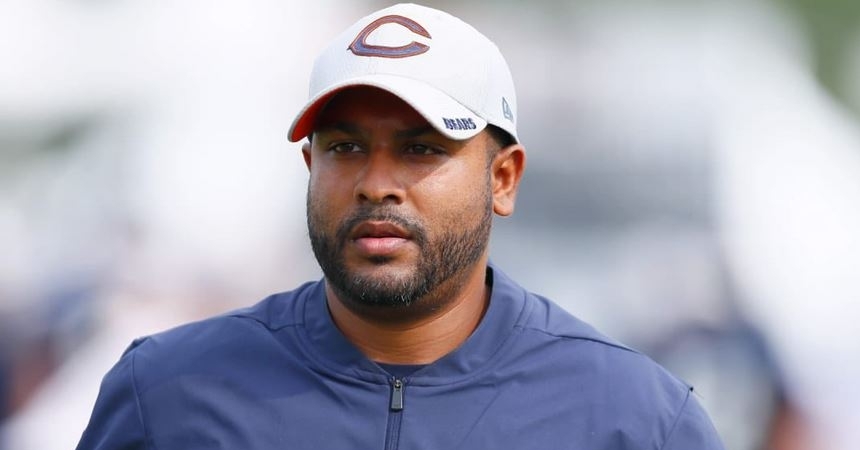 | | |
| --- | --- |
| Bears make NFL history with Sean Desai hire | |
---
| | | |
| --- | --- | --- |
| Monday, January 25, 2021, 10:27 AM | | |
Despite plenty of strong outside candidates, the Bears elected to promote within when it came to finding a new defensive coordinator. In the process, the Chicago Bears made history as Sean Desai not only becomes the first Bears coach of Indian descent to earn a coordinator job, but the first coach of Indian descent ever to earn a coordinator gig in the NFL.
With seemingly more coaches being added to the Bears list by the day, it was a giant step to get this position filled as it is now Desai's defense going forward. Before Chicago started interviewing outside candidates, both Desai and former Defensive Line coach Jay Rodgers were viewed as possible favorites for the gig. Both have been with the team for a long time, but the Bears like Desai.
A new defensive coordinator's search lasted just 10 days, and there were reportedly three total interviews. One of the interviewed candidates said Thanks but elected not to take the position. Rodgers interviewed but then went out west to join the Chargers make Desai the man in the end for the position. Matt Nagy and the Bears front office are excited about this hire, and for a good reason.
Desai was part of the Vic Fangio defense, working as a quality control coach back in 2018. Two years later, Desai has emerged as one of the rising stars in the coaching industry and will be given his first chance to show everyone what he can do. Three years ago, when the Bears defense was at their best since 1985 season, Desai was viewed as Fangio's right-hand man, and many thought he would head to Denver with him.
Desai elected to stay in Chicago and has continued to gain recognition across the league. The fact that he is getting so much praise, especially at a young age, is a good thing, and the Bears could be set to have a mastermind put in place. Look at Nagy's statement upon bringing Desai to the defensive coordinator role.
"We are very fortunate and excited to promote from within and announce Sean Desai has been named defensive coordinator of our football team," Nagy said in a press release. "He is a person of high football intelligence, extremely detail-oriented, has a very strong work ethic, and I can't think of someone more deserving to lead our defense. Sean is a family man of high character, and the respect he has within our building from the coaches, players, and staff is unparalleled."
Nagy hit the nail on the head when he said he was very fortunate to promote within. When you look back at the Bears defensive coaching staff from 2018, you can really see how loaded it indeed was. Fangio was the DC and is now the head coach of Denver, Brandon Staley was the OLB coach and is now the head coach of the Los Angeles Chargers.
Ed Donatell, who was the secondary coach back then, has now found a home as a defensive coordinator. Rodgers was the DL line coach and is now in the running for a defensive coordinator gig. It looks like he is about to land in that role with the Chargers. Finally, you had Desai on that staff who was the safeties coach the last few years and will be leading the defense.
After fans have seen what the Bears defense has looked like under Chuck Pagano, this could be an excellent hire for Chicago. Given that he was Fangio's right-hand man, look for him to bring back many of Fangio's principles but add his own wrinkle to it. The Bears defense was at their best under Fangio and got the best version of Khalil Mack during that time.
Granted, Mack is still a solid player, but his production is nowhere near what it was under Fangio the last two seasons. Having Desai calling the plays, he may be able to bring back the version of Mack that the Bears fell in love with two seasons ago. They also have Robert Quinn, who I expect to have a much better season next year.
Desai may be inexperienced, but he is the right man for the job and will do wonders for this team.