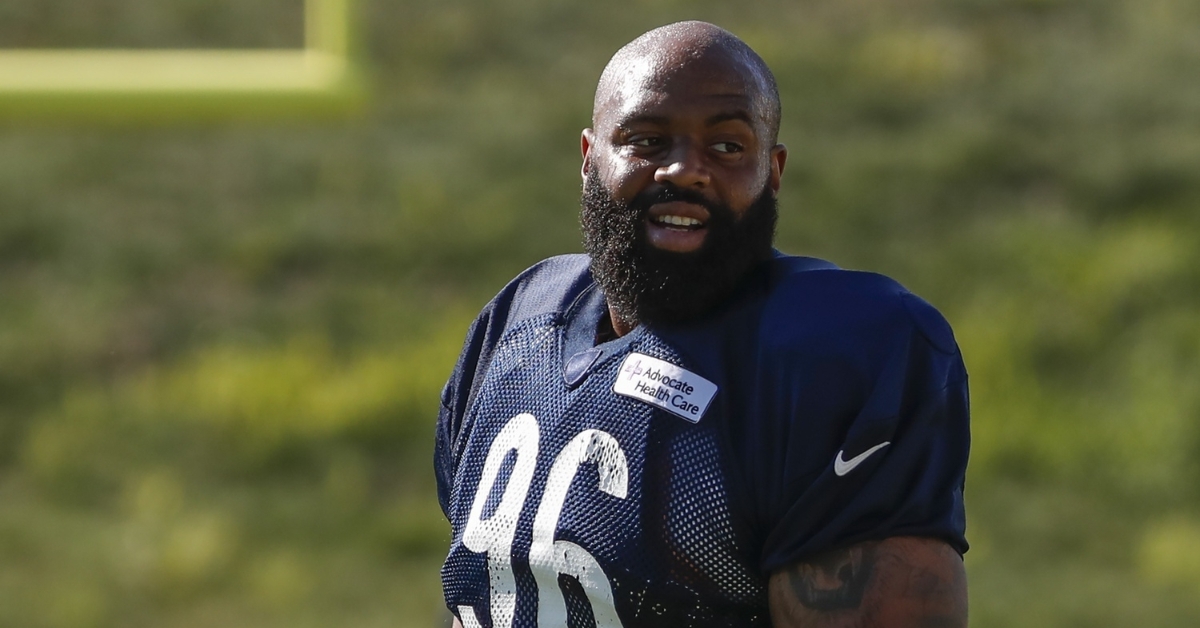 | | |
| --- | --- |
| Bears News: 2021 Season Report Cards: Akiem Hicks, Eddie Goldman, more | |
---
As we continue to move down the defensive side of the ball for our season report card series, we shift gears to the interior portion of the defensive line. Often overlooked when you have so many star players on defense, this could very easily be the most critical piece on the Bears defense and an area they will be looking to address this offseason.
When it comes to winning football games, a lot of times, those games are won and lost in the trenches. Looking at how things have gone for the Bears when they can dominate in the trenches as they can do on the defensive side, things are good, but when they struggle, their defense is a far cry from how good it can be.
Injuries played a significant role in their defensive struggles last season, but that is only part of the problem. The other major issue is an aging defense that is trying to learn new schemes that don't fit what they like to do. It will be up to the Bears' new regime to put a new plan in place and help get this defense back to respectability in a hurry.
The most essential part of the Bears front seven always falls on Akiem Hicks. The big man from Canada has been one of the best when it comes to stopping and getting after the QB. His mix of size, speed, and overall athletic ability has been a problem for the opposition for years, and it shouldn't be a surprise to see the Bears defense thrive when he is on the field.
That right there has been the biggest issue for the better part of the last three seasons as Hicks hasn't been on the field that often. Once again, that was an issue this season as Hicks was limited to under 10 games, leaving his future with this team in question. Hicks was responsible for just 25 tackles this season, with 19 solo. Of those 19, 3.5 were sacks, and that needs to improve if the Bears bring him back.
Season Grade C-:
From a production side of things, Hicks would get a far worse grade than this, but you can't blame the injuries on him. Injuries are part of the game, which is something every team goes through. However, injuries can become a concern at some point, and those concerns are starting to come full surface when it comes to Hicks.
As much as the Bears would love to bring him back to help this defense, would it be a wise choice at this point? They need to get better and younger on that side of the ball, and he is the exact opposite of what they need, especially when they have some talented pieces in waiting.
Perhaps the biggest reason for the Bears downfall defensively in 2020 was the loss of Goldman. He wasn't hurt, but instead, he opted out of the 2020 season due to COVID concerns for his family. One year later, Goldman returned to the field, and he was supposed to give the Bears a massive lift this season.
Instead, what they got from him was a wasted season filled with what-ifs, as he was not the same player this year. Goldman finished the year with just 22 tackles, 14 of them solo, while recording just .5 sacks. For a guy getting paid to stop the run and get after QBs, he was a far cry from that type of player, and the Bears suffered because of it.
Season Grade F: Goldman was one of the biggest disappointments on the defensive side of the ball this season. You could also argue that he was the biggest disappointment in the front seven. Everyone knows what he can bring to the table when he is playing up to his standards.
The problem was those standards were nowhere to be found this season. If the Bears want to get back to their 2018 style of defense, the resurgence of this man will be crucial. Perhaps this offseason can help him reset and get back to his old ways.
While Goldman did next to nothing in terms of production this season, Nichols was a pleasant surprise and one the Bears desperately needed. The 2018 fifth-round pick from Delaware, Nichols had a great season and produced some of the best numbers of his professional career.
Not only did he amass 50 tackles recording 51 on the season, but 26 of those were solo. He also added two fumble recoveries and three sacks to his line showing that he was a menace on defense. Typically not a starter, Nichols emerged as a starter once Goldman struggled and played very well when called upon.
Season Grade B: I was on the fence to give him a higher grade, but I think most fans would be satisfied with a B. Was his production elite? Not in the slightest, but he gave the Bears way more production than what they expected this season. That came in handy when some of their stars underachieved, and it gives them another nice building block to build around this offseason.
Successful teams are filled with depth, and the Bears are trying to get more of that depth across the board. Nichols would be a great start as he has the potential to be a starter in this league and gives the Bears a nice depth piece to keep ready to go when needed.
Aaliyah Alufohai, Margus Hunt, and Khyiris Tonga all saw limited action this season and combined for a total of 16 tackles and one sack. Given their lack of combined production, they receive an incomplete for a season grade.
Upgrade Your Account
Unlock premium boards and exclusive features (e.g. ad-free) by upgrading your account today.
Upgrade Now