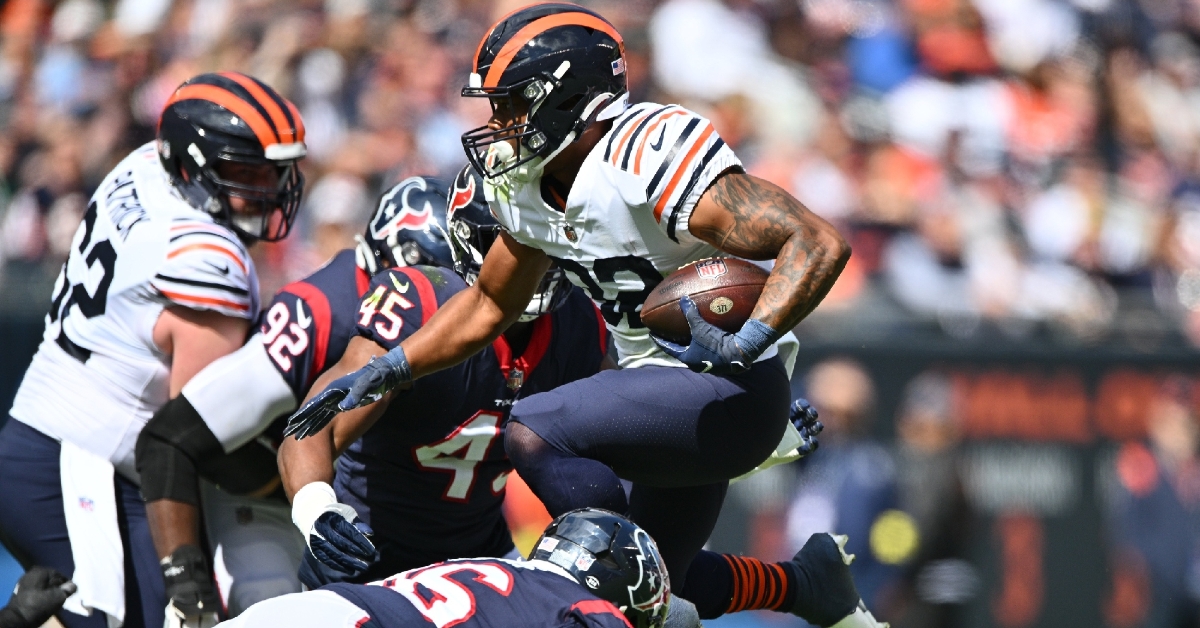 | | |
| --- | --- |
| Bears News: 2022 Season Report Card: David Montgomery, Herbert, Ebner, Evans | |
---
There weren't too many things that the Chicago Bears did well at in 2022, but running the football was one of them. Led by Justin Fields and a pair of workhorse backs, the Bears became the run-first team Matt Eberflus was expected as they averaged more than 180 yards on the ground per game.
That landed them No. 1 in the NFL when all was said and done, as the Bears have found their new offensive identity. Even with that being one of the positives to take away from the season, there is still a ton of work that needs to be done on both sides of the ball. Here are our season report cards on the Bears running Backs.
Ever since being drafted in 2019, David Montgomery has become a reliable back and perhaps one of the most consistent backs in the NFL. Coming off of back-to-back 1000-yard seasons, there were many expectations for Montgomery, who entered 2022 in the final year of his rookie deal.
Looking to prove he deserves a long-term deal, Montgomery went on to have his worst season as a pro rushing for 801 yards and five touchdowns. Sure, a lot of that had to do with taking a back seat to Fields, but he was also hurt this season, so you have to wonder if that had something to do with it. Even after he returned, he didn't look like the same guy, as his explosiveness was missing.
Grade B: Although he did have his worst statistical season this year, Montgomery still had a productive season and has developed an excellent reputation in Chicago. With his impending free agency as one of the questions Ryan Poles will have to face, Montgomery has done more than enough to earn another deal with the Bears. Now it is up to the organization to show him they feel the same.
Should the Bears elect to move on from Montgomery, it may not be the end of the world, as Herbert has two years remaining on his deal. A sixth-round pick from Virginia Tech in 2021, Herbert showed plenty of promise during his rookie season, but it was in mid-season that he started to come into his own.
A big reason for that was the loss of Montgomery with the injury, as Herbert became the go-to back for most of the season. He not only led the RBs with 5.7 YPC, but only Fields averaged more yards rushing than him this season, as he finished the year with 731 yards and four scores across 13 games. If that is what he can do in a part-time starting role, imagine what he could do if he became the No. 1 back in this system long term.
Grade A-: Herbert impressed many people this season and makes Montgomery expendable because of that. Sure, it would be an excellent thing for the Bears offense to be able to keep both of them, but that doesn't seem like a solution right now. They will have to decide who they trust, and Herbert appears to be the consensus.
He is big, strong, and fast enough to outrun the defense and will provide this offense with plenty of highlight reel plays. Should Chicago decide to keep Herbert over Montgomery, you can expect an extension to come soon, as they don't want to lose two RBs for the price of nothing in return.
Trestan Ebner and Darrynton Evans
While Herbert and Montgomery were the bell-cow backs, the Bears also saw rookie Trestan Ebner get into some game action, as did Darrynton Evans. Neither of them played a ton this season, but both did what they could, combining for 118 yards on 58 carries.
That is not an ideal yards per carry average, but if you have to count on them to carry the load, you have bigger fish to fry. Due to their lack of overall playing time, both received an incomplete for their grade this season.
https://www.youtube.com/watch?v=HPpTRzNJYTc