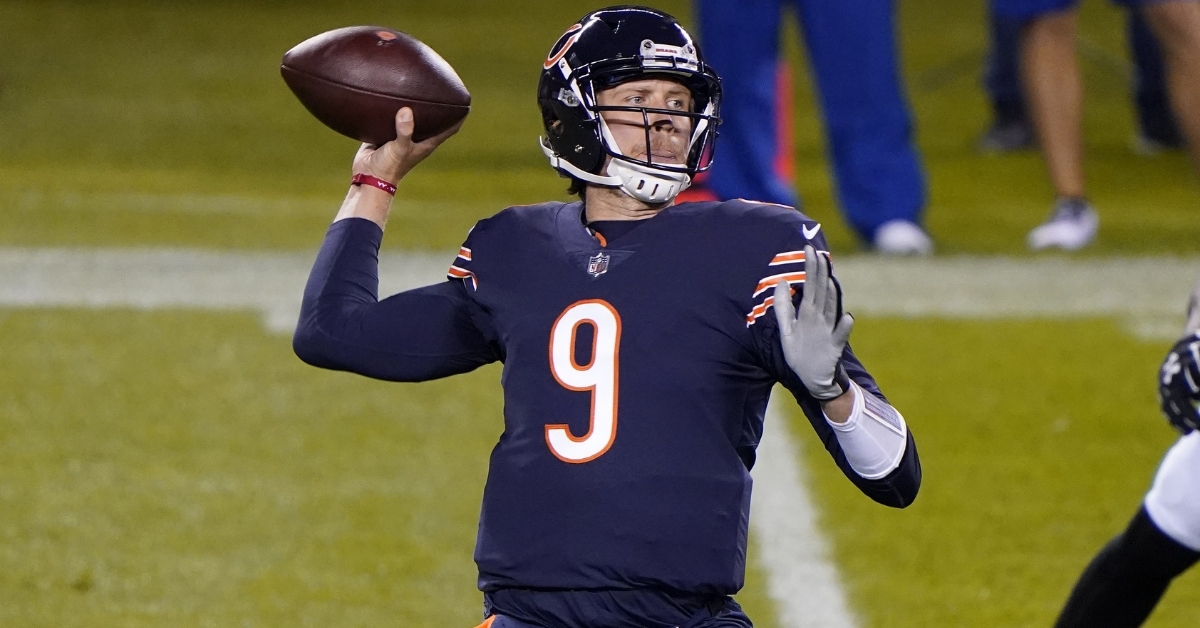 | | |
| --- | --- |
| Bears News: Is a Nick Foles trade on the horizon? | |
---
Last season, the Bears had a good problem to have as they had three capable starting quarterbacks on their roster. Andy Dalton was signed via free agency and brought in to be the starter, where Justin Fields was drafted in the first round to be the franchise QB of this team down the road. Add in that Nick Foles was still on the roster, and the Bears were set when it came to QB play.
Throughout the season, all three guys saw time under center, with Dalton starting week one and getting eight starts during the season, Fields getting eight starts, and then Foles coming in for one start in week 17 as both starters at that time were injured. With Fields the QB of the future and Dalton on the way out, Foles is the front runner to be the backup QB this season. Or is he?
According to reports around the NFL, the Chicago Bears are bringing in veteran Trevor Siemian for a visit. What that means Foles remains to be seen, but I think we all know what could be coming next. Let's say Siemian has a great workout, and the Bears sign him. Do you really expect them to carry three quarterbacks again, especially when looking at what Foles and Siemian might make? I certainly don't, and if he is indeed signed, you have to wonder if a Foles trade will finally happen for him.
No one will argue about Foles's ability, especially off the bench, where he thrived his entire career. However, Foles hasn't panned out like many expected him to when it comes to a long-term or even full-time starter. However, that doesn't mean he isn't worth taking a chance on for teams that not only have you quarterbacks but may not have much depth behind their top option.
Take Seattle and now Atlanta, for example. Both have young Qbs in Drew Lock and Marcus Marriott, who are getting second chances this season. Marriott has had more success than Lock, but he hasn't started a game in three years. Foles would be perfect in either of these scenarios. Not only is he a veteran presence that could help them with things, but should either one of them go down, you have a capable backup who can come in and win games.
Other teams who could be in the market for backups are Denver, Las Vegas, New York Jets and Giants, Cincinnati, Los Angeles Chargers, Detroit Lions, and the Carolina Panthers. While most of those teams have their starters locked in stone, many of them have young starters without a competent backup behind them. Those are all the perfect landing spots for Foles, and the Bears could at least bring back a pick in the process for making a deal happen.
As for Siemian, he is nowhere near as skilled as Foles is and could be a concern for the Bears and the entire team. However, he is a capable backup QB who has had starting experience in the past. The now 30-year-old began his career with Denver, where most of that starting experience started, but has been a backup with the Minnesota Vikings and several other teams since.
In 2016-17, Siemian started 24 games, going 8-16 across those games. He then started four games for the Saints this year after filling in for an injured Jameis Winston. Although his numbers this season were solid with 1154 yards to go with 11TDs and 3INT, the Saints went 0-4 in those games, which is all anyone cares about.
Adding a guy like Siemian may be a step back from Foles in terms of skill level, but it will be much cheaper. Foles made 10 million last season and is set to make seven million this year. Siemian would be lucky to get three million if he signs. That helps the Bears now by adding more money, but they could lock him up for a few more years, putting themselves in a better QB spot. This will be a story to watch in the coming days, as we should get an idea of how serious they are about Foles soon.