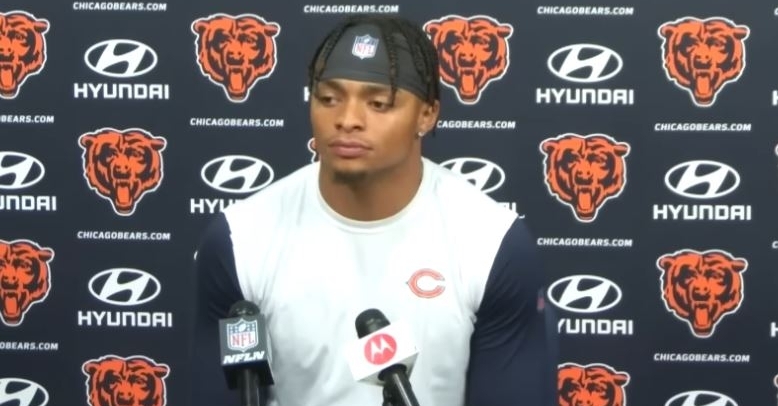 | | |
| --- | --- |
| Bears News: Justin Fields developing with new offensive weapons | |
---
CHICAGO - Despite only three wins last season, the 2023 season has a lot of promise for the Chicago Bears, partially stemming from the numerous talented players acquired in the offseason. However, the highlight of the offseason was the trade with the Carolina Panthers involving the acquisition of wide receiver DJ Moore. While it may just be the voluntary workouts, Moore and quarterback Justin Fields are already starting to develop their chemistry.
"DJ brings great talent to this team, and just his personality fits in well with everybody, really from the first day he got here," Fields said. "So, he's a hard worker, great player, and just, you know, his personality, I think, just the way he acts around the guys fits in very well with our team. So, I'm excited about that."
Shockingly, Moore has never been selected to the Pro Bowl or been named an All-Pro despite having three consecutive 1,000-yard seasons from 2019 to 2021. He's also hardly missed any games in his five-year career. While his catch percentage may have been at a career-low last season at 53.4%, his 888 receiving yards was still far more than any Bears player last season. His talent is something that the Bears have desperately needed, particularly his ability to read defenses and his strength and speed.
"Strength, speed, body control, great hands, I think he knows how to use his body to get open so, you know, I think that's a big part of receivers," Fields said. "He knows how to tempo routes, so he's rarely going to be running 100% on all the routes. You know, he has that second gear to go get the ball, so, I think that's what makes him a great receiver - just his understanding of coverages and seeing the defense well."
Having a receiver like Moore also gives the Bears consistency at the position. With Moore as a definitive No. 1 receiver, all of the players know where they stand instead of having to figure out which receivers fit into the different positions. This kind of consistency not only benefits the receivers to develop their route-running abilities from their positions but also allows Fields to develop more as a quarterback.
"Of course, DJ's number one. He's going to play the X. So, instead of him having to move around, you know, they can just focus on their position," Fields explained. "I think it's good for them, you know, just to be more consistent from them running the routes and more consistent for me throwing to them."
Justin Fields and DJ Moore with the matching visors.

The 1-2 Punch is already locked in. 🔒 pic.twitter.com/w0vdOX68Tb

— Max Markham (@MaxMarkhamNFL) May 23, 2023
Moore was not the only playmaker the Bears added this offseason.
Our first look at Justin Fields throwing the ball to DJ Moore.

Bonus throw to Velus Jones included. pic.twitter.com/nspim7rdYS

— Alex Shapiro (@AlexShapiroNBCS) May 23, 2023
Chicago also brought in tight end Robert Tonyan, who previously worked with offensive coordinator Luke Getsy back in Green Bay. Since Tonyan is already familiar with the scheme, it seems to have made the transition for him easier. Fields also expressed that he believes he and fellow tight end Cole Kmet will be able to learn from each other during this offseason.
"(Tonyan), you know, came from this offense, so, you know, he's already experienced with it," Fields stated. "He's a great route-runner, natural pass-catcher, so it's great to have him. I think him and Cole (Kmet) will definitely learn from each other."
All and all, general manager Ryan Poles made a lot of moves during the offseason to build the team around Fields. While he could have used that No. 1 overall pick to draft Bryce Young or another elite quarterback, he opted to show the front office's confidence in Fields as a player and leader for the future of the Chicago Bears. The trust Fields has in the coaching staff and front office has also positively benefited his game and development.
"It's awesome for me, you know, just getting that trust from the coaching staff," Fields said. "We trust each other fully. So, just having them behind me, they know what kind of leader I am to my teammates. They know how great I want to be. They know the work I put in. So, it's just great to have them behind my back."
After his performance last year, it is understandable why Poles and the Bears want to stick with Fields. His completion percentage went up despite having constant issues at wide receivers with injuries. He also threw 17 passing touchdowns compared to seven his rookie season; his interception percentage also decreased.
But the biggest threat is his legs. His 1,143 rushing yards last season was actually 10 more rushing yards than his entire three-year college career. It was the most rushing yards out of any quarterback this season, second in NFL history by a quarterback, was seventh overall in rushing yards in 2022 and fifth in rushing yards per game last season at 76.2. He also led the NFL in rushing yards per attempt at 7.1 and was tied for ninth in the MVP voting.
Therefore, it is natural for any quarterback that the conversation may come up about contracts. His is typical for a first-round quarterback - a four-year contract with a fifth-year option available. The time for this extension will be following this season, but Fields is not worried about his contract. Like any good leader, he's "worried about wins" instead.
To go along with all his other accolades, he also recently graduated from Ohio State with his degree in Consumer and Family Financial Services.
Kudos Justin Fields for getting that degree OSU pic.twitter.com/4OANtqfxhm

— Myron Kelly (@mister_myron) May 14, 2023
He did so by taking classes during the offseason entirely online. In addition, he fulfilled a promise he made to his father over 10 years ago.
"It was a great moment. I think at the age of 11 or 12, I made a promise to my dad, we were in the car on the way to a baseball practice, baseball game or something like that, and he just, you know, made me promise him that," Fields said. "So, it was a great moment for my family. My sister graduated a week after that, so it was just a great two weeks for my family and everybody was excited."
Upgrade Your Account
Unlock premium boards and exclusive features (e.g. ad-free) by upgrading your account today.
Upgrade Now