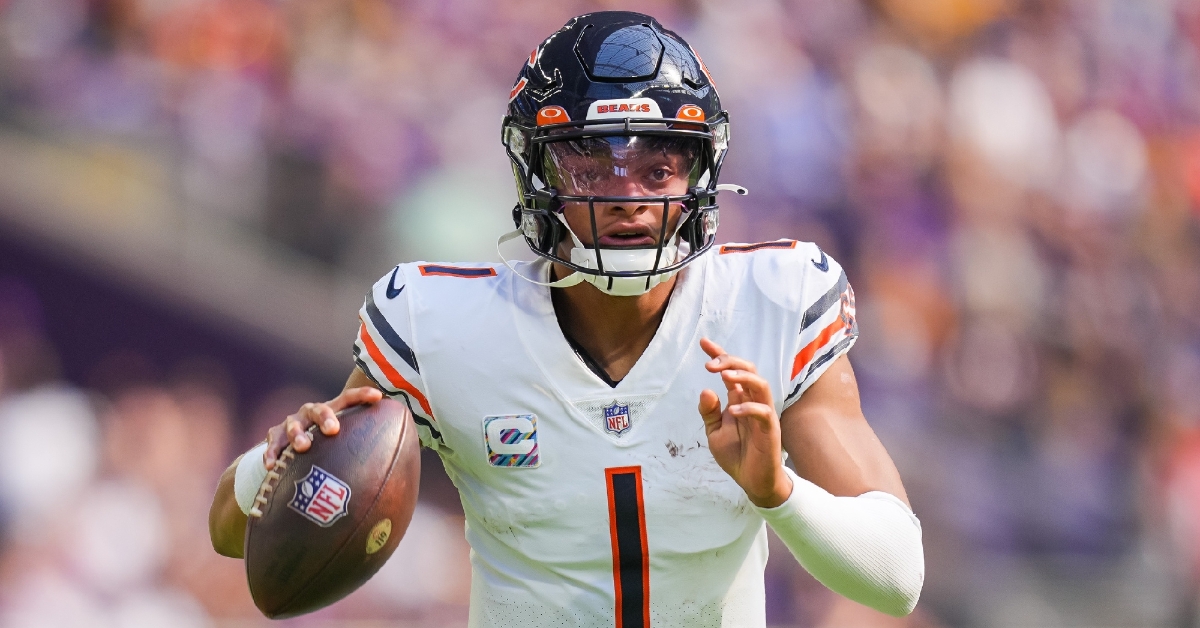 | | |
| --- | --- |
| Bears News: Justin Fields excited to face talented Eagles | |
---
| | | |
| --- | --- | --- |
| Saturday, December 17, 2022, 7:46 AM | | |
While the Bears don't have a great record and haven't won a game since Week 7 on Monday Night Football against the Patriots, second-year quarterback Justin Fields said, speaking to the media on Thursday, that he is still confident in how the Bears have continued to get better and hopes for that to continue this Sunday against the Eagles (12 p.m./FOX).
"It's crazy how much we've come as a team," Fields said. "I think we've definitely gotten better, and we're definitely just striving to continue to get better each and every day, and I think no matter what our record is, the guys come in the same way every day and ready to work. I really appreciate that about my teammates and the coaches that we have upstairs."
Fields and the Bears will face their biggest challenge of the season going against the Philadelphia Eagles, who currently have the best record in the NFL at 12-1. Their one loss was to the Washington Commanders back in Week 10, where the Commanders dominated time of possession as they had the ball for 40 minus and 24 seconds. They also had a good combination of rushing and passing the ball, with 178 yards passing and 152 yards rushing. There is a way to beat the Eagles, so the Bears will just have to see if they are able to do that. The biggest task to overcome is the physical defense that the Eagles have, particularly at offensive line.
"They're big, athletic, and fast. So, each one of their guys, their d-linemen, are talented," Fields said. "They just try to create one-on-ones and when they do stunt, they know how to stunt well. The O-line just has to do a great job holding up on one-on-ones."
The offensive line hasn't done the best job holding up so far this season, as Fields has gotten sacked on 13.7% of passing attempts. Further, he has been sacked 40 times, the third-most of any quarterback this season. This isn't promising for Fields, particularly since the Eagles are No. 1 in the NFL in sacks this season with 49. Despite all of the things stacked against the Bears, Fields is looking forward to the challenge this week, as well as next week with the Buffalo Bills.
"Any chance you get to go against a team like this, the Buffalo Bills next week, it's awesome just to see what we can do now and just to see where we are right now," Fields said. "Of course, we're going to go in there swinging."
One thing that is working in the Bears' favor is Fields' rushing ability. While the Eagles are No. 2 in the NFL in rushing defense, the Bears are No.1 in rushing offense, averaging 189.2 rushing yards per game. Fields is leading all quarterbacks in rushing yards with 905 thus far. With him currently averaging 75.4 rushing yards per game and with four games left, he is on track to break the all-time record for rushing yards in a season. Baltimore Ravens quarterback Lamar Jackson currently holds the record with 1,206 rushing yards back in 2019. If Fields keeps up with his average of 75.4 rushing yards per game, he will reach 1,207 rushing yards at the end of the season. He is also currently tied for No. 7 in the NFL all-time for rushing touchdowns by a quarterback in one season with eight; the record is held by Cam Newton when he rushed for 14 touchdowns in 2011 with the Carolina Panthers.
The overall improvements on offense by the Bears should help them in this game, as well as Fields in the rushing game. The largest improvements have been seen on third-down efficiency. According to Fields, this is because of how much the coaches emphasize situational awareness and execution in practice.
"Coach preaches on situational execution, so of course we want to be able to execute now in situations whether it's third-down or whether it's in the (red) zone," Fields said. "Whenever we get those opportunities to execute, we want to do that, of course, keep the drive alive."