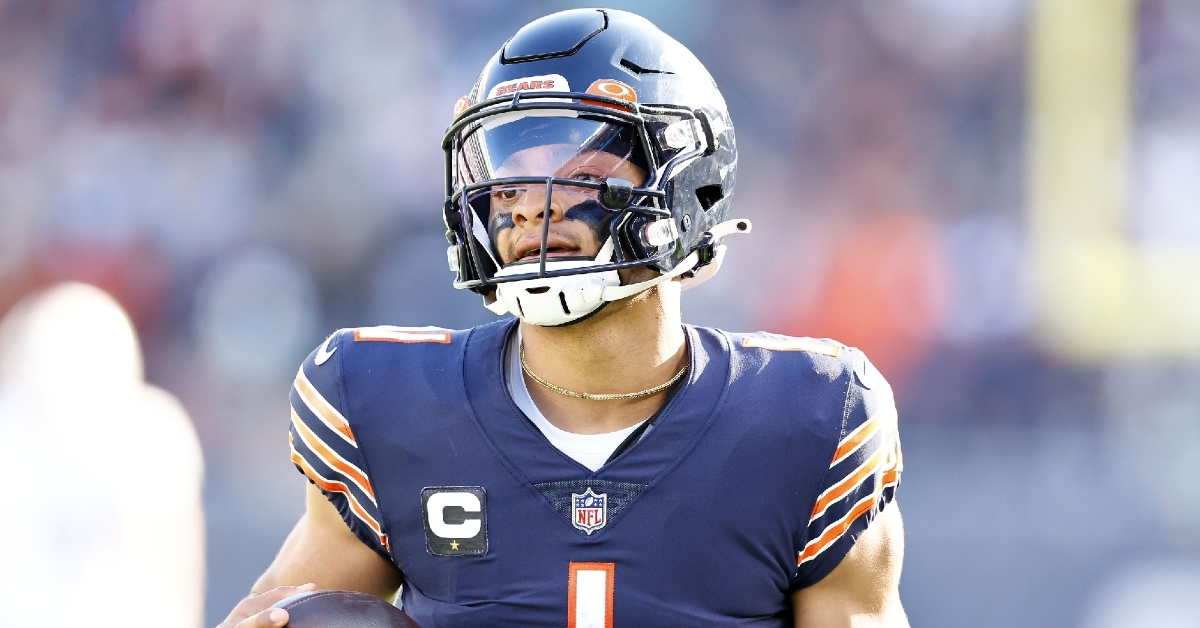 | | |
| --- | --- |
| Bears News: Justin Fields reacts to being named NFC Player of the Week | |
---
| | | |
| --- | --- | --- |
| Friday, November 11, 2022, 11:43 AM | | |
Second-year quarterback Justin Fields was named NFC Offensive Player of the Week after his record-breaking performance against the Miami Dolphins. Fields ran for 178 yards, breaking the record for rushing yards in a single game by a quarterback in the regular season that was previously led by Michael Vick. Still, he is focused on continuing to improve and grow as a player.
"I think I'm growing each and every day," Field said. "I think everyone on our team is. Just like I said before, our main goal is to get better."
In fact, he is having a much better season in his first season under head coach Matt Eberflus with offensive coordinator Luke Getsy calling the plays. Fields argues that the play calls are being adjusted more to the strengths of the players, which is reflected in his statistics.
Right now, Justin Fields has 602 rushing yards, compared to 420 last year. His 602 yards makes him No. 11 in the entire NFL in rushing yards and No. 2 among quarterbacks (he only trails the Ravens' Lamar Jackson by 33 yards). He has four rushing touchdowns, compared to two last season, and has run for 42 first downs, compared to 22 last season. He is actually the leading rusher for the Chicago Bears currently, and his athleticism is keeping the Bears in games.
The Bears are first in rushing offense, primarily because of Fields' rushing ability. Second-year running back Khalil Herbert is also contributing to this success, as he has 586 rushing yards. He ranks No. 13 in the NFL, making the Bears the only NFL team so far this season, with multiple players in the top 15 NFL teams in rushing yards.
The Bears are also averaging 195.4 rushing yards per game, 27.3 yards per game higher than the next closest team, the Baltimore Ravens. Big plays such as Fields' 61-yard rushing touchdown against the Dolphins have surely contributed to these stats, as well as his maturity to know not to force the big plays.
"The main thing is not forcing big plays, just letting them come to me," Fields said. "Of course, I've always thought I've been able to make the big plays, but I think one thing you can't do is force big plays and just kind of let them come to you … You just have to take what the defense gives you."
Despite the growth and maturity of Fields and the Bears' rushing offense, they are still struggling to pass the ball. While Justin Fields has thrown more touchdowns than last season, with 10 so far this season, getting passing yards has been a bit of a struggle. Chicago ranks last in passing offense with an average of 125.7 passing yards per game (the next closest team is the Tennessee Titans with an average of 136.3 passing yards per game). Perhaps the acquisition of Chase Claypool from the Pittsburgh Steelers will help as he becomes more familiar with the team.
"He's a great player, he's a great receiver. He's big and athletic, and fast," Fields said. "The more he's with our offense, the more he practices, I think the more he'll be able to focus on the details of each and every route."
Going against the Detroit Lions this coming Sunday (12 p.m./FOX) will provide an ample opportunity for Claypool and the passing offense to take another step in the right direction since the Lions rank No. 29 in passing defense, allowing an average of 268.5 passing yards per game. However, Detroit also has a dreadful rushing defense, ranking second-to-last in the NFL, allowing an average of 148.8 rushing yards per game. So, Fields may not have to throw the ball too often if he and Herbert, along with David Montgomery, have success running the ball.