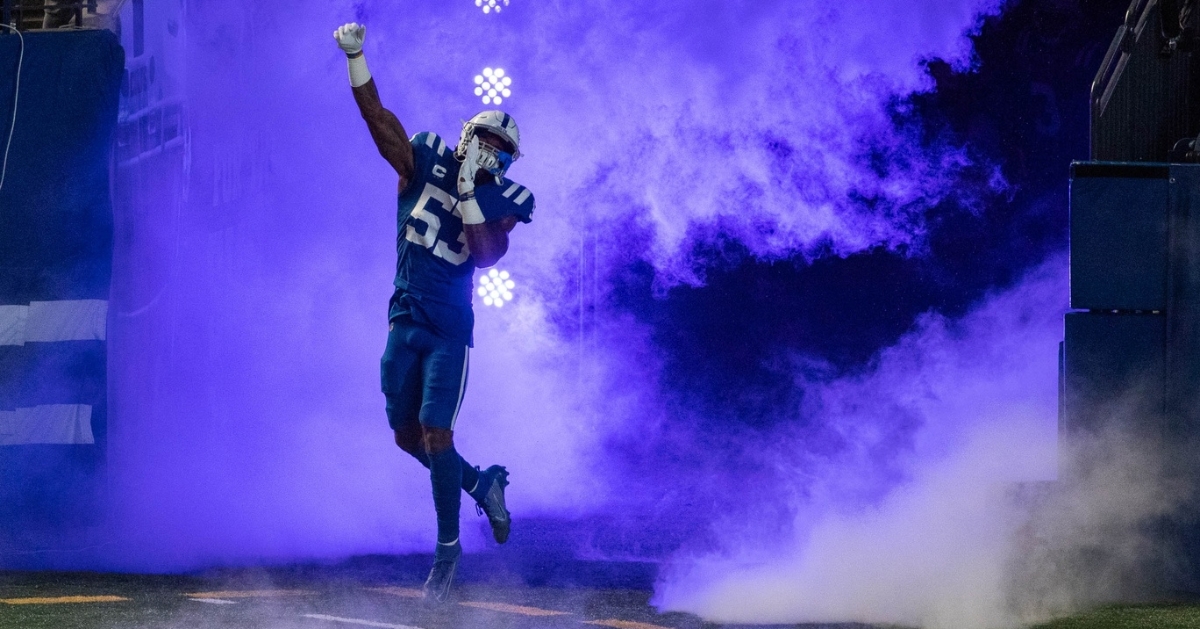 | | |
| --- | --- |
| Bears News: Matt Eberflus should go after another former player | |
---
| | | |
| --- | --- | --- |
| Thursday, July 28, 2022, 11:32 AM | | |
With the help of GM Ryan Poles, Matt Eberflus has not only put together a good staff in his first season as Bears head coach, but also a much better roster than last year. However, this team is still far from being a legitimate contender in the NFC.
Eberflus has long been one of the more respected coaches in the league, hence why many players and coaches have not only wanted to play for him, but have loved playing for him. Look no further than Alan Williams, who followed him from Indianapolis to Chicago to be the teams, new defensive coordinator.
Also following him from Indianapolis to Chicago was Al-Quadin Muhammad, who is expected to join Robert Quinn as one of the team's two edge rushers. That was viewed as a huge get considering the familiarity that Muhammad has with Eberflus. Still, with an unknown injury keeping him out of camp, for the time being, the start of the season is under question for him.
Should he miss any time, the Bears already thinner pass rush will take an even bigger hit, putting more pressure on a young secondary. However, another one of Eberflus' former players could be available on the trade market as former second-round pick Ben Banogu makes a ton of sense for this team.
At 26 years old, the former Louisiana-Layfayette standout was taken in the second round of the 2019 NFL draft after transferring to TCU. His senior season was when he put his name on the map as he led the Horned Frogs with 18 tackles for a loss, 8.5 sacks, two forced fumbles, and two fumble recoveries. That type of production turned a ton of heads, and the Colts took him No. 49 overall in 2019 as he was paired with Eberflus.
Throughout his rookie season, Banogu showed flashes of potential as he finished with 2.5 sacks and three tackles for a loss. However, in the seasons, since he hasn't registered a single sack, and he is far from proving he was worth that second-round pick.
Sure, injuries have played a role in that, but even then, those injuries were minor enough that his production shouldn't have disappeared. Whatever the issue is, it doesn't help that he is now third or fourth on the Colts depth chart, so getting time on the field is hard enough for him at this point.
Due to his familiarity with Chicago's Eberflus, who served as Indy's defensive coordinator for four years, the Bears should consider giving him a shot. Right now, the Bears could easily trade for him by offering up a lower-round pick, but keep in mind that the Colts may elect to release him, which could see him sign for significantly less.
While I am not saying he will suddenly turn things around and become the player everyone thought he could, a change of scenery is needed for this man as the pressure with the Colts has been too much to overcome. Joining a team with not only one, but two coaches who are familiar with plus a player has to be a significant selling point.
Not only do they all have a great relationship, but there is a familiarity factor that goes into play as Banogu shouldn't take to long getting up to speed in the Bears defensive scheme. Two years ago, I would have said this was a must make trade for the Bears if they could make it work.
Now, and after looking at his production the last few seasons, this is a trade they could make, but don't need to make. If it weren't for Eberflus and Williams, I would tell Chicago to stay away, but those two make it intriguing enough to see what they could get out of Banogu.