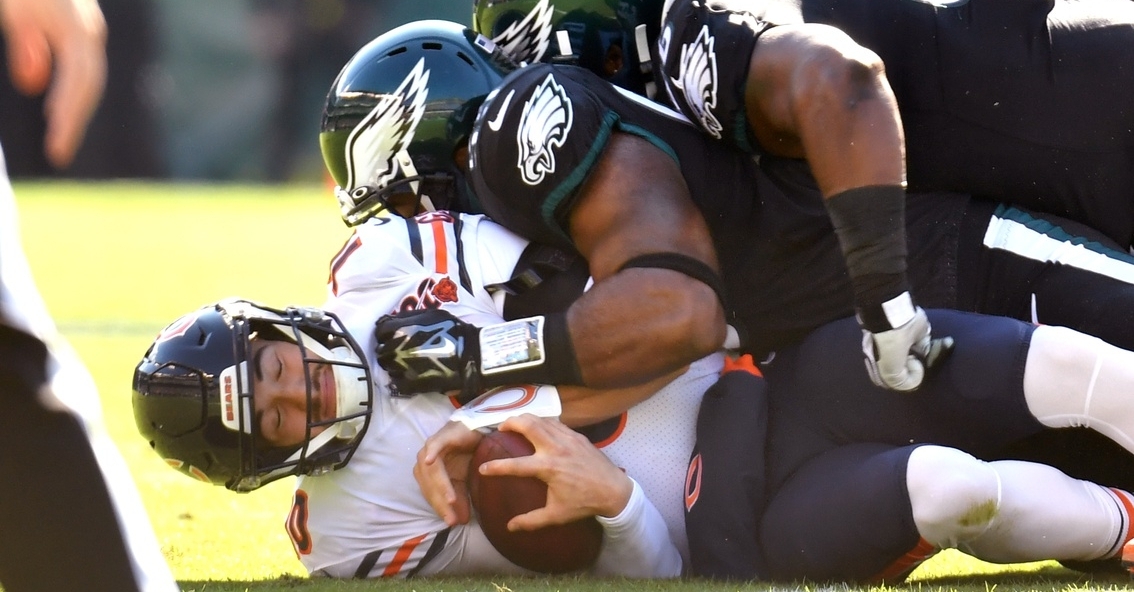 | | |
| --- | --- |
| Bears News: Mitch Trubisky is not the answer and other takeaways from loss to Eagles | |
---
It was the same old story for the Bears on Sunday as they managed to drop their fourth straight game with a 22-14 loss to the Eagles falling to 3-5 on the season. Once again, it was the way the Bears lost that frustrated fans the most as they offered little to no offense for three quarters before finally putting things together in the fourth.
However, when you fall behind 19-0, it is not going to be easy coming back and the Bears continue to play with fire putting themselves in countless early holes.
This loss stings, but with the rest of the division all losing on Sunday also, Chicago managed to not lose any ground in the standings except for losing a game on the schedule. Here are three takeaways to take from another disappointing loss.
Mitch Trubisky is not the answer
It has been a painful year three for Trubisky, and now I think it is safe to realize that he is not the answer at quarterback. After his 10-21 for 125 yards, which included just 24 yards at the half the Bears really need to consider their options under center not only for the future, but for the rest of this season.
It is not as if he hasn't gotten plenty of chances to prove he is worth that second-round pick the Bears traded up to grab him. Every time he has been given an opportunity to prove himself, he has not only failed to deliver but has done so in dramatic fashion. Sunday must be the final straw in terms of believing he is the franchise guy moving forward.
NO matter how good of a defense you have, throwing for just 24 yards in a half and 125 yards in a game won't get it done. That is especially problematic when your rushing attack has had two good weeks out of eight games this season. At this point, I don't think the Bears will be making the postseason given the depth of the NFC, so I am not opposed to going with Chase Daniel the rest of the way. The only question is, where do the Bears go at the QB position this offseason?
Akeem Hicks is missed
The defensive depth on the Bears is without question better than almost any team in this league. When someone goes down it's like they have a second unit ready to go in that could be better than half of the leagues starting 11 as is. However, the Bears have one loss on defense that continues to be exploited as Akeem Hicks is desperately missed.
Not only have the Bears had to adjust with a new defensive coordinator this season, but they have had their share of defensive injuries early in the season that hasn't made things any easier for them. Add in their best run-stopping lineman who has had multiple injuries this year, and you are asking for a recipe for disaster.
Not only are the Bears not forcing turnovers as they have done in the past, but the absence of Hicks has also made their run defense much more vulnerable in recent weeks. After barely allowing anyone to touch 70 yards on the ground a season ago, Chicago allowed 82 yards to former teammate Jordan Howard on Sunday and over 100 yards allowed in total for the third time in four weeks.
This is a pressing concern that the Bears need to iron out fast before their season is officially over. With no set date on Hicks coming back, Chicago needs to figure out how to plug the hole left him the rest of the way otherwise look for more uninspired football in 2019.
Matt Nagy is getting outcoached
Last season, Matt Nagy couldn't have asked for a better season as he led the Bears to a 12-4 record and NFC North title. It seemed like everything he did a season ago turned to gold which is why the Bears were confident in what they could accomplish this season. However, 2019 has been a nightmare for Nagy as his magic has worn off, and the bears continued to get out coached from week to week.
Known for his offensive creativity in Kansas City, believe it or not, Chicago has only managed to score 20 or more points in 8 of his 24 games as a head coach. That number is alarming for such an offensive mastermind, but what is more alarming is his inability to adjust during games.
Last season the Bears relied on their defense and rightfully so as they were by far the best defensive team in the league a season ago. After former Defensive coordinator Vic Fangio left for the Denver Head Coaching Job, Nagy and the Bears knew that it would be an adjustment period with Chuck Pagano as the offense may have to shoulder the load early on.
Not only have they failed to do that, but they have fallen flat on their faces without showing many signs of life. The most frustrating part about all of this is that Nagy continues to get out-coached every week failing to make any in-game adjustments offensively. The only times it appears that he does is when the team is down by three scores late in the game, and he knows they need points.
The longer this type of demeanor continues to worse it will get for Chicago this season as I suspect his seat may get a little warmer following this season.