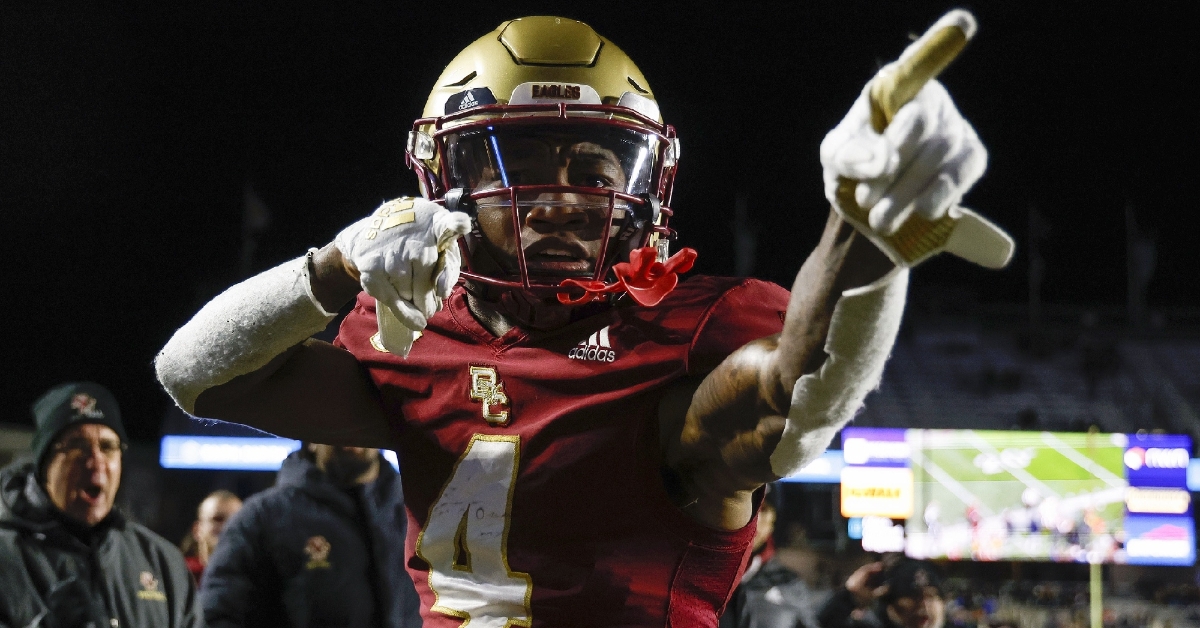 | | |
| --- | --- |
| Bears News: Six prospects that stood out at the East-West Shrine Bowl | |
---
LAS VEGAS - The East-West Shrine Bowl offers an opportunity to see some of the less prominent NFL Draft prospects go against fellow prospects. While the offensive player of the game was kicker Jake Moody from Michigan since he scored all of the points for the winning West team (12-3), there were still some players that stuck out on both sides of the ball.
Zay Flowers, Wide Receiver (Boston College)
The Bears are in desperate need of offensive weapons to help Justin Fields develop and grow as a passer. While Zay Flowers was not able to play in the Shrine Bowl due to injury, he was a team-player supporting them from the sidelines. In 2020 and 2022, he led the ACC in receiving touchdowns, having 12 this season. His four touchdowns also ranked No. 5 in college football this season. He's currently projected as an early second-round draft pick, which is rather annoying for the Bears since they traded the No. 32 overall pick to the Baltimore Ravens. But, Chicago could trade their No. 1 overall pick to the Houston Texans and if the Texans second round pick at No. 33 overall was included in this trade, then Flowers would be very achievable for the Bears. If Chicago doesn't get a second first-round pick and draft a receiver, then they should make sure they get a high second-round pick and acquire Flowers.
Jake Moody, Kicker (Michigan)
Before getting to the other players, the Bears should look at Moody. Santos is not a bad kicker, but Chicago has not had a consistent kicker since Robbie Gould, who hasn't been with the team since 2015. Moody is most likely going to be drafted since he is the top kicker in the country, although as a kicker he will be drafted on the third day of the draft. In the Shrine Bowl, he made two field goals from 35 yards and the other two from 51 yards. He has a good leg and while a kicker is not the top priority for Chicago, he is someone to keep in mind for the third day of the draft.
Xazavian Valladay, Running Back (Arizona State)
Again, running back is not the primary need for Chicago. But, if the Bears choose to get rid of David Montgomery, they need someone to step into his place. Valladay stood out in the Shrine Bowl among all other players. He had 13 carries for 76 yards, averaging almost six yards per carry. Throughout his entire five-year career in college football, he has averaged over five yards per carry every season. He was also more active in the passing game this season, with 37 receptions for 289 yards and two touchdowns; Valladay had a total of 18 touchdowns this season. Coming out of Arizona State, he is not someone that a lot of scouts are paying attention to. In fact, according to NFL Mock Draft Database, he is not even projected to be drafted. He is worth spending a late round pick on, particularly if the Bears move on from Montgomery. If he's not drafted, he is worth picking up as a free agent.
Jose Ramirez, Edge (Eastern Michigan)
What Chicago desperately needs is some players on defense. One player in the first round is not going to fix the issues they have. Further, the Bears have a history of finding some gems in the later rounds of the draft. Perhaps Ramirez could be one of those gems. During the Shrine Bowl, he was consistently getting after the quarterback and made his presence felt. Again, he is not projected to get drafted according to NFL Mock Draft Database. This is quite remarkable for a player who had 12.5 sacks this season, which was second in all of college football this season. Ramirez is a player that deserves attention in the draft and would make a great addition for the Bears as Chicago only had 20 sacks this past season.
Trey Dean III, Safety (Florida)
Dean was the Defensive MVP of the Shrine Bowl, earning that honor as a result of his interception in the red zone. Ironically, he did not have an interception in the regular season, the first time in his five-year career that has happened. He defended four passes this year, as well as having two fumble recoveries. In addition, Dean has 81 total tackles this season with 4.5 of them for a loss. He is currently projected to get drafted in the third round. Chicago currently has one third round pick at No. 65 overall. But, that could change depending on if the Bears trade their No. 1 overall pick and to who in addition to any other offseason moves they might make. Still, Dean is someone to keep in mind for the second day, and third day if he's available, of the draft.
Nic Jones, Cornerback (Ball State)
Jones had a solid day in coverage during the Shrine Bowl, as well as having an interception. While he played in 11 games this season, he only had 23 tackles this season. However, he did have two interceptions, perhaps showing talent as someone who can create turnovers. Further, he defended 12 passes this season, so he saw a lot more action in coverage. He is not projected to get drafted and there are some other prospects available, especially at cornerback, but he is someone that Chicago can keep an eye on after the day.