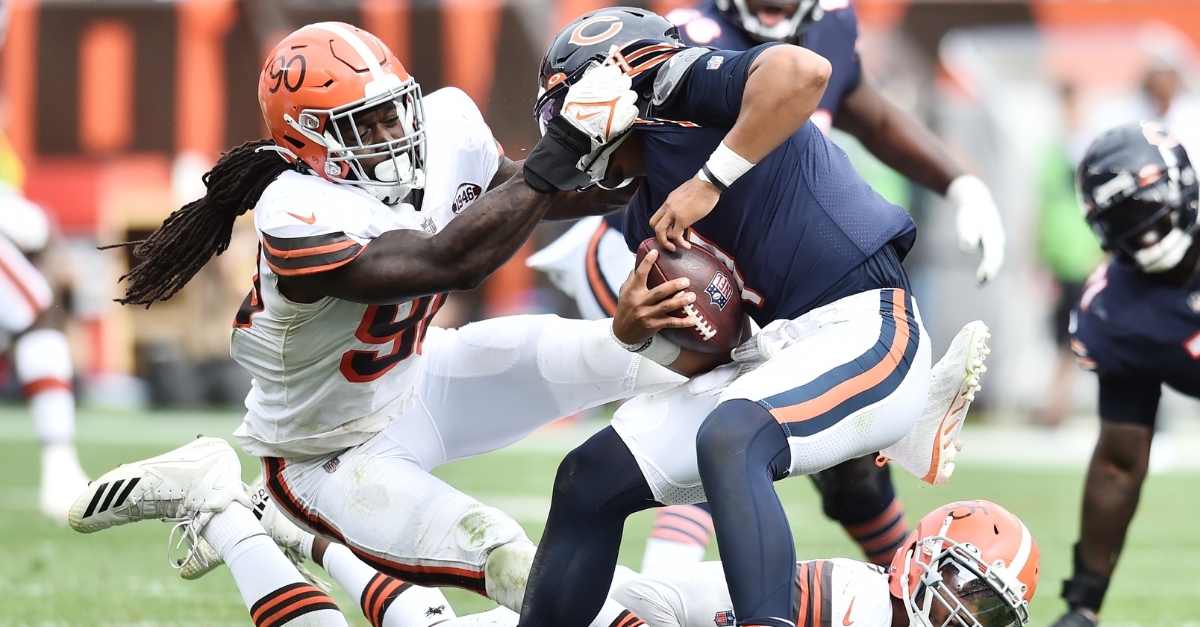 | | |
| --- | --- |
| Bears News: Takeaways from historically ugly game against Browns | |
---
| | | |
| --- | --- | --- |
| Monday, September 27, 2021, 12:04 PM | | |
To say Sunday's matchup between the Bears and Browns was a dud would be an understatement as the Bears fell 26-6. Not only was the defense terrible, but the offense played at a historically bad level as they amassed the second-fewest yards in a game all-time.
Both of these leads to a recipe for disaster, which is precisely what happened yesterday. No matter what Chicago continues to try and do, nothing seems to work, and now this team is stuck in limbo with no clear direction on what to do. Do they stick with the young hotshot in Justin Fields or go back to the classic chevy in Andy Dalton?
Either way, something needs to change, and until the Bears can start showing signs of life offensively, it will be another .500 season at best, as that has become the norm for Matt Nagy and his staff. Regardless of what Bears fans want, Nagy is here to stay for at least the remainder of the season, and that alone is going create some divide between fans and this organization. Here are some takeaways from the game yesterday.
Lost in the shuffle of a historically bad offensive performance was a pair of injuries that could have lasting effects on this team going forward. Starting with Fields, who injured his hand at some point during the game. Nagy hasn't clarified when the injury happened, but revealed that Fields hurt his hand and will go through some tests this week to see how it is.
At this point, the injury doesn't appear too serious, but it is something that will be watched this week. With Dalton already down with a knee injury, losing Fields will put the Bears in a tough spot as Nick Foles would have to be called on to start, which is never good. Hopefully, this hand injury isn't severe, and he will be right back out there Sunday.
Perhaps the most significant injury to monitor is the health of Mack, who left the game yesterday with a foot injury. Once again, it is unclear how serious that injury is at this point, but foot injuries are always tough to diagnose, knowing how long they can sometimes take to heal. For a player like Mack, any injury is not a good thing as he is the heartbeat of that defense.
Losing him for any amount of time will hurt this defense, but losing him for an extended period will cripple them. Knowing the type of player Mack is, you can bet he will try to fight through this injury. The question is, can he?
Khalil Mack update. Foot injury. On bench. No helmet. pic.twitter.com/MSqbmhRVI0

— Adam Jahns (@adamjahns) September 26, 2021
What offensive line was that?
No one will argue with you when it comes to talking about the Bears offensive line. That was one of the biggest concerns entering this season, and through the first two games, it was still an issue despite playing much better in week 2. Yesterday was a completely different story as this was the concern Bears fans had all offseason long.
Not only was Fields hit, but he was sacked nine times in the game, completing just 6 of his 20 passes. 39-year-old Jason Peters was given the task of defending Myles Garrett and was like a human turnstile in the process. I don't care how mobile your QB is. If your line plays like that, you have no chance to win games.
This team is only going to go as far as the offensive line takes them, which at this point doesn't appear to be too far. Fields found out firsthand how different the NFL is compared to college if you don't have an offensive line. At least in college, you can outrun most defensive linemen to make things happen. That isn't the case in the NFL, as the speed is much faster.
• 5 Rushers Vs. 5 OL.
• Justin Fields snaps the ball at 8:44.
• 2 seconds later (8:42) only 1 Bears OL is still winning his assignment.
• This was the Browns 6th of 9 sacks.
• No RB/TE's to help with chip blocks.

Clear lack of scheme where the talent was out matched. pic.twitter.com/oHWudkjsbF

— Max Markham (@MaxMarkhamNFL) September 26, 2021
Was Matt Nagy right about Fields?
When the Bears drafted Fields in the first round of this year's draft, fans immediately expected him to be the savior for this franchise and play instantly. Nagy felt differently and named offseason acquisition Dalton his starter. Even after Fields outplayed Dalton in the preseason, Nagy stuck with his guns and said Dalton would remain the starter as Fields had some things to work through.
That rubbed fans the wrong way, but maybe it was onto something. After all, he sees both QBs every day and knows what they can and can't do. So far, Fields looks lost on offense in his two extended games of play, completing fewer than 50% of his passes for 145 yards and an interception. Whether that is a result of poor offensive line play or not being prepared is another question, but Fields doesn't appear ready for the speed of the NFL game.
I agree with Dan Orlovsky. The Bears should fire Matt Nagy TODAY. He set Justin Fields up to fail. Shameful to watch. pic.twitter.com/0lqZTGOxnJ

— Mekka Don (@MekkaDonMusic) September 27, 2021
This was why Dalton was brought in this offseason and named the starter despite Fields being drafted. Dalton has been around for 11 years and has seen every defense out there. Not saying that would have mattered yesterday, but he knows the speed of the NFL game and knows what to do to try and get things done.
Fields is just three games into his NFL career, but it hasn't gotten off to the start he or anyone has hoped for. We saw this time and time again with Mitch Trubisky, and it is starting to look as if Nagy not only can't run an offense, but can't develop QBs, especially mobile QBs. This is an issue and something that could alter the performance of Fields as the season goes on.