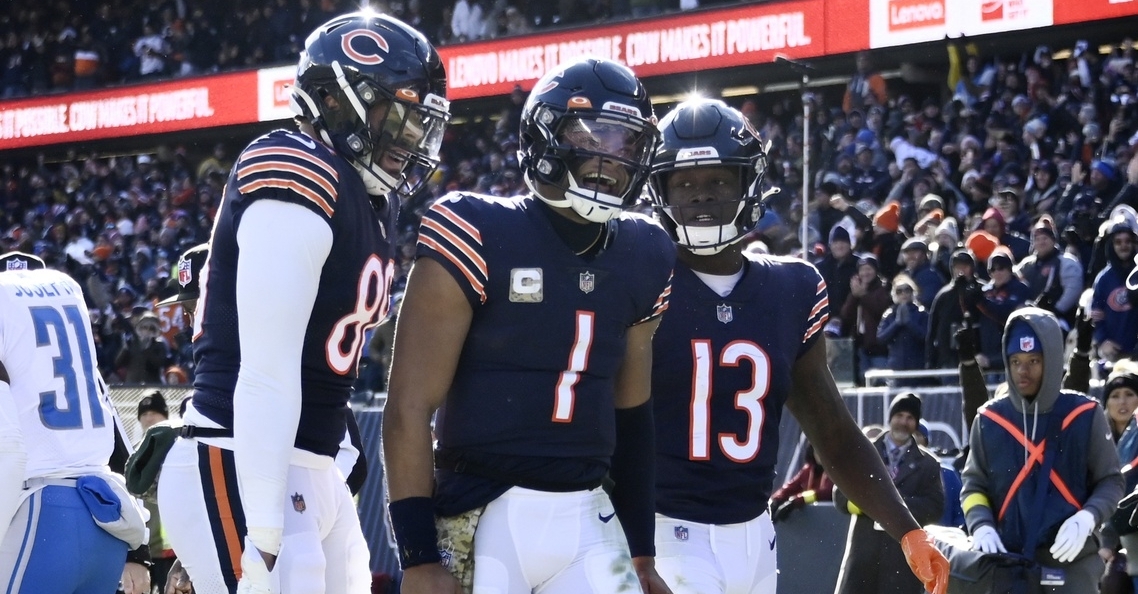 | | |
| --- | --- |
| Bears News: We are witnessing history with Justin Fields | |
---
| | | |
| --- | --- | --- |
| Wednesday, December 21, 2022, 10:32 AM | | |
There has not been much to get excited about regarding the Bears season, but Justin Fields is someone to be excited about. The second-year man had a terrible rookie season and was put under a huge microscope this season. Granted, that was not his fault, but when you have the expectations many had for him coming into the league and have a new coaching staff coming in, of course, you will be under a microscope.
This was supposed to be a year where Fields made strides as a QB, but judging by his record, those strides were a long way off. However, Fields has done more than hold his own this season and, after a slow start to the year, has played amazing football for the better two months.
For that matter, his play has been so good that Bears fans and NFL fans have witnessed history on several occasions, and there could be more history on the way. If there is one knock against Fields at this stage of his career, it would be the inconsistency in the passing game. Although he has gotten better, you can't average fewer than 190 yards per game and expect to have long-term success as a starter. That is not entirely his fault, as he could have better weapons to work with, but he is still ranked near the top in terms of throws being off-target.
While the passing game still needs work, the running game doesn't, as that has been a considerable part of his game all season long. With his 95 yards rushing on Sunday, Fields topped the 1000-yard mark on the season and ranks in the top 5 for rushing yards among players.
Going a bit further than that, Fields became just the fourth QB in NFL history to reach 1000 yards rushing, joining Michael Vick and Lamar Jackson, among others. That is some elite company, but Fields has been on a level of his own this season. You started to see Fields turn the corner during the middle part of the schedule, and that is when the Bears offense took off.
Over five weeks, Fields rushed for more than 600 yards which shattered the old record held by Michael Vick. Breaking any record set by Vick is a huge accomplishment, but Fields has his eyes set on even bigger prizes this season. By surpassing the 1000-yard mark on Sunday, Fields is also the single-season record holder for most rushing yards by a QB in Bears history.
With three games left this season, Fields not only has a shot at reaching 1300 yards on the ground, but could get to 3000 yards passing, depending on his production. If Fields continues to play a the level he has, 1300 yards is certainly not out of the question, and that would set him apart from any other as he would have broken Lamar Jackson's single-season record for most rushing yards by a QB.
That is incredible when you think about it, as that was a number that no one expected to be broken, or at least not so quickly. Regardless of what Fields does the rest of the way this season, it has been a historic year for Fields and one the fans will remember forever.
However, it will be the future that gives Bears fans the most hope they have had in a while. For those who thought Fields was not the answer, he has more than proven he is while also proving he is a franchise QB. This organization has been searching for a franchise QB for years, and they may have finally found one. It is up to him to improve upon what he needs to improve on to take his game to the highest level possible.