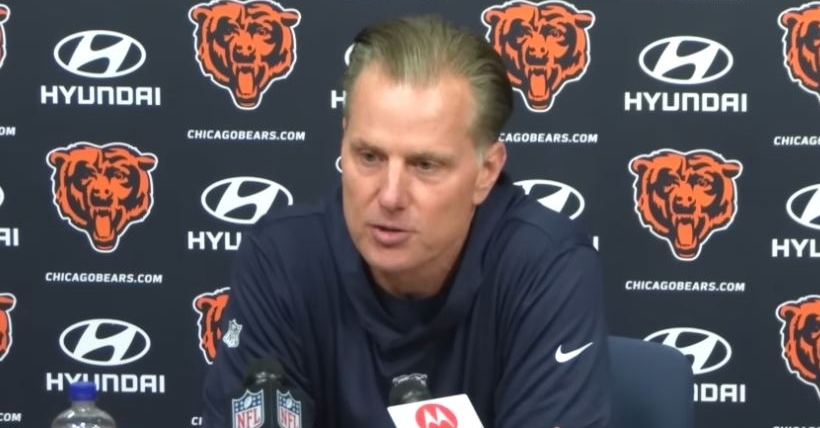 | | |
| --- | --- |
| Bears News: Eberflus wants to make Justin Fields a pocket passer | |
---
CHICAGO - I feel like we have had this conversation in Chicago before. Some quarterbacks are meant to play from the pocket. Some quarterbacks are just not pocket passers. This seems like a similar conversation to how things went for the last quarterback the Bears drafted in the first round before current quarterback Justin Fields - Mitch Trubisky who was drafted No. 2 overall in 2017.
It is actually surprising how similar the career of Trubisky is to Fields. First, the beginning of their Bears careers were similar. Both quarterbacks were drafted in the first round after the Bears traded up to acquire them. In the league, Trubisky showed an ability to use his legs and that ability flashed a good deal, particularly in his second season. Fields did quite a bit more than flash; he nearly broke an NFL record and received MVP votes. But still, they both had that ability to use their legs to make plays and both were being forced by coaching to try to be pocket passers. Head coach Matt Eberflus claims this is the way for a quarterback to be successful.
"To be successful, you have to be able to throw from the pocket," Eberflus said. "And there's a delicate balance there where if you have an athletic quarterback like Justin that, when he feels the instincts to be able to, it's starting to break down a bit or the time is getting long on the clock, if there's a space to do what he needs to do to get the first down to keep the ball moving in the two minute, do it. So, that's the instincts we're talking about."
Going back to the Trubisky-Fields comparison, Trubisky took similar criticism for holding onto the ball too long, leading to turnovers and sacks. However, Trubisky still was not sacked nearly as much as Fields was last season with 55; the most sacks Trubisky ever took in one season was 38. They were both similar in their yards per rushing attempt in their second season; while Fields had a league-high of 7.1 yards per attempt, Trubisky had 6.2 in his second season. For both, their second season in the league marked their first season under a new head coach.
We all know how the story ended for Trubisky - he got released. The Bears declined to renew his contract and he has spent his career since then as a backup. He was in contention for the starting job with the Pittsburgh Steelers, but eventually lost that starting job. Could this be Fields after this season?
Fields wants to play free and Eberflus says he wants that too, but the two sides just do not seem to be on the same page.
"We want him to play free and I think it's very important as we work through this, making sure that he does play free, that we coach him that way and a lot of times, he wants to be perfect," Eberflus said. "He wants to be perfect, he wants to do it the right way and there's a balance though, right? There's a balance between (going) through (his) progressions and having the ability to (feel) things happening (and playing) instinctual."
In other news, Fields' blind side blocker, left tackle Braxton Jones, was put on injured reserve (IR) on Wednesday. There was some talk about moving rookie right tackle, Darnell Wright, to left tackle. Wright specializes on the right side of the line from his time at Tennessee. However, given how slim the Bears are at offensive line, this has popped up as a consideration. Eberflus does not see this happening though.
"There's certainly thought there for sure," Eberflus said. "But when you're working with a first-year player, a lot of times you like to leave them in the same spot. But, certainly, that's been in conversation."
The Bears will face the Kansas City Chiefs in Arrowhead Stadium on Sunday (3:25 p.m./FOX). Chris Jones has returned for the Chiefs after contract disputes and while he was on a snap count like week, that does not seem to be the case this week. The offensive line will need to step up with Chicago is going to have any kind of a chance in this contest.