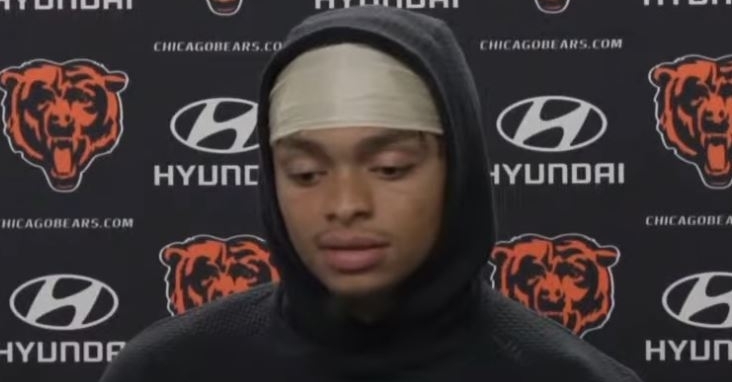 | | |
| --- | --- |
| Bears News: Fields on blown game against Lions: "We should have won that game" | |
---
CHICAGO - In his first game back in five weeks, quarterback Justin Fields was a presence on the ground with 18 rushes for 104 yards. Passing wise, he completed 16 passes for 169 yards and a touchdown. It was his first game where he started and finished with under 200 passing yards since playing the Kansas City Chiefs in week three.
The defense put the offense in position to score many times with four turnovers. However, in the first half, the offense failed to capitalize on those turnovers.
Nonetheless, when speaking with the media following the game, Fields said he thought this game showed good complementary football.
"I think, overall, I think we did a good job playing complementary football. The defense did a good job with the takeaways. I think the offense did a good job of pushing the ball downfield, controlling the ball," Fields said. "I think, overall, we did good. We need to get better at the situations I think. Of course, the two minute before the half, that was big, and of course, the two minute at the end of the game."
In reality, the defense carried the game. Quarterback Jared Goff for the Detroit Lions only threw five interceptions all season until this game where he threw three. Tight end Sam LaPorta for Detroit, one of the best in the league right now, was held to three catches for 18 yards, both of which were career lows for him; his three receptions was tied for a season-low. Given all of this, it seems that the Bears should have won the game.
Fields agrees with this assessment.
"We should have won that game. It just comes down to finishing and executing at the end of the game. So, that's how you do it," Fields said. "Jared Goff, he does a great job not turning the ball over, and in a way, our defense was able to create takeaways (and that) was big for us, and as an offense, we got to, of course, turn those into touchdowns rather than field goals or no points at all."
Overall, this has been a dismal season for the Bears. Earlier in the year, they tied a franchise record for their largest blown lead against the Denver Broncos, blowing a 21-point lead in that game. This blown lead also falls at the No. 33 highest blown lead in franchise history, which is saying something for an organization that is over 100 years old.
Still, Fields maintains they know who they are and are going to learn from this experience.
"We know who we are. We know what kind of team we are, and we just got to be better," Fields said. "We just got to finish, and like I said, when those big moments happen, when you need those big plays, we got to execute."
Since he was out with a dislocated thumb for five weeks, he had a lot of time prior to this game to rest his body.
That turned out to be something that greatly helped him as he said he came into this game feeling like it was the beginning of the season.
"I felt like it was the first game of the season out there. So, my body felt good," Fields said. "I was just trying to practice, just keep my conditioning up running-wise and stuff like that. So, my body felt good 100 percent going through the game."
He will have one extra day to rest up since their next game is on Monday Night Football when they face off against another division opponent, the Minnesota Vikings (7:15 p.m./ABC). The Bears will hope to avoid their thirteenth straight loss to division opponents.