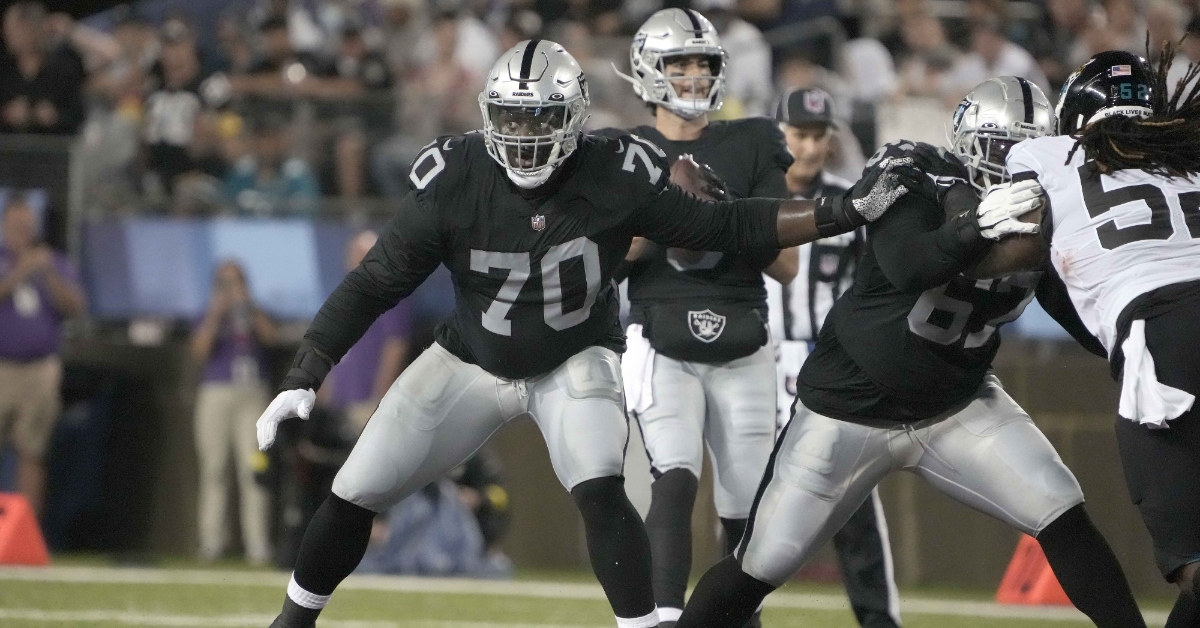 | | |
| --- | --- |
| Bears own waiver wire with six new players | |
---
| | | |
| --- | --- | --- |
| Wednesday, August 31, 2022, 5:54 PM | | |
With teams having to trim their roster down to 53 on Monday, you saw a ton of surprising moves made to reach that number. The names Mario Edwards Jr and Duke Shelley come to mind for the Bears as some of the shocking roster cuts from this team, but they came to make this team better.
As virtually every other team had to make tough decisions on their rosters, you saw a very intriguing waiver wire this season filled with potential talent steal. In fact, no one picked up more players off the waiver wire than the Chicago Bears, who treated it like the College football transfer portal.
Some of those additions are seen only as depth pieces to make specific areas of this roster better, while others could be potential stars for this team.
Here is the list of who Chicago has brought in via the waiver wire:
DT Armon Watts
One of the more surprising moves on Monday was watching the Minnesota Vikings release backup DT Armon Watts in what is considered a salary dump. Well, one man's trash is another's treasure, and the Bears didn't hesitate to grab Watts.
With the loss of Edwards Jr from this team, Watts is one of those guys who can come in and pick up the slack. Watts is an efficient downhill rusher with the power and hand usage to pry open opportunities for pressures and sacks. When given the opportunity in Minnesota, he typically played well.
OT Alex Leatherwood
Perhaps the biggest steal and most surprising roster cut was watching the Raiders release 2021 first-rounder Alex Leatherwood. Granted, no one knows why the Raiders parted ways, but the Bears are not complaining, as he is now on this roster.
After the Bears made the surprising move to release Michael Schofield, it opened up a spot on the offensive line Leatherwood will fill. Not only that, he is a first-round talent who can come in and start day one, so look for the Bears coaching staff to give him the opportunity to do just that.
DE Kingsley Jonathan
One of the few players who were not in the NFL a year ago, Jonathan had a highlight reel film session as a member of the Syracuse Orange. Expected to be somewhat of a reserve or bench piece, Jonathan was viewed as a practice squad player until the Bears grabbed him.
Granted, he may still end up on the practice squad, but the fact that the Bears took him over some of the other options leads me to believe they see a ton of potential in him. He could be your classic diamond in the rough pickups.
LB Sterling Weatherford
Not only did the Bears need to add depth at the LB position, but this was the one move many fans saw coming when you look at Alan Willimas and Matt Eberflus and their ties to the Colts. After Weatherford was released by Indianapolis, Eberflus made it a point to bring him in as he is reunited with his old defensive coordinator.
After picking up 18 tackles to lead the team across the preseason, rumors were swirling that he was not only going to make the Colts roster, but was on pace to potentially play more than expected. The bottom line is the dude can play, and now the Bears will see how much.
TE Trevon Wesco
Of all the waiver claims the Bears made, the TE position was the biggest surprise, as I expected them to land a WR. Granted, they still may do that with former Minnesota Viking WR Ihmir Smith-Marsette being added to that list after the Jalen Reagor trade. Still, as of now, Wesco is the only skill position player added to the offense.
Wesco was one of several Jets players released and picked up by other teams, and some have called him a baby Gronk. That is a strong comparison, so you can see why the Bears took a shot, especially with just Cole Kmet and Ryan Griffin on the active roster before that pickup. How he translates into the Bears offense will remain to be seen.
DB Josh Blackwell
One of the more intriguing pickups from the waiver wire is Blackwell, who not only worked out with the Eagles this summer, but was an undrafted free agent in 2022. An up-and-coming DB, Blackwell is going to be a practice squad guy, but there could be another role he fills on this team.
For starters, Blackwell is fast, and I mean lightning fast, as he has been clocked at a 4.31 for his 40-time. Knowing that I wouldn't be surprised to see the Bears sign him to their active roster because of that, even if it is in a kick return role.