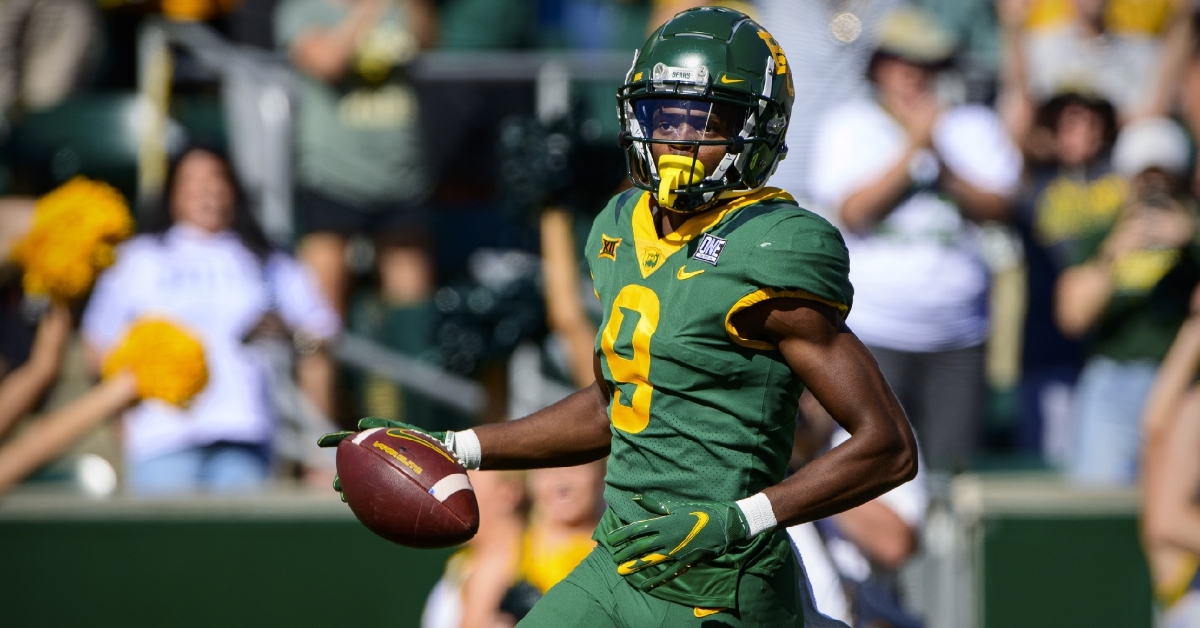 | | |
| --- | --- |
| Bears planning to meet with speedster WR Tyquan Thornton | |
---
| | | |
| --- | --- | --- |
| Wednesday, April 13, 2022, 8:32 AM | | |
Yesterday we talked about the Bears draft day needs and how the offensive line will still be a focus. There are a lot of intriguing names in this class, but most of them should be gone for the Bears pick at No. 39. Another need this team has also falls on the offensive side of the ball, which comes in the form of a wide receiver.
With Allen Robinson now in Los Angeles and Darnell Mooney the only trusted option in the passing game, Chicago needs to focus on bringing in more weapons for Justin Fields in this draft. Although most of the top receiver talent will be top 15 worthy, this is a draft unlike any other when it comes to WR depth, as plenty of starting-caliber players can be had.
Along with adding a WR, look for the Bears to focus on getting more speed into the lineup, and that is the case with Baylor speedster Tyquan Thornton whom the Bears are set to meet with. I give Ryan Poles a ton of credit right now. He knows the needs of his team and isn't hesitating to interview draft prospects to keep all options open.
Back to Thornton now, who could be an ideal fit for this team. Not as big of a household name as some WRs in this year's class, Thornton put on quite a showing at the NFL combine, which drew the attention of a lot of scouts. I know the combine and or pro day don't mean a lot, but we have seen it where a player goes out and dominates to improve their draft stock. That appears to be the case for Thornton.
A decade ago, finding 4.4 wide receivers was not easy as those were rare feats. Now, they are a dime a dozen as eight WRs clocked 4.4 speed during their 40-yard times as there is plenty of speed in this draft. On the other hand, Thornton is a whole different kind of speed as he set the bar with his 4.28 time, the fastest at the combine. To compare apples to apples, Tyreke Hill ran a 4.26, with John Ross running a 4.24 as Thornton is in an elite company.
Given the speed that Thornton possesses, the arm Fields has, and the Bears need for WR, it makes a ton of sense that Poles wants to meet with the Baylor product. This is the perfect type of big-play receiver the Bears could use as it would give the Bears someone to take the top off of the defense and let Fields air it out.
He showed flashes of that arm last year, but the Bears overall lack of speed at the WR position prevented him from airing it out more. Having speed is one thing, but putting that speed to good use in the proper system is another. Fortunately for Luke Getsy, he knows how to work with a speedster, previously working with Marquez Valdes-Scantling in Green Bay.
Despite his speed, Thornton isn't as popular of a name as you might think, which is a good thing for Chicago. Going back to past drafts under Ryan Pace, Speed was a focus, but having speed is not good enough in the NFL. You need to utilize that speed and still run routes, which Thornton can do.
When you watch him on film, he is not only fast, but his play feeds off that to the point where he could be an absolute steal in this draft. Thornton has long strides at 6-2 and 181 pounds, which helps with that speed. He also adds a near 37-inch verticle leap which helps him go up for jump balls.
Not only is he an electric deep ball receiver, as you would expect, but get him in the open field, and he becomes a defense's worst nightmare. Not only is he a threat to take the top off at any moment, but he doesn't shy away from traffic and will go up for contested catches on any play.
Not much of a producer his first three seasons, where he accumulated 1200 yards and nine TDs, Thornton broke out his senior season amassing 950 yards receiving to go with 10 touchdowns. His speed fuels his play-making ability and is the perfect complimentary piece to Mooney and this offense.