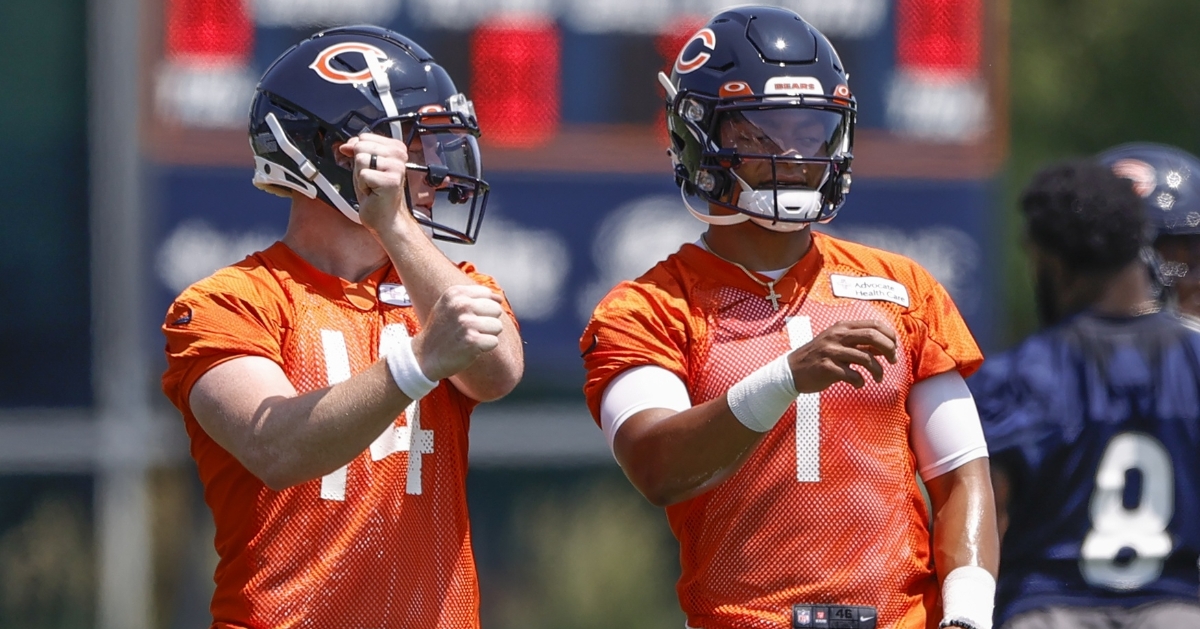 | | |
| --- | --- |
| Bears quarterback injuries linger as Packers loom | |
---
| | | |
| --- | --- | --- |
| Tuesday, December 7, 2021, 10:00 AM | | |
The Bears have not been mathematically eliminated from Playoff contention quite yet, but things are trending in that direction in the coming weeks. Unless the Bears can rip off five straight wins, or at the very worst, win four of their last five games, the postseason is a foregone conclusion as this team has underachieved yet again this season.
I would argue that injuries at key positions took a toll on this team, but it is time to stop with the excuses and face the facts. This team is not very good right now, and some drastic changes need to be made this offseason. Going back to when things were decent, and the Bears were riding a 3-2 mark, Matt Nagy and his staff pulled out all the stops to put a winning product on the field.
They committed to Andy Dalton out of the preseason because they felt he gave them the best chance to win early on. After injuring his knee, Justin Fields was thrown in the fire sooner than expected. Despite going through plenty of growing pains, Fields showed signs of improvement, which led Nagy to commit to Fields as their starter going forward.
The problem with that is he is a rookie, and rookies tend to make many mistakes. Those mistakes were even more magnified with the team losing games as the wins Chicago expected to have were not coming. A few weeks ago, Fields went down with a rib injury and thus saw Dalton return to the starting spot under center. He looked great against the Ravens and Lions before suffering a terrible setback against the Cardinals, which could have been the worst performance of his career.
With a game against the Packers this weekend, things will not get easier for this team, and now they may be forced with another tough decision. Not only is Fields continuing to work his way back from his rib injury, and his status is unknown, but Dalton was also banged up against the Cardinals, leaving his availability on Sunday questionable.
His injury doesn't seem too serious, and I expect him to play if healthy, but that hasn't stopped the Bears from preparing for the next man up. That means that Nick Foles, yes, the same Foles that started seven games last season, could be in line to start against the Packers Sunday night.
The ideal scenario is to start Fields if healthy, but Nagy anticipated Fields being ready to go against Arizona, which didn't happen. Now he is evaluating a left-hand injury that Dalton suffered as the Bears season can't get much worse than it already has. Should neither of them be able to go, the next man up in Chicago falls on Foles.
There isn't much Foles can do to win the fans over, especially after his showing with the team last year. He is a system quarterback who needs the right pieces around him to succeed. Without those pieces, Foles is just an average QB who fills a backup role with this team. However, if you talk to Foles, he feels like he is a better QB than when he won the Superbowl. You have to like the confidence level, but the results are all that matters, and he hasn't shown great results with Chicago.
Last season, Foles played in nine games with Chicago, starting seven of those nine games. After winning two of his first three starts and helping the team get off to a 5-1 start, Foles lost his final four starts and went 2-5 before injuring his back and landing back on the bench. He threw for around 1900 yards to go with 10 touchdowns and eight interceptions as the overall numbers were not great.
When it comes to Foles, you get what you get with him and teams know that. He is a valuable backup quarterback who often thrives in the relief role off the bench. However, when called upon to start long-term, things haven't gone well, thus why he is in his position.
The Bears know they need to win out even to consider making the playoffs, and in order to do that, they need to pull out all the stops. I know Foles is the last option Bears fans want under center, but it is also the last option the Packers or anyone would expect at this point. Who knows, maybe Foles does get the start or, at the worst, sees time on the field Sunday night and lights a spark under this team. They could desperately use a spark right now.