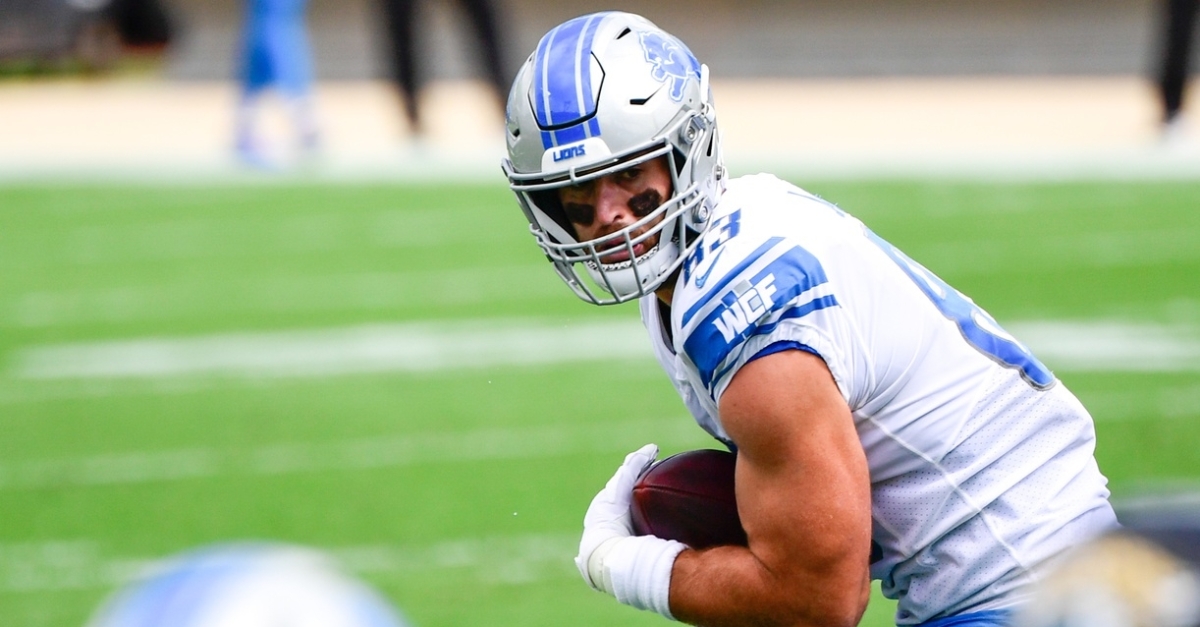 | | |
| --- | --- |
| Bears reportedly sign TE for $2.15 million | |
---
| | | |
| --- | --- | --- |
| Monday, July 26, 2021, 9:19 PM | | |
Remember last offseason when the Bears thought it was necessary to carry 12 tight ends? How did that work out for them? They ended up using four of those 12 while trading or cutting the rest. While having a lot of depth at certain positions is a good thing, low-quality depth can hurt a team.
While the Bears haven't been adding as many tight ends this season as in the past, they continue to find value-type players, and that is exactly the case with their most recent pickup in TE Jesse James on a one-year deal worth $2.16 million with $1.65 fully guaranteed.
This comes a few days after the Bears traded Anthony Miller to the Houston Texans and clearly wanted to add a little more help in the passing game.
In an effort to give their quarterbacks another receiving threat, Ryan Pace did his homework and felt that the 27-year-old James would fit in perfectly with what the Bears want to do on offense. Now in his seventh NFL season, James began his career with the Pittsburgh Steelers, where he spent his first four seasons starting several games in the process.
Following his tenure in Steel Town, he migrated west to the Motor City and spent the last two seasons with the Detroit Lions. Now, James continues to migrate west as the Windy City will be his next home. While James may not be a household name to some, considering how he wasn't much of a treat in Detroit with TJ Hockensen, he is still someone who has produced in the past, so the Bears should know what they are getting in him.
Across 88 career games, James has seen the field plenty starting 54 of those games. Most of those starts came with Pittsburgh, but he did several starts with Detroit when Hockensen was dealing with injuries. Not someone who is going to produce at an elite level, James has hauled in 150 catches to go with 11 touchdowns over his career. However, his one touchdown that didn't count is what Bears fans should remember most as that prevented the Steelers from advancing in the postseason against the New England Patriots.
As mentioned above, this signing will not make or break the Bears season, but this is the kind of move that contending teams often do to shore up an offense. Yes, I used the word contending there as I genuinely feel the Bears could be contenders this season. While the production of James will not be that of Miller, he does offer the Bears something Miller never did, which is consistency.
James knows his role on this team and his role in the NFL. With Jimmy Graham and Cole Kmet on this roster, James knows he will not be the starting tight end and most likely won't be the backup TE. Instead, look for James to fill the No. 3 tight end role which was a revolving door for the Bears last season. Ideally, James would love to start, but at this point, he just wants to play, which could work into the Bears favor.
As the season unfolds, I expect Kmet to emerge as the starting TE, taking that role from Graham by midseason. Graham, however, will be more trusted in the Red Zone, given his overall size and ability to haul in passes in the endzone. Where does that leave James in the equation? Third-string tight ends very rarely see the field unless they have a specific package designed for them.
In Matt Nagy's offense, however, TEs are critical, so look for them to use him more often other teams would in the same position. James will not be a game-breaking playmaker, but look for him to be used frequently on third down as he would be someone to extend drives and move the chains. You could also see him get plenty of touches inside the red zone as he has more experience in that area over Kmet.
Chicago continues to surprise the fans this offseason with their moves, and this is another one of those moves. This is something Chicago fans should be happy about because he is a better option than what the Bears have had, and he can start if needed.
Upgrade Your Account
Unlock premium boards and exclusive features (e.g. ad-free) by upgrading your account today.
Upgrade Now