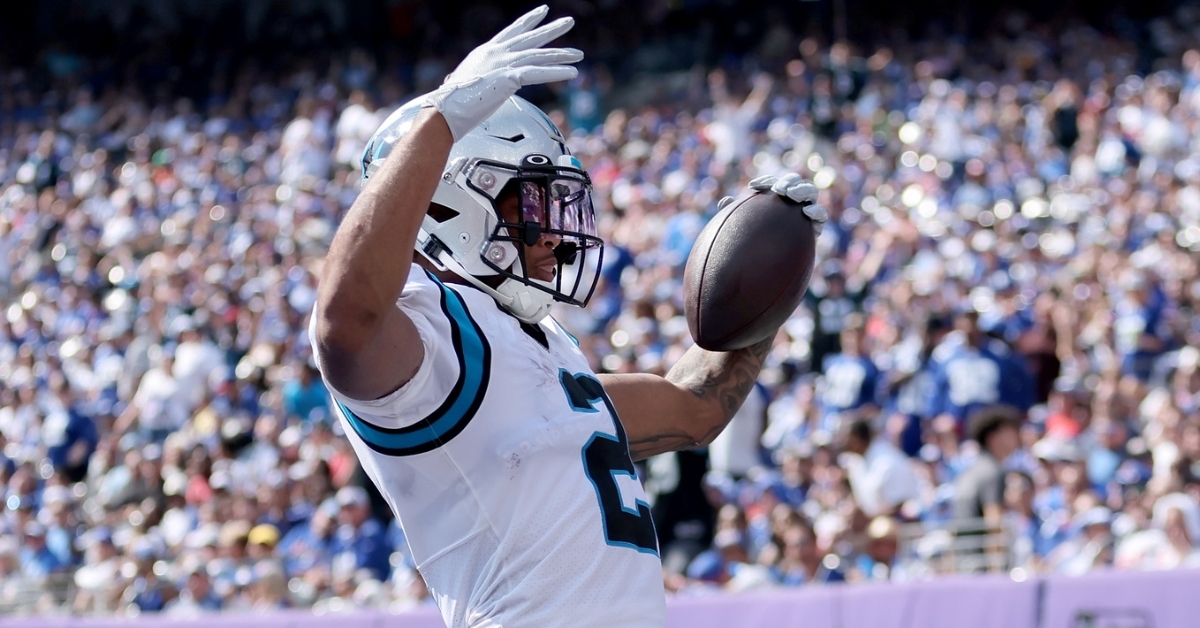 | | |
| --- | --- |
| Bears rumored to be in mix for DJ Moore | |
---
Say what you want about the Bears loss to the Vikings on Sunday, but there was a significant improvement on the offensive side. Not only did Justin Fields throw for more than 200 yards for the first time this season, but he started to look like the QB the Bears traded up for in 2021.
Granted, there is a long way to go for Fields to reach the level he wants to be at; it was still a pleasant surprise to see the Bears open things up and allow Fields to be Fields. With a short week ahead of them and Washington coming to town on Thursday, some significant upgrades could be coming to Chicago at the WR position.
N'Keal Harry, the former first-round pick has been on the IR all season with an ankle injury and is finally cleared to play this week.
His role remains to be seen, but he will give the Bears a much bigger target to throw to, and he could provide a lift in the passing game. Along with Harry, there could be more moves on the table and all circles around Matt Rhule firing in Carolina.
With the Panthers set to go through what could be a substantial organizational overhaul, Adam Schefter has reported that the Bears are getting close to acquiring DJ Moore from the Carolina Panthers. Whether that is just a rumor or not, it is certainly worth looking into, especially when you look at the ramifications it could mean.
Moore has been a consistent yet underrated WR who has been overlooked in Carolina. The 25-year-old Moore is having a rough start to the season, but the QB play of Baker Mayfield has done him little favors. Through five games, Moore has hauled in 17 catches for 197 yards and one score. Those are not good numbers, but it doesn't shy away from what he can do.
Since coming into the league in 2018, Moore has always been a reliable No.2 but has been a No. 1 with the Panthers as they lack true weapons on the outside. Moore has collected 4510 yards since coming into the league and 15 touchdowns. That averages out to nearly 900 yards per season with roughly three scores.
Ideal production, no, but certainly worth exploring to add to this Bears roster. What makes a potential move like this intriguing is the ramifications that come from it. If you remember back to this offseason, the Panthers extended Moore and gave him a three-year 61 million dollar deal. That is a lot of cash for a non-number one target, but it gives the Bears a WR they can control beyond this season.
It is unclear what the Panthers would be asking or what the Bears would be willing to give up, but you have to think the Panthers will go through a massive fire sale. If Moore ends up in Chicago, the Bears will get a very productive WR to pair with Darnell Mooney on the outside.
Granted, neither of them may be a No. 1 at this point, but adding two productive No. 2 WRs will only make life easier for Fields. You also have Byron Pringle returning from an injury, and the addition to Harry and this offense could and will look much different in the coming weeks.
This is a move the Bears not only need to inquire about, but they need to make it happen if available. It would cost the team a bit of capital, but it would also help stabilize the position beyond the rest of this season.