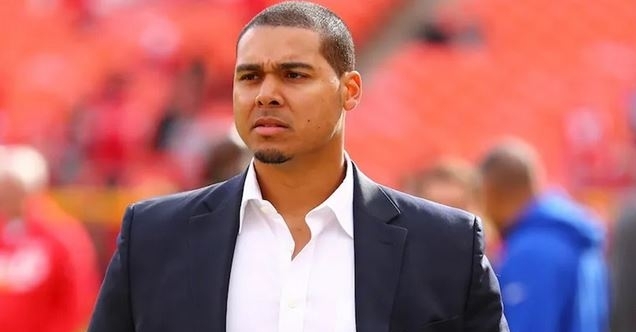 | | |
| --- | --- |
| Bears set to hire Ryan Poles as next GM | |
---
| | | |
| --- | --- | --- |
| Tuesday, January 25, 2022, 3:08 PM | | |
It took nearly three weeks and lots of speculating, but the Chicago Bears have found their new GM. All it took to decide was watching one of the best playoff games in NFL history unfold Sunday as the Bears appeared to be sold after that performance.
One day after it was revealed that the Kansas City Chiefs director of Player Personnel Ryan Poles was heading for a second interview with Minnesota, the Bears made sure that he wouldn't get that far. Instead, Chicago swooped in last minute, brought him back to Chicago, and made him an offer to take over the GM position in Chicago.
When you look at this pickup, no one can argue that it is a great decision when looking at how the Kansas City Chiefs team is constructed. However, you will have some fans a bit hesitant as things with Matt Nagy didn't work too well, and he came from that same organization. I can sympathize with those concerns, but Poles is not a head coach and knows a lot about what he is doing.
Unlike most GM candidates that the Bears interviewed the last few weeks, Poles has been a one-organization man as Kansas City has been home since the beginning. During his tenure, Poles withstood several GM changes, and the fact that he remained in the front office shows that he not only knows a thing or two, but must be doing something right.
Poles joined the Chiefs organization in 2009, working as Player Personnel assistant. One year later, he was promoted to the College Scouting Administration area, where he held that position for three years. Scouting college-level talent was a massive thing for Poles, and in 2013 he was promoted to the College Scouting director. Over the next three seasons, Poles played a considerable role in changing the Chiefs overall culture as he began digging deep into a player's talents before the team drafted them.
Following one season as the Director of College Scouting in 2017, Poles moved up the rankings again, taking the assistant Director of Player Personnel job in 2018 and holding that position until 2020. Poles hard work at that position earned him an impressive promotion this year, where he became the Executive director of Player Personnel. Here we are again one year later, and it looks like Poles is set to make his next NFL move by becoming the next GM of the Chicago Bears.
There is no doubt that Poles has an extensive background in the scouting department with the Chiefs. Even though he has worked for just one organization up to this point, Poles as part of the Scott Pioli, John Dorsey, and now Brett Veach regime. For him to withstand the first GM transition and the second one, you have to think he is doing something right for the organization to hold on to him as long as they have.
When you look at the amount of talent that Kansas City has put on the field in recent years, you marvel and feel a sense of jealousy as to why your organization couldn't match that. You have to give Poles a lot of credit for that as he scouted a lot of these players and gave the then-GMs his word that they would fit well in the Chiefs system. Not only do they fit well, but you are looking at a team on the verge of their third straight Superbowl
appearance and have become the next great AFC dynasty surpassing the New England Patriots 20 year run.
Poles may not be a familiar name to Chicago fans, but he did spend time with Chicago as an undrafted free agent in 2008 only to miss out on making the team. He never made it as a player in this league, but his vast knowledge for the game paid off in the front office, and the Bears are making sure they grab him before someone else does.
New #Bears GM Ryan Poles has an excellent resume, and comes from a successful organization, but I'm waiting for those first few moves to see what he's all about.

— Mark Grote (@markgrotesports) January 25, 2022
After getting his first interview with the Bears on January 17, Poles was starting to plan his second interview with the Vikings and other teams, and low and behold, the Bears stepped in and said not so fast. The big move that made Poles catapult up the GM candidate rankings was that he was the Director of College scouting in 2017, which was when Patrick Mahomes was drafted. Not many teams believed in Mahomes as much as Poles did, and the rest is history as the Chiefs are living large.
Either way, every Chicago fan will agree that this is a significant upgrade from Pace. This is a step in the right direction for a variety of reasons. Not only do you bring in someone with a rich history of successful scouting, but someone who knows what to look for that fits a team. Poles has also been a part of a winning culture for a while now, and that is something that can't be taught.
After hiring Ryan Poles as GM today, the #Bears are working to schedule a second interview with #Cowboys DC Dan Quinn for their head coaching job, per source.

Quinn is one of three known finalists, along with #Colts DC Matt Eberflus (who interviews Wednesday) and Jim Caldwell.

— Tom Pelissero (@TomPelissero) January 25, 2022
The Bears are instantly better today than they were yesterday with this hire. Now it is time for them to solve the next problem, naming a new head coach. Hopefully, Poles has a say in this and has some other names in mind.