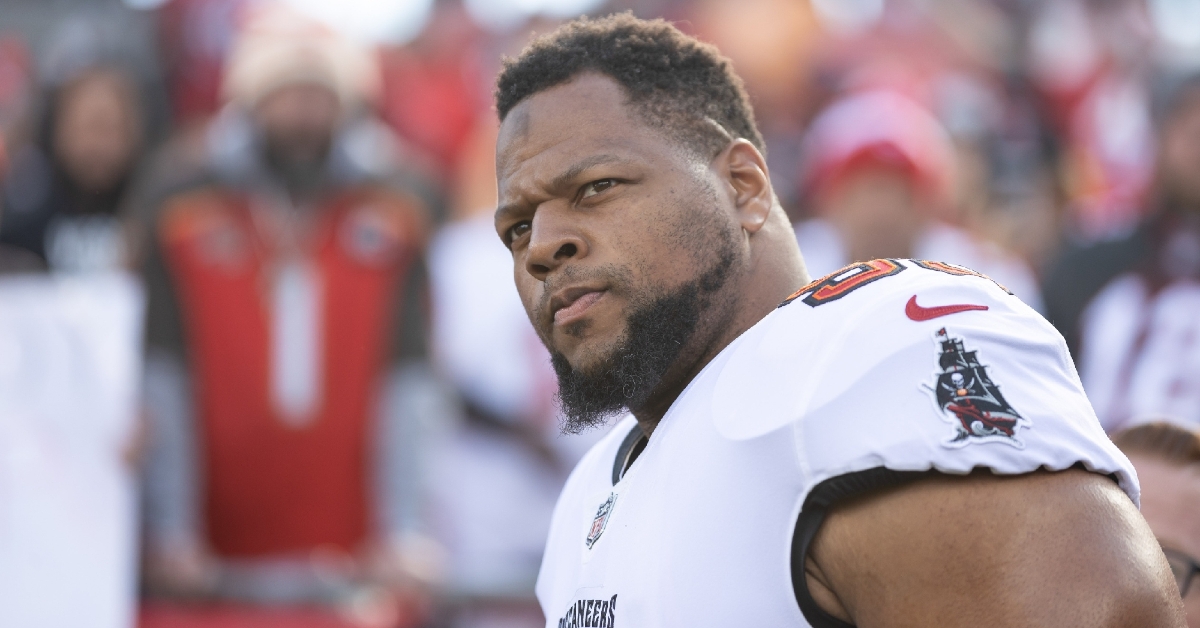 | | |
| --- | --- |
| Bears should go after Ndamukong Suh with loss of Akiem Hicks | |
---
| | | |
| --- | --- | --- |
| Wednesday, June 15, 2022, 11:03 AM | | |
Everyone knew the Bears would be going through a massive facelift this season, especially on the defensive side of the ball. While a lot of the decisions made were expected, watching Akiem Hicks leave was not expected, and then it hurt watching him sign with the Tampa Bucs.
Say what you will about Hicks and his inability to stay healthy the last few seasons. When he was on the field, the Bears defense was at their best, and he was a big reason why. His size in the middle was imperative when it came to stopping the run, and his relentless energy made him a nightmare for an offensive lineman to contend with in pass protection.
There is a reason why Hicks was always near the top in sacks on the Bears, and without him, the defense looked like a shell of themselves. With Hicks no longer in the picture and out of the organization, the Bears defense is missing a significant piece they need to replace.
As things sit right now, not one single player on this roster can replace Hicks, as it would take a collaborative effort even to come close to his production. However, there is one free agent out that would be worth pursuing as he would not only give you the production Hicks gave you, but could give you more.
Although not the most popular player in the NFL given his history, Ndamukong Suh is available, and if the Bears are looking to add to their defense, why not go after him. Suh was the former No. 1 pick of the Detroit Lions and, ever since coming into the league, has been one of the more productive DTs in the game.
While this team has made plenty of moves on both sides of the ball, they are still rebuilding. With talks that Roquan Smith may be next out the door, Suh would be the perfect fit for this team as every rebuilding organization needs a guy like Suh.
Considering how young and inexperienced the Bears defensive front is, you sign a guy like Suh to do two things. Most importantly, although getting toward the end of his career, he can still play meaningful reps and produce at a high level. He is also someone that can come in and mentor these younger players to help them reach their ultimate potential.
Another thing that Suh has that no one else has on the Bears roster is that nice shiny Superbowl ring he achieved two seasons ago. Not only does he have the skill, but he has the knowledge of knowing what it takes to become a Superbowl champion, and that type of knowledge can't be coached.
Since being drafted in 2010, Suh has missed just two out of a possible 193 starts. That type of durability is lost in the NFL, and having someone like that to replace a guy in Hicks who was often injured would be nice. Suh also has the work ethic that the young guys would feed off of as they will want to challenge themselves to become better every day.
I know many fans don't care for him, especially regarding his reputation on the field, but when you are a five-time pro bowler, three-time all-pro, and Superbowl champion, those thoughts need to be brushed aside. This is one of the most productive pass rushers in the NFL who has accounted for more than 70 sacks. Most of those came as an interior linemen, which is no easy feat.
Even at 35 years old and nearing the end of his career, Suh is a guy that can come in and make an immediate impact as he prides himself on keeping his body in shape and staying healthy. This guy would like a long-term deal, but he would be more than happy sticking with a two- or three-year deal to help a team win and finish off his career.
With the Bears sitting on some cap space, looking into acquiring a guy like Ndamukong Suh should be a no-brainer. With everything he brings to a team, this looks like a no-lose signing. Keep an eye on this as training camp looms; he is precisely what this team needs.