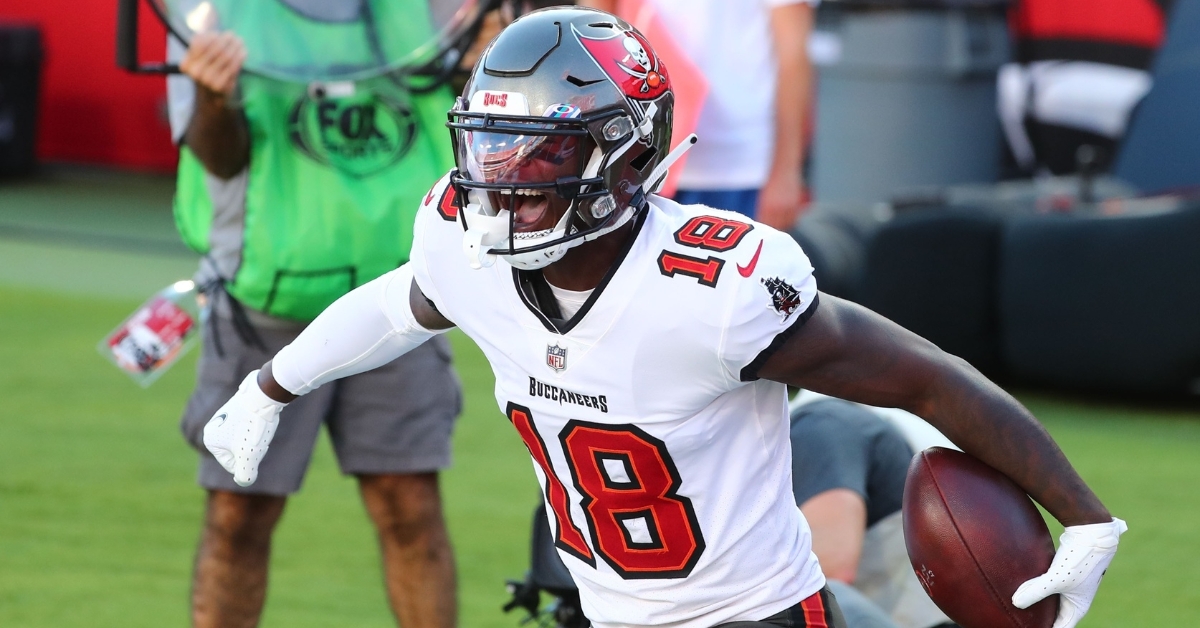 | | |
| --- | --- |
| Bears should look into adding Bucs receiver Tyler Johnson | |
---
| | | |
| --- | --- | --- |
| Tuesday, June 14, 2022, 10:03 AM | | |
As we move closer to the regular season, the Chicago Bears are expected to add to their WR room in some aspect. Whether that be through a trade or free agency remains to be seen, but the bottom line is that this team wants to add more weapons around Justin Fields in hopes of maximizing his potential.
The Bears have a crowded WR room, as do other teams, but some of the WRs in the Bears room will not cut it once the season starts. Another team with a crowded WR room is the Tampa Bay Buccaneers, and third-year WR Tyler Johnson would be an intriguing option for the Bears to look into.
Johnson has just 529 yards under his belt, but at 23 years old, he has plenty of time to develop into a quality WR. Should the Bears be interested in bringing him aboard, he would be one of the youngest players on the roster, which is something the Bears have wanted to do all offseason long.
Despite his 529 yards of receiving, Johnson still had more yards than David Moore, Dante Pitts, Tajae Sharpe, and Equanimous St. Brown, all of who are on the Bears roster this season. Not only is he younger than all of them, but he produced at a higher level than all of them, which is worth noting. That makes me believe that he has a lot more to give and is just waiting for the chance to show it.
His production is not great, but considering that he did that on a loaded depth chart in Tampa gives him a leg up on the rest of the Bears WRs should he sign with them. Sure, having Tom Brady throwing you the ball helps, but he was behind Mike Evans, Antonio Brown, Rob Gronkowski, Scottie Miller, and Chris Godwin, among others.
Johnson was expected to have a more prominent role this season with Godwin injured, but the Bucs turned around and signed Breshad Periman and Russell Gage, who will put Johnson further down on the depth chart again. That could also leave Johnson out of the pecking order altogether, where a late-round pick may be enough to lure him to Chicago.
Johnson was a very productive WR in college, which shouldn't surprise you with his 6-2 206-pound frame. Across his four years with the Golden Gophers, Johnson hauled in 213 passes for 3305 yards and 33 scores. His final two seasons were when he broke out, amassing 2500 yards and bringing in 25 touchdowns, as he was the definition of a game-changing WR.
Since breaking into the NFL, Johnson has been waiting for an opportunity to show what he can do, but has been lost in a crowded and talented roster. That tends to happen on Superbowl caliber teams as talented players don't always get to see the field and need a change of scenery to succeed.
Perhaps that is what Johnson needs. 529 yards in two seasons is nothing to get excited about, but his collegiate production leaves a ton of intrigue. He was the clear No. 1 option in Minnesota and came into the NFL with the potential to be a reliable no. 2 or No. 3.
That has yet to happen, but it doesn't mean it can't or won't happen. I like Johnson as a player, and I think he would fit very well in the Luke Getsy system. The Bears want to get younger at the WR position and want to give Fields as many weapons as possible that he can have a relationship with.
You saw that with Mooney last season, but apart from him, the Bears don't have a trusted WR in their group. While the trust may not come immediately, Johnson is more than capable of earning that trust and could work wonders with this team.