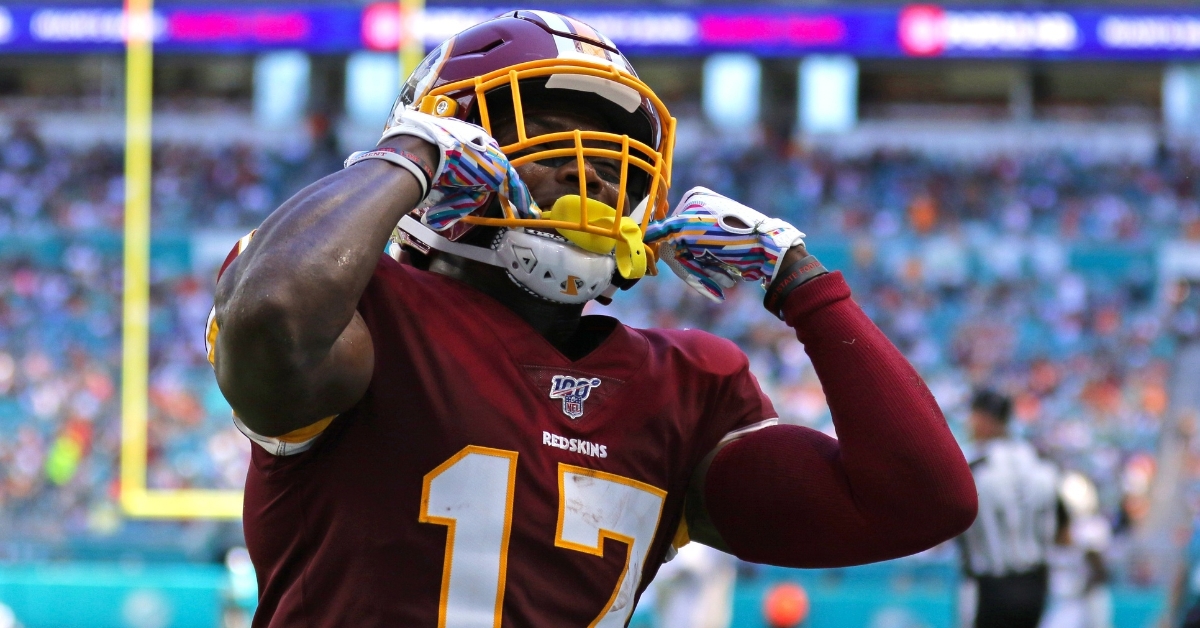 | | |
| --- | --- |
| Bears should make a run at WR Terry McLaurin | |
---
| | | |
| --- | --- | --- |
| Thursday, June 16, 2022, 11:19 AM | | |
It has been a long time since the Bears had a legitimate No.1 WR option. Sure, Allen Robinson was the team's No. 1 in 2020 and 2021, but outside of that, you would have to go back to the Brandon Marshall, and Alshon Jeffrey days as the last time the Bears had a true No. 1.
Darnell Mooney is hoping his breakout campaign last season can result in a No. 1 role again this year, but some still feel he is better suited as a No. 2 than a No.1. However, there is a pro bowl WR who is not only drawing Stephon Diggs comparisons but is unhappy with his situation, and the Bears are being urged to pursue him.
I am talking about Washington Commanders WR Terry McLaurin, who is not planning on attending the team's minicamp. It is no secret that McLaurin wants a new contract, and he has made it perfectly clear all offseason. While we have no idea how close or how far apart the sides are at this point, the bottom line remains he is not happy and wants out of Washington.
As things sit right now, McLaurin and his camp are still talking with Washington, but it looks like he wants AJ Brown money. If the Bears are adamant about adding a true No. 1 option this offseason, McLaurin is the perfect solution and one that this team could have for years beyond 2022.
With 23 million dollars in cap space for this season, and an estimated 90 million available for next season, Chicago would have no issues taking on a guy like McLaurin. At just 26, McLaurin is entering his prime years as a WR, but has already put together several impressive seasons.
While the Bears can afford him, it is doubtful they will try and trade for him, but they may have to if they want him bad enough. If you want to make a major move this offseason, then adding McLaurin at any cost should be the move you make.
Throughout the offseason, the Bears have mostly been passive, but have been aggressive in filling needs they felt were important. McLaurin is worth being extra aggressive, as he is one of those game-changing WRs that can help any offense.
Considering that he attended the same school as Justin Fields, you have to wonder if the OSU connection may intrigue him to play alongside Fields. Last season was considered a down year for McLaurin, but he still caught 77 passes for 1053 yards and five scores.
Down year or not, that was better than everyone else on the Bears roster, which is why he is a huge get if the Bears can pull this off. McLaurin is also drawing Diggs comparisons which is excellent company to be in. Across his 46 games in three seasons, McLaurin has 222 receptions for 3090 yards and 16 TDs. In other words, you are looking at a player who should give you 1000 yards with no problem.
What makes these numbers that much more impressive is that he has put those up with a revolving door at QB. Had he been able to have one guy throwing him the ball, the sky is the limit, and if he could find a way to land in the right situation, he has the talent to erupt in a big way.
The same thing was said about Diggs in Minnesota, and once he got to Buffalo, the production took off. The QBs he has caught passes from include Ryan Fitzpatrick, Taylor Heinicke, Alex Smith, Kyle Allen, Dwayne Haskins, Case Keenum, Colt McCoy, and Garrett Gilbert. Apart from Smith and Fitzpatrick, Fields is the best talent and may be the best talent out of the bunch.
McLaurin also benefits from working with young QBs in the past, so he knows what a developmental process looks like. Getting a move like this done won't come easy, especially when you look at what Washington will want in return. However, this guy is worth pushing your chips to the middle for.