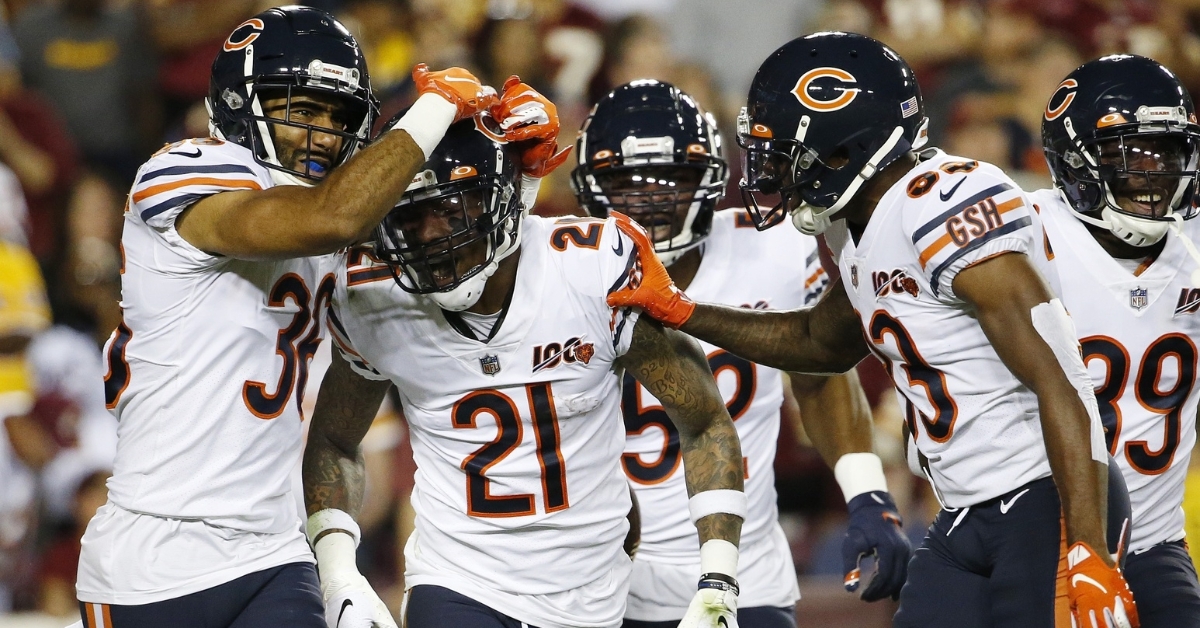 | | |
| --- | --- |
| Bears should re-acquire Ha-Ha Clinton-Dix | |
---
| | | |
| --- | --- | --- |
| Friday, September 4, 2020, 10:31 AM | | |
The Chicago Bears spent a ton of time this offseason looking to upgrade the secondary position. A large chunk of that was spent on free agency with some other enforcements coming through the draft. While the secondary position is in a much better place this season than in seasons past, the safety spot alongside Eddie Jackson remains a mystery as the Bears are still searching for his running mate.
Ever since Adrian Amos darted for Green Bay, Chicago has been looking for a safety to pair next to Jackson once again. Last year the Bears brought in Ha-Ha Clinton-Dix on a one-year deal, and the two of them seemed to play well together. After Clinton-Dix signed a free-agent contract with Dallas, the Bears were again looking for answers at safety but did what they could to fill the void.
After Jordan Lucas opted out due to COVID concerns, the safety position took another hit as now the Bears will rely on rookies and inexperienced players to fill the hole. However, could Clinton-Dix be in the cards or an option for Chicago now that is available to be had?
You heard that right. Just months after signing a free-agent deal with Dallas, the Cowboys have parted ways with Clinton-Dix making him a free agent. If
I'm Ryan Pace, I get on that phone today, call his agent and see if something can be worked out for this season.
Clinton-Dix may not be a top 10 safety, but he has made the pro-bowl before and plays an intense level. He performed admirably last season for Chicago, who is now left with Deon Bush to play alongside Jackson. With so many rookies on this roster, Chicago may want to give them a chance, but Clinton-Dix needs to come back to the Windy City.
For starters, Clinton-Dix is a seasoned vet who would be a great player to help mold these younger kids. Secondly, he played in this system last season and should be familiar with what Chuck Pagano likes. It may take a couple of weeks to get caught back up to speed, but that shouldn't be an issue for him.
Third, he played alongside Jackson last season and knows what to do and how to communicate. Part of Jackson and Amos were so good together that they trusted each other and had excellent communication. I want to think these two played long enough together last season to earn each other's trust and put it to good use once again.
The Cowboys release of Clinton-Dix came as a big surprise for two reasons. The first reason being that his former head coach in Green Bay, Mike McCarthy is now in Dallas, so they had a previous relationship. The second reason why I'm surprised is the money side of things as Clinton-Dix signed a one-year deal for just 3.75 million. Cutting him saved the Cowboys around 1.5 million, but that is not that much.
Chicago was lined up to get a compensatory sixth-round pick in the 2021 draft for Clinton-Dix going to Dallas, and in previous years a release like this would put that pick in jeopardy. That isn't the case anymore, so the Bears are thankfully in line to keep that pick. I know the Bears are very deep in secondary depth, but bringing him back certainly wouldn't hurt.
For that to happen, you need to look at the Bears cap space and what they have to work with. I know the money will be tight, but he didn't sign for all that much in Dallas, so you would think you could get him for around two million. Second, this could be a prove-it type of deal where if he performs well again, you sign him to a multi-year contract in the future. That could take care of your safety issue right there.
The third reason to make this pick is that he will add more depth to a unit that wanted to add depth this offseason. Clinton-Dix could undoubtedly start, but should Chicago move him to the bench. He immediately becomes a great option off the bench for specific packages.
The final reason why I see this being a good option for the Bears is simple. Clinton-Dix is a veteran who is not only familiar with Chicago and the way they do things but familiar with the NFC North. In his seventh season in the league, Clinton-Dix has spent his entire career minus a few months in the NFC North. His first four-plus seasons, he was in Green Bay before a two-month stint in Washington. He then spent last season with Chicago before going to Dallas this year.
Clinton-Dix knows how to play against the quarterbacks in this league and knows what to do on defense to make plays. I already expect the Bears defense to be better with Robert Quinn, but bringing Dix back could put them over the top defensively. It is a move Chicago should strongly consider.
Clinton-Dix has yet to miss a game for his career, playing in every regular-season game since being drafted in 2014. Across 96 games, Clinton-Dix has accumulated 16 career interceptions for 212 yards and one score. That score came last season with the Bears when he returned a 59-yard interception for a touchdown.
Dix has also registered 33 pass breakups, four forced fumbles, four fumble recoveries, and 5.5 sacks. In 16 games with the Bears last season, Dix had two interceptions for 96 yards, including the 59-yard score, five pass breakups, and two fumble recoveries.