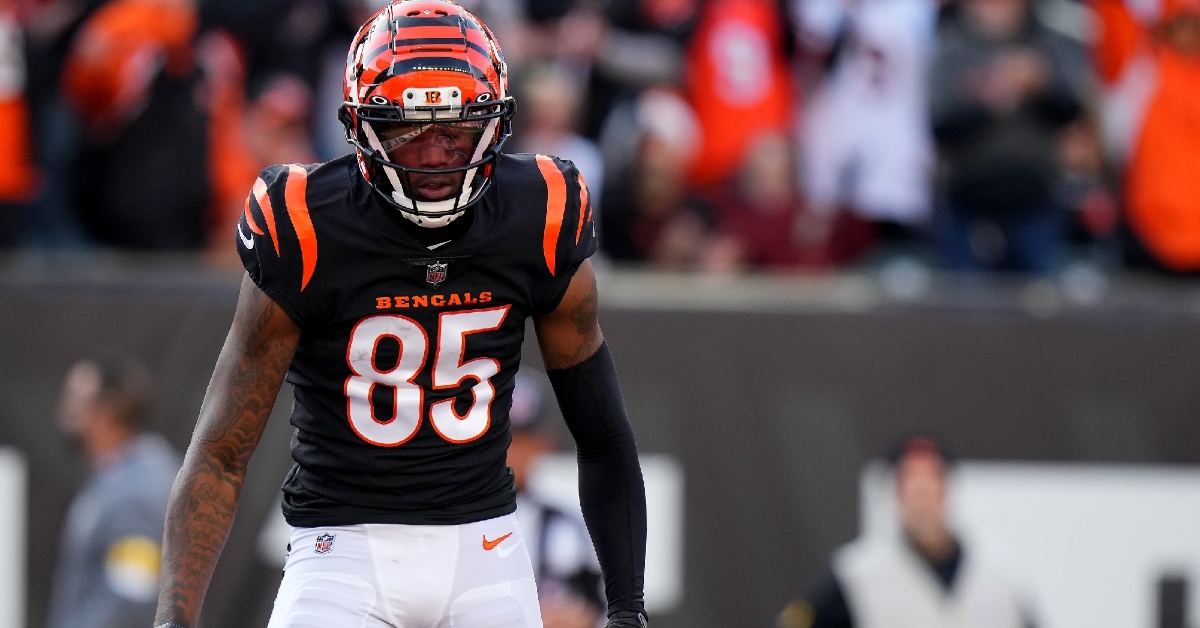 | | |
| --- | --- |
| Bears should try to trade for Tee Higgins | |
---
| | | |
| --- | --- | --- |
| Sunday, February 5, 2023, 9:32 AM | | |
Well, this should be music to the ears for Chicago Bears fans. It hasn't even been a week since the conference championship games ended, and some drama is brewing with one of the losing teams. If you have missed things the past 48 hours, things are not going well in Cincinnati right now, which could loom large for their future.
Not only is RB Joe Mixon wanted by the police, but now it appears the Bengals are going to consider trading WR Tee Higgins to prep for their future. Now, I know what you may be thinking. Why would they trade a player like Higgins, especially when he means so much to this team?
The Bengals are in a tough spot as they have guys like Tyler Boyd and Hayden Hurst locked up for several years, while Ja'Marr Chase and Joe Burrow will need a payday sooner rather than later. That could make Higgins dispensible, and if he is indeed on the trade block, the Bears need to be one of the first teams to give them a call and see what it would take to get him in Chicago.
It is no secret that the Bears want to significantly upgrade their offense this offseason significantly, and adding a playmaker like Higgins would immediately do that. Granted, he has been a No. 2 option with Cincy, but don't let that fool you. He would be the No. 1 option on many teams, and Chicago is one of those teams where he would be a No. 1 option.
The 6-4, 218-pound Higgins is huge regarding WRs, and adding him to the Bears roster would give them some much-needed size at that position. The former Clemson star not only played in multiple National Championship games but also with Deshaun Watson and Trevor Lawrence throwing him the ball, so NFL QB play shouldn't be an issue for him as he knows how to produce.
During his time in Clemson, Higgins hauled in 135 receptions across 37 career games and had 2448 yards with 27 career scores. His best season came in 2019 when Higgins hauled in 59 receptions for a career-high 1167 yards. He also added a career-high 13 scores that season as he declared for the NFL draft following his Junior season.
Primarily a first-round talent when you looked at the overall projections, Higgins somehow fell to the second round, where he was taken as the first pick on day 2. This was the same draft that landed the Bengals Joe Borrow in round one, so Cincinnati made a killing over the first two rounds of the draft.
Expected to be a big-time contributor, Higgins showed up during his rookie season and has played well ever since. Higgins had 67 catches for 908 yards and six scores as a rookie. Those are excellent numbers, but they are also career lows to give you an idea of how good he can be. Even with Chase added to the WR room in 2021, Higgins still played at an elite level the past two seasons and proved to everyone he has No. 1 potential.
In 30 games the past two seasons, Higgins has 148 receptions for 2120 yards and 13 scores. That includes a career-high seven touchdowns in 2022 as Higgins continues to make big plays in the passing. Any time you have those kinds of numbers, teams will pay attention to you, making you wonder why a team would even consider trading him.
This is a business; like Chase and Burrow, Higgins will get paid. The problem with that happening in Cincinnati is that his contract expires at the same time Burrow's does, so you know where the Bengals initial focus will be. That puts them in a position to trade him for assets or let him walk for nothing following the end of the 2023 season.
We can safely assume that the Bengals will try and get something for him and thus could put him on the trade block. Should that happen, it would be one of the biggest bombshells of the NFL offseason and a move that would instantly help any contending team. While it is unclear what the asking price will be, recent mock trades show the Bears giving the Bengals a pair of second-round picks and an additional future pick for Higgins.
If that is all it will take to land Higgins, the Bears need to be on the phone with the Bengals the day this becomes official. He would instantly make this offense better and give Fields the No. 1 target he has been lacking through two seasons.
.@Schrock_And_Awe believes a trade for Tee Higgins to the Bears is unlikely, but would pay the price for the "blue chip" receiver #FNIC pic.twitter.com/POkJsVyWLL

— Bears Talk (@NBCSBears) February 4, 2023