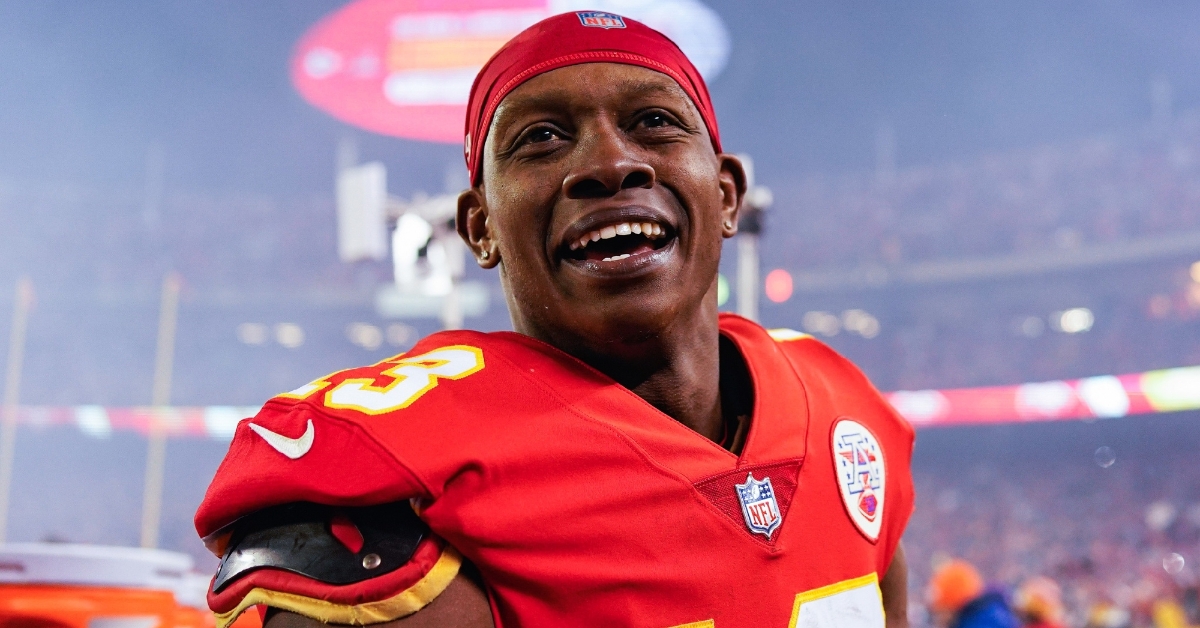 | | |
| --- | --- |
| Bears signing former Chiefs receiver Byron Pringle | |
---
It took long enough, but it does appear the Bears are finally addressing some of the needs on this team. Most of those needs are on the offensive side of the ball, with the offensive line and WR positions as the two most significant holes. Lucas Patrick was brought in for OL depth, but not much has happened outside of that.
However, things are starting to trend in a positive direction, especially when adding weapons around Justin Fields. As if adding Equanimeous St. Brown wasn't good enough, the Bears doubled down, and it looks like they are about to poach another WR from a winning organization. This one comes with plenty of familiarity with Ryan Poles as he has worked with this man for several years.
That man would be speedster Byron Pringle as the Bears are set to steal from the Chiefs and put him in their WR room on a one-year deal worth $6 million with $4 million guaranteed.
Don't get me wrong, this is not a Christian Kirk or Davante Adams signing for a No. 1 option, but more so a depth piece who could be the No. 2 option on this team behind Darnell Mooney. He also brings with him a lot of Cordarrelle Patterson traits as the Bears could use him in plenty of gadget plays, knowing how versatile a player he is.
Known as the can of potato chips given his last name, Pringle has steadily improved in each season with the Chiefs and has now found a new home with Chicago. Given his relationship with Poles and knowing they worked together in KC, you had to think that was a huge reason he chose Chicago over returning to KC or other teams.
Like many rookies in Andy Reid's system, Pringle had to pay his dues before contributing on the field. Guys like Mecole Hardman and Tyreke Hill were the same way as they had to earn their playing time instead of it being handed to them. Pringle saw minimal action over his first two seasons with the Chiefs and accounted for 25 catches for 330 yards and two scores.
After losing guys like Sammy Watkins among others in the last offseason, Pringle knew his role would increase as he would have to pick up the slack left from others. Wanting to prove he had what it took to be a starter, Pringle nearly doubled his career marks, with 42 catches for 568 yards and five scores this past season. No. 1 WR worthy no, but worth a top-three spot on any team.
A bit undersized for WR, Pringle makes up for that with his speed and agility, which is how that Chiefs offense was constructed. That was also talked about last year and into this offseason as the Bears wanted to add more speed to their offense. Adding Marquise Goodwin last season was supposed to help, but he didn't translate well. Hopefully, Pringle can add more value than that and bring more to the table.
Another thing you have to like about Pringle is his ability to field punts. With Tarik Cohen being cut a few weeks ago, the Bears lost their primary punt returner, which is another role Pringle can fill. Similar to Hill in terms of body build and Hardman in
terms of what he can do, Pringle is the perfect gadget player for the Bears offense as he has a chance to prove himself.
Now that he is away from Hill, Hardman, and Travis Kelce, many of the targets Pringle wasn't getting may start coming his way with the Bears. If that does happen, last year's breakout season is just the tip of the iceberg, as there would be plenty more to come. This is a win-win for both sides and a sneaky good deal.
For the Bears, they are paying next to nothing to bring him in where if he produces, you found a steal in FA and could ultimately sign him long-term. For Pringle, it gets him out of Kansas City. Granted, that is a great situation, but his playing time wasn't where he wanted it to be. Now he has that opportunity to show what he can do. Should he produce well, Pringle may have played himself into a healthy contract ahead of the next offseason. Regardless, this is an excellent move by the Bears and one the fans should be happy about.
https://www.youtube.com/watch?v=2d-r-Wa5C9k