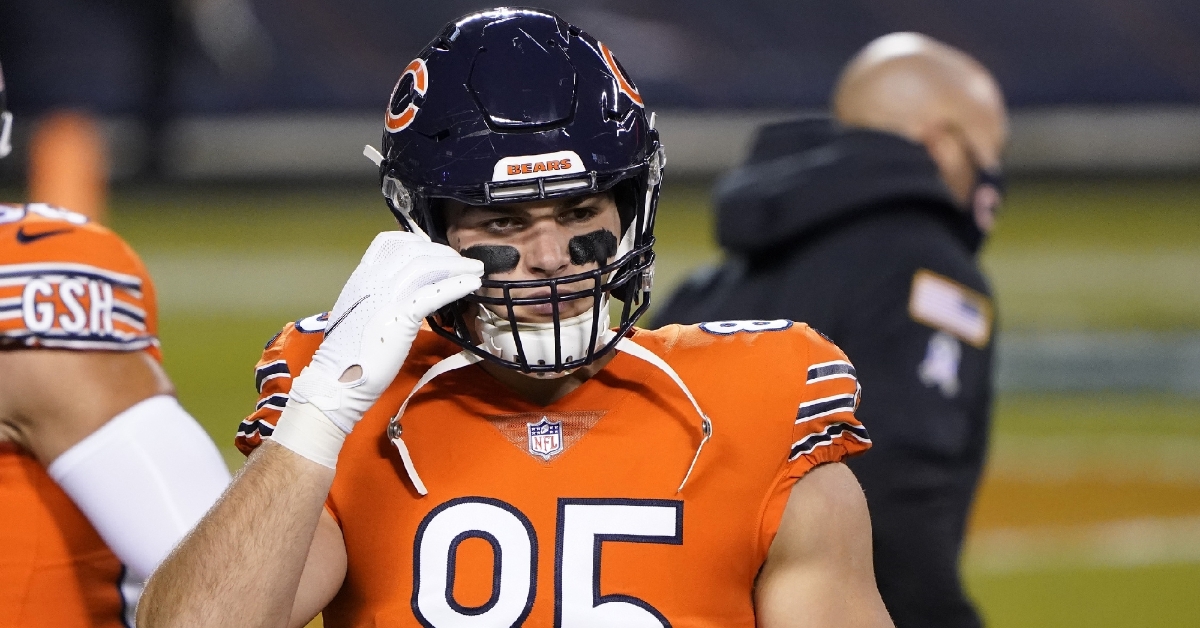 | | |
| --- | --- |
| Bears TE Season Preview: Cole Kmet, Ryan Griffin, James O'Shaughnessy, more | |
---
| | | |
| --- | --- | --- |
| Saturday, July 16, 2022, 10:55 AM | | |
We continue to move along the offensive side of the ball for our season preview series as we focus on the TE group today. Over the last few seasons, no team in the NFL has carried more TEs than the Bears, as that was always a huge position of focus for Matt Nagy and the old regime.
With Nagy no longer in the mix and Matt Eberflus now in charge, this group is not focused as heavily as it once was, but it is still a significant group that will prove beneficial to this offense. Looking at this unit, you immediately notice that Jimmy Graham is no longer on this roster after spending the last two seasons in Chicago.
Cole Kmet
Graham never lived up to the production the Bears were hoping for, but he did provide them with a big red zone target, and he used that to his advantage in 2020. Replacing him will be third-year vet Cole Kmet, who started to come into his own last season.
When the Bears took Kmet in the second round of the 2020 NFL draft, many experts loved the pick as he was one of the more highly coveted TEs in his class. After playing sparingly as a rookie and not providing the team with much offense, Kmet broke out in 2021 as he finished the season with 60 receptions and 612 yards.
Granted, he has only hauled in two touchdowns this season which is a concern, but a minor concern as he should start to see that part of his game increase with more frequent targets. Look for similar production to what he provided last year, as he is about to become the main TE focal point for years to come.
Ryan Griffin
Outside of Kmet, there is no telling who the backup might be as several names will compete for that role during camp. Ryan Griffin is one of those guys who came over via Free Agency. From an experienced side of things, Griffin offers the most experience as he has been in the league for nine seasons and has seen action in better than 100 games.
During that time, the 6-6 255-pounder has brought in 2158 yards receiving to go with 14 scores. Look for him to fill more of the Graham role from a season ago, where he will be primarily used in two TE sets or in Red ZOne packages to utilize his size.
James O'Shaughnessy
Seven-year veteran James O'Shaughnessy is another veteran TE looking to make this roster as he will be battling Griffin for the backup role. The Chicago area native grew up in Naperville, Illinois, and has hauled in 112 passes for 1108 yards and three scores across his NFL career.
O'Shaughnessy is not much of a yardage threat, but he did start 34 of the 55 games he has appeared in over the past five seasons and has accumulated 1022 yards receiving during that time. Increased production comes with increased reps, but he may not get the reps he hopes for this season.
While those three are the ones expected to make the roster, Rysen John was added to this roster in May after being signed as a waiver claim. The third-year man has been with the Giants the past two seasons, but hasn't seen action in any games, so to predict how he will do is challenging.
He is one of those guys fans are excited to see play in camp to see what he can do. However, what John brings with him is the unique combination of size and speed that most TEs don't have. His 6-7 frame makes him an ideal red zone target, while his 4.60 40 speed has playmaker written all over it.
Chase Allen and Jake Tonges
The only other guys expected to compete for a roster spot are Chase Allen and Jake Tonges. Both are rookies and need a ton of work to get caught up to the NFL game.
Allen played in 59 games with 34 starts over five seasons at Iowa State, the third most games in school history. He caught 74 passes for 810 yards and six touchdowns, earning second-team All-Big 12 honors in four of his five campaigns. Last year, he appeared in all 13 contests for the Cyclones, catching 26 passes for 284 yards and two TDs.
Tonges played in 41 of 42 possible games with 23 starts the past four seasons at California, catching 47 passes for 620 yards and four TDs. Last year, he set career highs with 11 starts, 22 receptions, 278 yards, and two TDs. Tonges was Cal's nominee for the Burlsworth Trophy, given annually to the nation's top FBS player who began his career as a walk-on.
Neither one is expected to give the Bears that type of production right now, but adding some athletic TEs to a group that lacked that last season is nice. Regardless, Fields will have the option to spread the ball around, which the Bears haven't had in years.