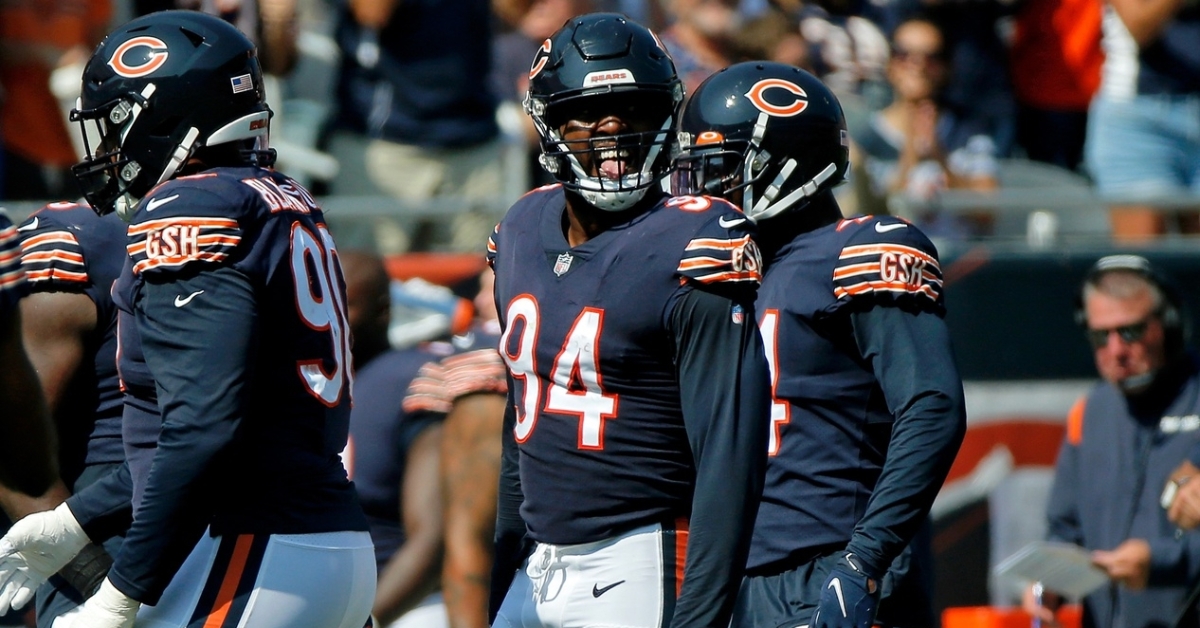 | | |
| --- | --- |
| Bears vs. 49ers Prediction: Time for Robert Quinn to step up | |
---
| | | |
| --- | --- | --- |
| Saturday, October 30, 2021, 10:05 AM | | |
Coming off consecutive losses against two of the best teams in the NFC, the Chicago Bears find themselves entering week eight 3-4 and in desperate need of a win. Fortunately for them, they welcome a reeling 49ers squad sitting at 2-4 on the season and riding a four-game skid after winning their first two games.
This is a game that the Bears need to have to have any hopes of remaining alive in the playoff hunt. As things sit right now, the Bears are on the outside looking in, but there is still plenty of season left for them to turn things around. Considering the schedule the Bears are seeing right now, wins will not be easy to come by, so when there is a chance at a victory, you need to capitalize on it.
Things will look a lot different for the Bears this weekend with Matt Nagy out, given to COVID and other significant pieces that will not be suiting up. That makes an already difficult situation with the Bears much more challenging as they need to dig deep to find themselves again.
Here are three things to look for and predictions for Sunday:
After a dismal first season with the Bears, Robert Quinn has bounced back nicely and is starting to look like the player they paid for last year. Paired with Khalil Mack, the Bears have one of the best pass-rushing duos in the game, and the results have shown on the field.
While the improvement made by Quinn is evident, it will be interesting to see if that continues as the Bears pass rush falls on him. With Mack still nursing a foot injury, he is out this weekend, and may land on IR to heal 100%. That would leave Quinn by himself for a minimum of three weeks, and the Bears pass rush may suffer because of it.
When Mack and Quinn are paired together, defenses need to account for both men on the field, as you never know where the pressure will come from. With Mack out of the picture, Quinn will see double teams, which will nullify the pass rush completely. Look for guys like Akiem Hicks and others to still be involved, but this is an opportunity for Quinn to prove he can get to the quarterback without Mack on his side.
What will this team look like without Matt Nagy?
My how the tables have turned. After constantly hearing how bad of a coach he is and how much the city of Chicago would love to move on from him, this weekend is a chance for the front office to see what this team looks like without him. After testing positive for COVID earlier in the week, Nagy looks like he will not be on the sidelines this weekend.
That means the Head Coaching duties will fall on either offensive coordinator Bill Lazor or special teams coach Chris Tabor. Neither of them has much if any previous head coaching experience, whether as a fill-in basis or non-NFL level. What makes things very interesting about this situation could be the play of the Bears.
For the last four years, and the last three if you take away the division title in 2018, Chicago has been nothing more than a .500 team at best that has continued to underachieve. Nagy needs to shoulder the blame for that as he is the head coach, but what happens if this team goes out and not only wins, but wins in dominating fashion without Nagy.
Should that happen, you can guarantee that the topic of conversation surrounding Chicago that week will be if Nagy should be brought back to finish the season. Typically the Bears higher-ups never fire a coach midseason, but the discussion needs to be had if this team looks like a different team without Nagy than with him.
Which QB will the Bears see?
It wasn't all that long ago when Jimmy Garroppolo led the 49ers to the Superbowl, only to be upended by the Chiefs. A big reason for that was an incredible defense paired with a deadly three-headed monster in the backfield that took the pressure off Jimmy G and allowed him to play his game.
In the year and a half since the Superbowl appearance, the 49ers offense has been hampered with injuries which has put more pressure on Garroppolo to get things done. At times, he has put the team on his back, but for the most part, he is proving he is not a franchise-leading QB as his overall talents are limited.
Planning for the future, the 49ers also drafted a QB in the first, taking Trey Lance No. 4 overall from North Dakota St. Although Lance hasn't seen a ton of action to this point, Lance is the future of the organization, and it is only a matter of time until Kyle Shanahan hands the keys over to him for good.
Everyone knows what Lance can bring to the table regarding his legs, but his arm talent is the biggest question. Their no doubt he can make the throws, but until he can show that at the NFL level, he is not going to see the playing time, you would expect. One thing the 49ers have done well with so far is mixing and matching specific packages to get both QBs on the field.
That not only keeps the 49ers opponents honest, but forces the defensive coaching staff to prepare for two QBs. Shanahan has been very mum as to who his starter will be, but you can expect to see both QBs if they are both healthy.
Prediction: BEAR DOWN
If Chicago wants to stay in playoff contention, these are the games they need to have. It is one thing to lose to the Packers and Buccaneers, but the 49ers are not a very good football team and are one of those teams the Bears should beat. Good teams find ways to beat teams, but even an average team needs to win games they should win.
This is a game the Bears should win. They are at home, the 49ers are reeling, and the Bears have a defense capable of continuing that streak. If history repeats itself, you can look at the last few meetings between the sides and see that it has been nothing but a defensive struggle. Look for that to continue once again this week, but the Bears do enough to move to 4-4 as they top the 49ers 20-14.