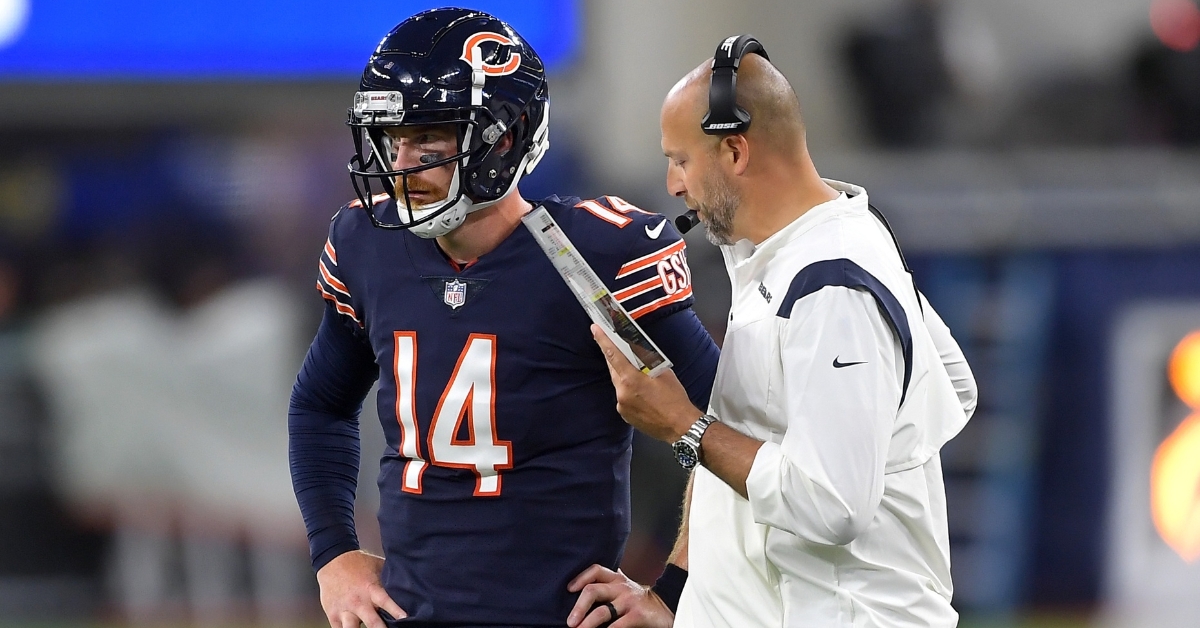 | | |
| --- | --- |
| Bears vs. Cardinals Prediction | |
---
The Bears are coming off a Thanksgiving day win against the Detroit Lions and are well-rested after having 10 days off. They will need to use that rest to their advantage as Chicago has a tall task this weekend with the top-seeded Arizona Cardinals coming to town. Like the Bears, Arizona is a well-rested group as they are coming off a bye week and are now ready for the stretch run.
Despite a 4-7 record and finally ending a five-game losing streak, the Bears are very much alive in the playoff hunt as they are just one game out of the seventh seed. Sure, they still trail five or six teams overall, but a loss here or there by teams in front of them, followed by another Bears win, and they will be moving up the standings to put themselves in a better position.
You would think that December weather in Chicago would give the Bears a huge advantage in this one, and maybe it will. However, the Cardinals have had plenty of luck in their last two trips to Chicago, averaging more than 40 points and tossing for nine touchdown passes. The Bears can't afford to let that happen again, but it could when you look at Arizona's weapons on offense mixed with the Bears struggles.
If the Bears want to make a serious run at the postseason, they need to win as many games as possible down the stretch. That started with a win over Detroit, and should they find a way to beat Arizona this weekend, it would not only be a statement win, but a win this team desperately needs for confidence. Here are some things to look for heading into the game.
Who plays quarterback for Chicago?
Although the QB situation isn't as much of a carousel as it was last season, the Bears are once again in a QB predicament as they need to figure out what to do. Andy Dalton started the first two games of the season before injuring his knee and being benched in favor of rookie Justin Fields.
Fields had been the starter for eight games and struggled to win most of those games as the rookie growing pains have been on center stage. Fields also went down with a rib injury against the Ravens, forcing Dalton back into the game. Not only did he play well against the Ravens, but he played great against Detroit, helping put an end to the Bears losing streak. That brings the question of who starts at QB.
Most fans would say put Fields back in if he is healthy. However, I'm afraid I have to disagree at this stage of the season as I think Dalton is the best option going forward. I agree that Fields needs to play, but he has yet to learn how to protect his body, which is not what you want to see. Dalton also knows a thing or two about playoff hunts, and he has the experience to play and win in meaningful games.
Update: Bears announced on Friday that Dalton will start Sunday's game.
Is Kyle Murray back at 100 percent?
Not only have the Cardinals been impressive this season, but Murray was playing at an elite level before dealing with an ankle injury the last month. That injury forced him to miss three weeks and saw his backup Colt McCoy go 2-1 in his absence. Credit Kliff Kingsbury and his staff for designing a game plan that worked for McCoy, but Murray is a different animal.
Not only is he exactly like Fields in terms of his mobility, but I would also argue that he is more elusive given how short he is. Murray also has more experience, so he knows how to protect his body and knows how to make big plays when needed. The Cardinals have designed their offense around Murry and his strengths, which has worked well for them so far.
For Chicago to have any chance in this one, not only will they have to neutralize Murray, but they will need to figure out how to slow him down and force him to be one-dimensional. The defense should have plenty of practice with that going against Fields at practice, but it must translate on the field Sunday.
The closing schedule
Say what you want about this team, but they are just one game out of the final playoff spot with a relatively easy schedule the rest of the way. Take away the Cardinals and Packers, and Chicago has games with the Seahawks, Giants, and Vikings (x2). That makes for four winnable games, which puts them with the potential to win eight games this season.
Should the Bears be able to steal one against the Packers or the Cardinals, you are looking at a potential nine-win team, which should be enough to make the playoffs. I am not sure if Bears fans want that or if they deserve to get in, but the bottom line is the schedule is in their favor over the final month of the season, and they really could put together a strong run to finish out the season.
Prediction: BEARS LOSE
This is a golden opportunity for Chicago to not only get back on the winning track, but to make a statement for the playoff hunt. With the best team in the NFC coming to town, the Bears have a big chance to improve their playoff positioning while also shaking things up in the NFC.
It won't come easy, but this team is desperate for wins, and sometimes desperation leads to the best games from an organization. Chicago will need to play their best game of the season if they expect to win, and I think they will come ready to go with a great game plan. However, this is not the Lions. This is the Cardinals, and there is a reason why they are 9-2. I like the Cardinals to win this one 27-17.