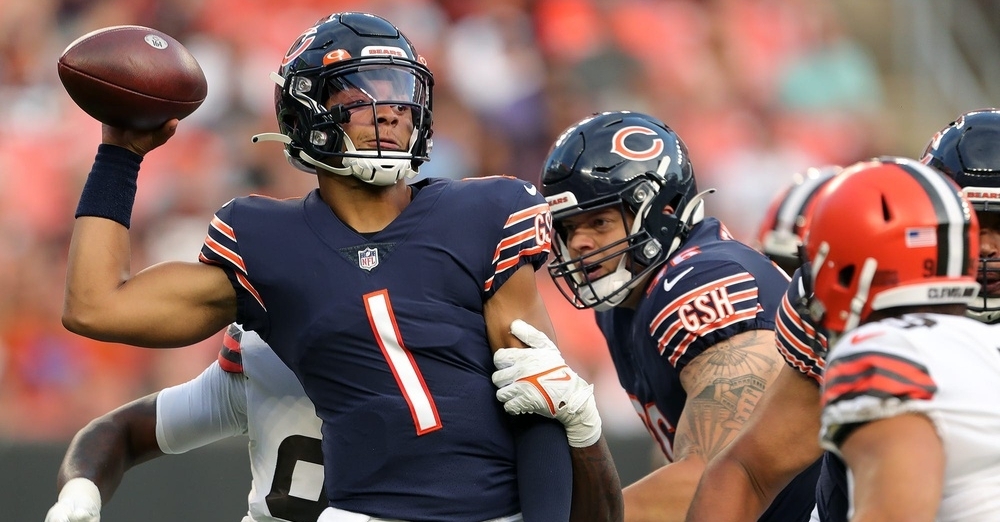 | | |
| --- | --- |
| Bears vs. Patriots Prediction: Which young QB will step up? | |
---
| | | |
| --- | --- | --- |
| Monday, October 24, 2022, 12:09 PM | | |
Week seven of the NFL season gave us a handful of surprises as the strange regular season continues. That will conclude on Monday night when the Chicago Bears face off against the New England Patriots. I know what you are thinking. Not another primetime game for this Bears team.
Well, that is going to be the case, and hopefully, things will turn around for the better after a lackluster showing on Thursday night football. With this game comes a ton of intrigue for various reasons, and that all starts at the QB position, where Mac Jones returns to face Justin Fields.
Both were middle first-round picks a season ago and arguably have the highest upside of most second-year QBs should they get some consistency with their play. Regardless, you have two offenses that struggle to score points and a pair of defenses known to be stingy. What that means for this game remains to be seen, but it could lead to another lackluster offensive showing that leaves fans wanting more.
Bill Belichick and his quest for history/b>
Not only does Monday come with a ton of intrigue, but it comes with a chance to see history. With his 324 wins, Belichick is tied for second all-time with the great George Halas of the Chicago Bears. Oddly enough, Belichick has a chance to pass Halas tonight against the team that Halas coached and owned at one point.
Talk about some added intrigue to this game while potentially giving the Bears some added motivation, as they don't want to see Halas fall from number two against the team with the coach that can pass him tonight. Add in that Belichick has never lost to the Bears as coach of the Patriots, and there will be a ton of eyes on how things play out in this one.
Will Jones be rusty, and what does this mean for Zappe?
Since Jones went down with his ankle injury, the Patriots offense has been humming and has gone 2-0 in his absence. That is mainly due to a fourth-round rookie in Bailey Zappe, who made NFL history in his first two starts. Zappe became the first QB in NFL history to throw for more than 350 in his first two career starts, and the Patriots looked like a completely different team with him running the show.
In fact, many people thought Zappe should remain the starter even when Jones was cleared to play, given how much different the team looked under him. That is not how Belichick feels, at least not yet, as Jones has not only been cleared to play, but will be back as the starter tonight.
The question is, how long does Belichick stay with him should he struggle. No one is expecting Jones to go out and throw for 300 yards, as he is not someone to do that. However, if the offense looks lackluster in this one, especially after showing so much promise the past two weeks, it wouldn't surprise me to see Belichick go back to Zappe at some point in this one.
N'Keal Harry homecoming
Ever since coming to the Bears in a trade earlier this season, the 2022 season has been a nightmare for Harry. The former first-round pick has yet to see the field after suffering an ankle injury in training camp that landed him on IR.
Now cleared to return to action, Harry is hoping to give the Bears some much-needed production at the WR position, even if he hasn't done much of that since coming into this league. Many people have ruled Harry a bust, but there is still a ton of potential there, and he is still young enough to come into his own in this league.
Perhaps tonight is the day he gets on the field and can show something as he returns to the stadium of the team that drafted him. What better motivation than going out there and sticking it to your former boss after they showed they no longer believe in you? Harry will be under a microscope the rest of the season, so he is someone to watch not only this week but also the next 10.
Prediction: Patriots win close one
Watching the Bears on Primetime is almost as bad as watching the Broncos. Neither team can score points, and watching these offenses on a national stage has become a painful process. Unfortunately for America, the Bears are on primetime again this week, but there should be more exciting than in previous weeks.
With history on the line in New England, the atmosphere will be electric even if the actual football product won't be. Given what fans have seen from both offenses and knowing how good these defenses can be at times, look for another low-scoring affair that will keep things close. In the end, you have to like the Patriots in this one playing at home as Belichick moves into sole possession of second place on the wins list with a 20-14 win.