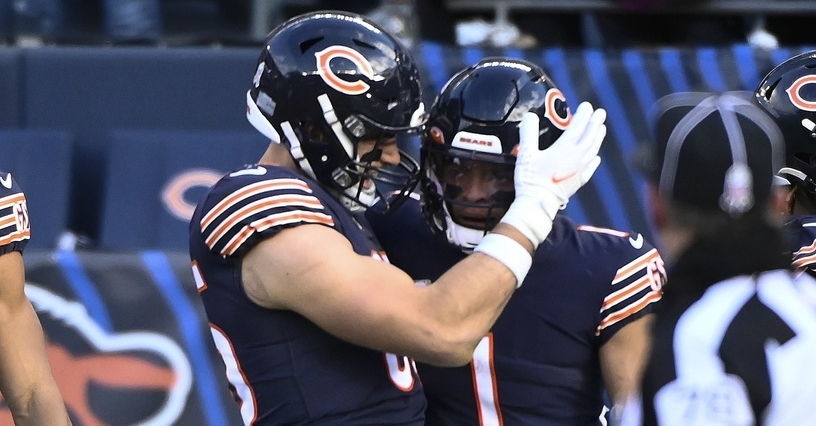 | | |
| --- | --- |
| Bears vs. Bucs Prediction: Bears try to get back on track | |
---
HOW TO WATCH:
TELEVISION: FOX
STREAMING: NFL+ (Chicago area only - sign up for a 7-day free trial), Game Pass International (outside the U.S., Canada and China)
BROADCASTERS: Joe Davis (play-by-play), Daryl Johnston (analyst), Pam Oliver (sideline)
Week one was not a good look for the Bears, as they were embarrassed by the Packers at home. Week two gives the Bears a chance to bounce back as they will hit the road for the first time this season to take on the Tampa Bay Buccaneers at Raymond James Stadium. The Bucs may not be as good as the Packers are, but it is still a team that has made the postseason in the past three seasons, which is all any team wants from their organization.
The Bears have a lot to prove this week, as they were one of the bigger disappointments in week one. This team was the talk of the offseason, and after the moves they made, they were looked at as one of the more improved teams across the league. Then, the Bears put on a performance that left fans furious as they looked just like last year's team.
That isn't the performance anyone wants to endure again, and it is up to them to get back to winning football this week as they look to snap an 11-game skid.
Here are three things to look for in Week 2:
Weather could be the x-factor
Any time you go to Florida, you must consider the weather the ultimate X-Factor in a game. No, I am not talking about the rain, which is always a factor in Florida, but instead, the Heat and Humidity the Bears will have to deal with. Chicago deals with heat and humidity during the summer, but not at the level that Florida has.
Also, this time of year, it is very seldom that the Bears will have any days above 80, let alone 90, with an extremely high humidity. There is no easy way to prepare for those weather conditions because just imitate those on a practice field. The Bucs are used to these conditions, and for that alone, they have a significant advantage over anyone else this early in the season.
The battle in the trenches
If you thought the Packers defensive front had their way with the Bears offensive line last week, this will be a whole different animal this week. With the Bears offensive line continuing to struggle and being a work in progress, this is not an ideal matchup for them, as the Tampa Bay defense is the strength of this team.
In particular, the front seven of Tampa created a ton of havoc against the Minnesota Vikings last week. Despite Kirk Cousins throwing for more than 350 yards, the Buccaneers defensive front made life miserable for him all game. They hit him early and often, sacked him three times, forced three turnovers, and held that high-powered offense to just 17 points.
Should they play like that again this week, it will be a long afternoon as the Bears don't have the weapons the Vikings do. The one advantage Chicago does have in this one is Justin Fields and his legs, as he should be able to get out of the pocket and run. The more he can do that, the better chance for the Bears to neutralize the Bucs pass rush, which will level the playing field as the game goes on.
Time to break out Justin Fields
No one inside the Bears locker room was happy with their performance in week one, but Fields took it the most personal. He shouldered a ton of the blame for the offensive struggles, which is what a good leader does, but he also said he will be more aggressive and better.
That is what you want to hear from your franchise QB, but we have heard that since last season and nothing has changed. If Fields intends to be the Bears starter for the foreseeable future, he needs to step up as a starting QB. Fields has the weapons to make things happen, but he must also make the plays when given those opportunities. This will be a massive test for him this week, and he needs to step up.
Prediction: Bear Down
When the season schedule dropped, and you looked at the Bear's first two games, you had to like their chances to go 2-0. Well, here we are with the Bears losing their season opener and now teetering on possibly falling to 0-2. Tampa Bay isn't Green Bay, and everyone knows that, but they still have talented players on their roster, especially at WR and on defense.
The Bears offense struggled all season long in 2022, and they struggled again last week, so to expect some instant changes would be a massive surprise. I think the Bears defense can keep them in this one long enough, as the Tampa Bay offense is a work in progress. This will come down to who can make that one last defensive stop when it matters, and I am going with the Bears in this one, 21-20, to grab their first win of 2023.
More Predictions: Tony Crumpton -- Senior Editor: Bears 24-20
Upgrade Your Account
Unlock premium boards and exclusive features (e.g. ad-free) by upgrading your account today.
Upgrade Now