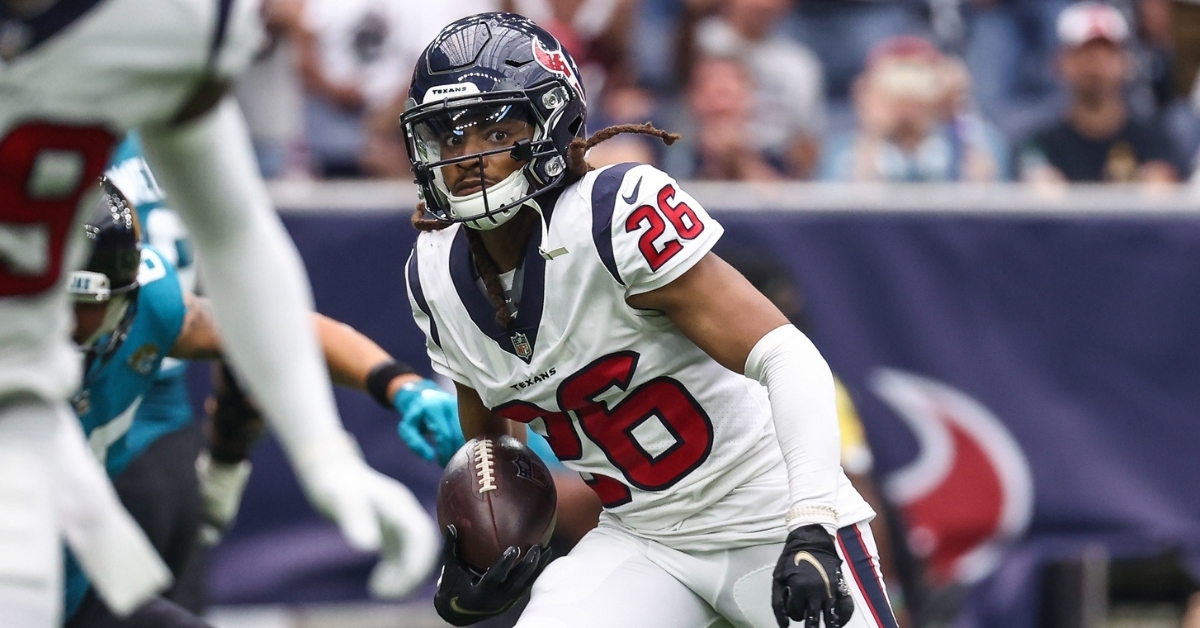 | | |
| --- | --- |
| Bears work out former first-round cornerback Vernon Hargreaves | |
---
Let's be honest for a minute. Ever since losing Kyle Fuller to the Denver Broncos, finding a legitimate No. 2 CB to pair with Jaylon Johnson has been a struggle. You saw the Bears make a conscious effort to find another lockdown option as they drafted Kyler Gordon with their first pick in this year's draft.
As good as Gordon has looked in camp so far, he is still a rookie, and as a rookie, you will go through plenty of struggles. Knowing that and knowing that the Bears would ultimately love to add more CB depth, Ryan Poles and Matt Eberflus took it upon themselves to work out a former first-round pick in hopes of a great showing.
That pick was 2016 first-rounder Vernon Hargreaves as he is looking for a fresh start to his NFL career. Hargreaves was not alone as the Bears worked out five additional cornerbacks, but he was the most notable name and the one to pay attention to.
Granted, 2016 was a long time ago, but Hargreaves had a decorated NCAA career that earned him that first-round grade. Unfortunately, Hargreaves' pro highlight has been limited as he hasn't lived up to the billing that comes with getting chosen as the 11th overall pick. That's why he is making the rounds on the tryout circuit as he enters his age 27 season.
When he has been on the field, Hargreaves had moments where that 11th pick looked warranted, but also moments that left some scratching their heads. Hargreaves has 69 games (58 starts) of experience with the Bucs (2016-19), Texans (2019-21), and Bengals (2021). And if he makes it onto the Bears, this will mark his third team in two years. Take away his last few seasons, and he managed to play his first seven years on just two teams, so there was plenty of production coming from him at that time.
Seeing him bounce around and struggle so much might be a red flag for some, and that is a valid argument. However, good cornerbacks don't bounce around often, and the Bears are in a position where they should be looking all over to come some of these guys an opportunity to keep their careers alive.
With just nine days and six practices before their preseason opener with the Chiefs, Chicago must make some tough roster decisions. One of those decisions will come at the CB position, where they are still short-handed and need more depth. Hargreaves may not be a starter on this Bears team, but putting him behind Johnson and Gordon gives the Bears a solid depth piece who is more than capable of starting.
Last season, Hargreaves managed to stay reasonably healthy as he played in 12 games between the Texans and Bengals. During that time, he came away with 27 tackles while also bringing down one interception that was returned for 18 yards. Across his career, you are looking at a guy with 290 career tackles, with six of those tackles coming as a loss.
Hargreaves has also added two forced fumbles, one fumble recovery, 31 pass breakups, and four career interceptions. One of those interceptions was returned for a 15-yard touchdown, so he does have the ability to make plays happen. With the season inching closer and closer, the Bears are going to continue to monitor the free agent market and bring in guys who they feel can make an impact.
Considering where they are financially now as opposed to when last season ended, the Bears can afford to spend a bit more and take some chances. Hargreaves could be worth that chance if his tryout went well, as he is a former first-round pick with enough talent to make an impact. What kind of impact would be the question, but Chicago would love to add him to their defensive mix.