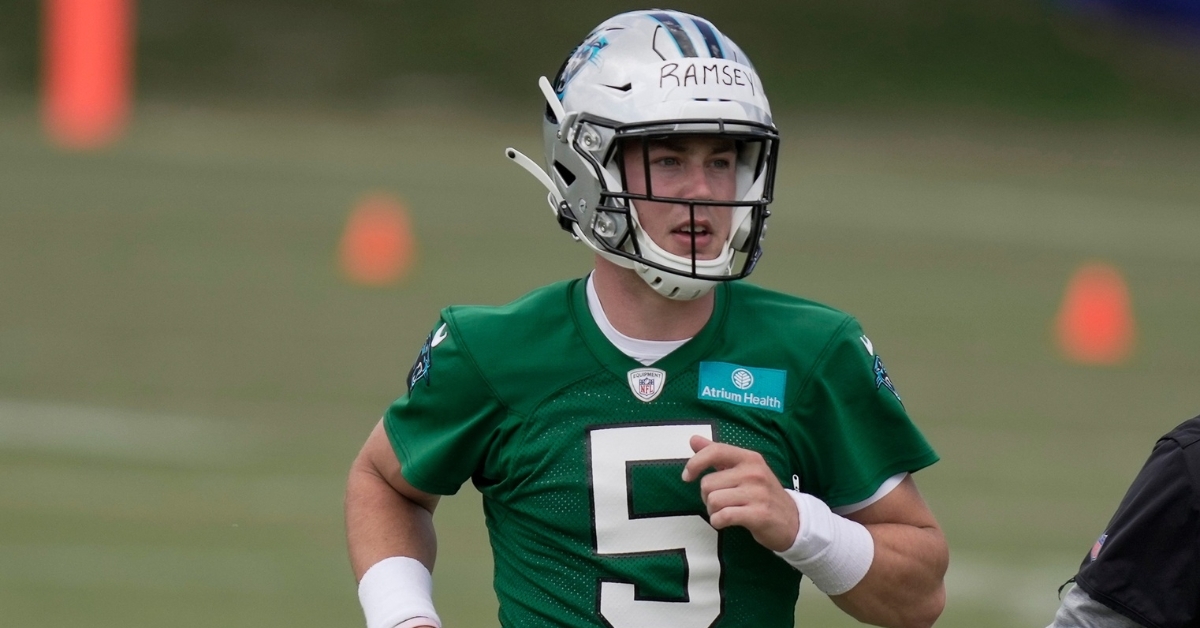 | | |
| --- | --- |
| Bears workout trio of quarterbacks as injury questions remain | |
---
My how things have changed over the past seven days. After Justin Fields was named the starter ahead of week three, the Bears watched their team post one of the worst offensive showings in NFL history. The result was a 26-6 loss to the Cleveland Browns that saw their prized possession Fields get hammered early and often while getting sacked nine times.
To make matters worse, Fields suffered a hand injury during that game, and although he says he is feeling fine, his status for Sunday is now up in the air. With Andy Dalton nursing a knee injury and the possibility that Fields may be out, Nick Foles could get the start on Sunday as he is the only healthy quarterback left on this roster.
What happens if Foles goes down? Who would be the backup or emergency QB if both Fields and Dalton are out? That is a big question that the Bears need to address and one they appear to be addressing now as they have brought in two QB's for workouts to see what they can do. Those QB's would be Peyton Ramsey and Ryan Willis.
PEYTON RAMSEY: Ramsey should be a name that Bears fans are familiar with after playing his collegiate ball at Northwestern University in Chicago. The 23-year-old undrafted free agent has plenty of college experience under his belt while also playing in tons of big games. Not only did he earn All-Big Ten Freshman honors, but Ramsey also backed that up with third team all big 10 as a senior with fellow Bears QB Fields taking home first-team honors.
With Pat Fitzgerald leading the Wildcats, Ramsey helped them shock the world in 2020, securing the Big Ten West title and advancing to the Big Ten title game to play OSU. Despite a great effort on defense, the offense couldn't crack the Buckeyes defense as they suffered the loss, but still had a great season.
Ramsey is not the type of QB that will wow you, but he is the type of QB that knows how to manage a game you might want in Chicago. Not only did he rush for 247 yards and three scores, but he also rushes smartly and knows when to use his legs, and does it well. He added just under 2000 yards through the air to go with 15 scores, and that is what the Bears are hoping to see in his workout.
RYAN WILLIS: The less familiar of the two names is 24-year-old former Virginia Tech QB Willis. Unlike Ramsey, Willis does have some professional experience under his belt, but that took place in the Spring League this past season. His experience in the spring league was a positive one as he took home the Spring League Mega Bowl MVP.
That award is given to the best player of the Championship game for that league, so Willis played well enough to secure that award. Not bad for a QB who went undrafted in 2020 and is now looking for work elsewhere. Unlike Ramsey, Willis put up great numbers as a member of the Hokies, including 2018, which was his best season.
In that year, Willis tossed for 2716 yards, 24 TD, and Nine Interceptions while completing nearly 60% of his passes. Across his other three years, Willis had just over 3500 combined yards passing to go with 21TD and 22INT. Not the kind of ratio you want from a QB, but something clicked in 2018, and that is what the Bears are hoping for again.
No one should expect either one of these QBs to come in and take the job from Fields or Dalton. Instead, these workouts are being done as a precautionary measure if they are going to be down two QBs instead of one. No team can get by with one QB, and this is a move that can at least get them through this week before reevaluating next week.
Update: The Bears also reportedly worked out Jake Dolegala early this week.