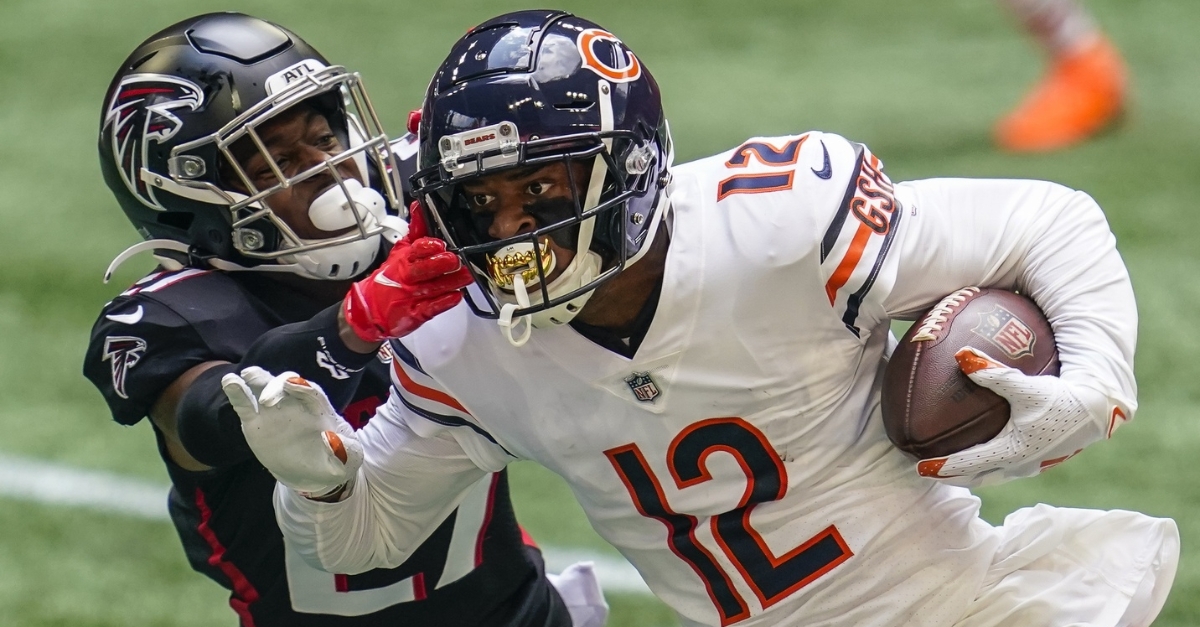 | | |
| --- | --- |
| Bears WR grades for 2020: Allen Robinson grabs 102 catches in stellar season | |
---
Throughout most of the 2020 season, the Bears offense was subpar at best. There were times when the unit looked like a well-oiled machine, capable of taking over a game. Then, the team looked lost on offense, which happened far more than it should.
The Bears have the skill players to be successful, but the overall consistency hasn't been there as much as people would like. If there was one unit on offense that carried their weight this season, you could argue that it was the receiving core. Led by pro bowler Allen Robinson, the Bears receiving unit surpassed expectations and performed well when given the opportunity.
Here is how I would grade the receiving core this season.
Allen Robinson: What more can you say about Robinson? Ever since coming to the Bears, Robinson has been the No. 1 receiver this team has been longing for, and the numbers back that up. After posting 900 plus yards in his first year with Chicago, Robinson responded with an 1100-yard campaign in 2019 before stepping up his game yet again.
For the second straight season, Robinson topped the 1000-yard mark going off for 1250 yards on the season. Add that to a career-high 102 receptions, and you can see why he has become a true No. 1 option. His touchdowns were down a bit this season, finishing second on the team with six. That doesn't take away from what he did all year.
Season Grade A: Anything less than an A would be a slap in the face for A-Rob. He is the best offensive threat on this team, and it isn't even close. With a contract that is set to expire, Chicago needs to do whatever they can to hold on to him a bit more. Should they lose him, this offense will take a huge hit they may not recover from.
Darnell Mooney: If there was a steal in the 2020 NFL draft, Mooney might be it. The former Tulane standout was selected on day three and wasn't supposed to impact the team as much as he did this year. Instead, Mooney not only proved to be one of the best steals of last year's draft but emerged into the team's No.2 man after putting together a great rookie season.
Despite not being involved much in the first seven games, Mooney finished second on the team in receptions with 61 and second in yardage with 631. Mooney also hauled in four touchdowns, which ranked third on the team and second among receivers.
Season Grade B+: Mooney certainly proved he can play at this level and produced even better than the Bears had hoped. His speed, hands, and route-running combination make him a threat to catch passes all over the field as he proved to be the Bears lone deep threat this season. It would have been nice for him to get the playing time early on, but now he can build off this season and set his sights on next year.
Ted Ginn: Signed as a free agent in the offseason, Ginn was brought in to add a speed element to this offense. The 34-year-old has never been a go-to WR, but he has speed and has used that to his advantage. Ginn has also had success in the return game, so you can see why the Bears wanted to bring him in.
What Chicago got from Ginn instead was an unimpressive few weeks as he was cut midway through the season. This was another one of those bust signings that fans hoped would work out and then never did.
Season Grade F: Ginn was never going to be a star in this offense, but I was expecting more from him than what he showed. Chicago struggled to stretch the field this season, and Ginn was undoubtedly a player who could have done that for them. It just never felt as if he was comfortable in the offense.
Riley Ridley: Brother of Atlanta Falcons stud WR Calvin Ridley, Riley has struggled to come into his own since arriving in the NFL. Viewed as one of the better route runners on the team, Ridley has struggled consistently catching the ball at practice, which has led to less than adequate playing time. For the season, Ridley saw action in just five games catching all four passes he was targeted. Hopefully, year three is better.
Season Grade: N/A
Javon Wims: Much like Ridley, Wims can be a good receiver but doesn't get the playing time fans hoped. Wims saw action in nearly three times as many games as Ridley but was targeted just 12 times in 13 games. Wims only caught six of those 12 targets for 48 yards to make matters worse but did pick up a touchdown.
Season Grade F: Unlike Ridley, Wims gets an F, and it isn't for his lack of production. He gets his grade for his overall attitude with this team stemming from the punch he threw against Marshawn Lattimore earlier this season.
Anthony Miller: The former second-round pick emerged as a solid contributor in 2019 and was viewed as the team's lock for the No. 2 receiver. Instead, Miller left Bears fans frustrated at best as his season was full of inconsistent play. Miller was targeted 76 times this season, which ranked third on the team. Of those 76 targets, Miller only hauled in 49 receptions and tallied just 485 yards with two scores. That is a far cry from what the Bears expected out of him this season.
Season Grade D: Miller certainly took a step back this season, and it was painful to watch at times. After showing significant potential as a rookie, Chicago was hoping Miller would form a great one-two punch with Robinson. Instead, Chicago got a player who struggled with consistency and went through more growing pains than one would like. Next season will be a massive year in terms of Miller's future with this team.
Click here if video does not load https://www.youtube.com/watch?v=RUZaZu7jKkM
Upgrade Your Account
Unlock premium boards and exclusive features (e.g. ad-free) by upgrading your account today.
Upgrade Now