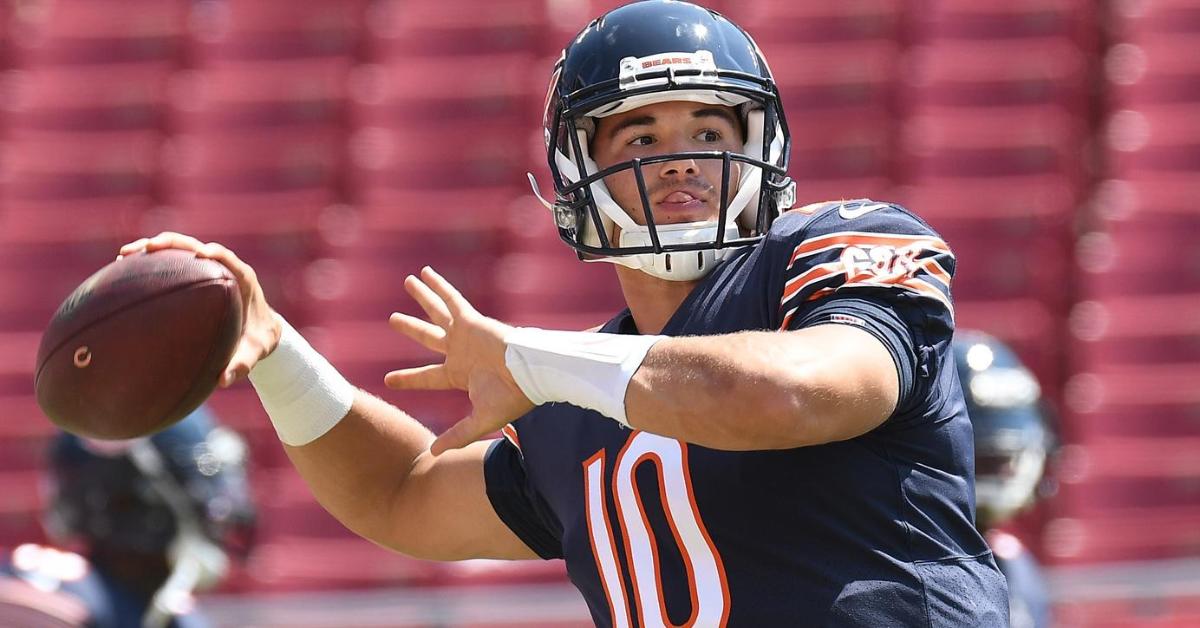 | | |
| --- | --- |
| Breakdown: Three things to watch for in Bears-Giants Preseason game | |
---
Coming off their 23-13 loss in the preseason opener, the Bears returned to Halas Hall as they get set for week two action against the New York Giants. This is the first time that most of the starters will see the field as we should expect one-quarter of action from that group and possibly one drive into the second.
Hoping to bounce back from that defeat, there are plenty of things to watch as the starters see more time but here are three storylines that I will be watching.
More of Mitchell Trubisky: Not only did Trubisky not complete a pass against Carolina but he didn't throw a single attempt. Whether that was by design or not given starters don't play much if at all in week one, we need to see more of him this week if he expects to make the next leap forward.
Through two seasons, Trubisky is still sort of an unknown as we don't really know what he exactly is yet. After a less than pleasing rookie year, Trubisky bounced back with a substantial first year under Matt Nagy in his new system. Now in year two with Nagy and year three in the NFL, this is when quarterbacks begin to make that leap and show owners and GM's if they deserve to be trust for a long-term deal.
With the Bears defense always going to be leaned on, Trubisky must prove that he can win the game on his own in case the Bears are involved in a rare shootout. Don't expect to see that in the preseason but we need to see him take chances and at the very least throw some passes. I fully expect to see both over the next two weeks.
Will Elliot Fry or Eddy Pinero establish themselves as the favorites to land the kicker job: So far from all accounts the kicking battle is dead even between both Fry and Pinero. The biggest difference has been what has occurred in real-life game situations.
Through training camp, Pinero has been the better of the two on the practice field but not by much. Then came the first preseason game in which Fry was perfect on his kicks while Pinero missed one. No one will ever say one miss will cost you a job, but when that miss happened during a game situation, and your competitor went perfect, it puts more pressure on Pinero to be perfect this week.
Expect to see both kickers alternate kicks again this week as the competition remains as wide open as ever. However, should Fry outperform Pinero again, then we need to think of Fry as the favorite to land the job. Should both perform well the competition will continue through camp. However, if heaven forbid, they both underperform, Ryan Pace has made it clear that they will not hesitate to look at the free agency wire to bring someone in who can get the job done.
David Montgomery: The final thing I will be watching is the usage of David Montgomery. If you talk to anyone of the Bears coaches, they will all tell you that Montgomery is the real deal. Despite that, he is just a rookie and finds himself currently third on the depth chart among running backs logging 3 carries for 17 yards in the opener.
His place on the team can change with a durable finish to the preseason, which I expect him to deliver. Montgomery will not only get more playing time this week but look for him to play a minimum of one half both this week and next week as he seems to turn more heads on the field. Mike Davis did a phenomenal job running the ball last week, but he is not the future in the backfield, Montgomery is. Now is the time for him to show that and prove to the league he is as good as the Bears say he looks.