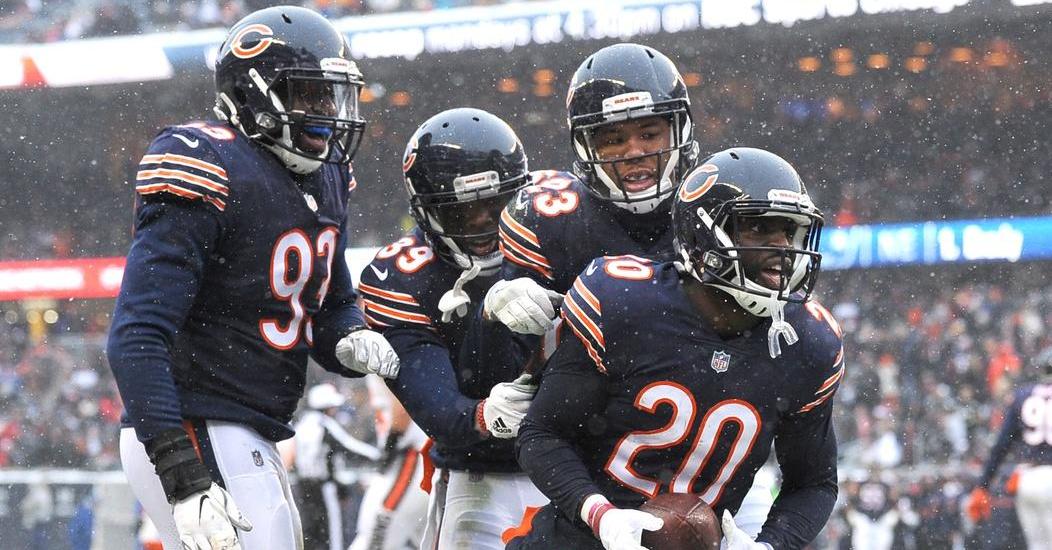 | | |
| --- | --- |
| Chicago Bears: 2019 Cornerback Projections | |
---
| | | |
| --- | --- | --- |
| Thursday, August 1, 2019, 3:04 PM | | |
Part seven of the season projections installments is getting into the bread and butter of the Bears, and that is their defense. All season long, the Bears had one of the best defenses if not the best defense in the NFL. After acquiring Khalil Mack in a trade from Oakland, things just seemed to fall into place after that as their defense wreaked havoc on everyone.
This season will be similar in terms of what the Bears will do on that side of the ball, but there will be some new faces carrying the torch for new defensive coordinator Chuck Pagano. Former coordinator Vic Fangio, now the head coach at Denver prided his approach on pressuring the quarterback and forcing turnovers. Although the Bears would have liked more sacks a season ago, they did create plenty of turnovers to flip momentum in games. This is how is see the secondary playing out this season.
Cornerbacks:
PRINCE AMUKAMARA: Now 30 years old, the New York Giants former first-round pick has had a solid NFL career in his eight seasons. With 10 career INT to go with 70 deflections, Amukamara always seems to be in the right place at the right time making things difficult for a QB. Armed with the rare combination of speed and size, Amukamara can play physical at the line or make up for his mistakes with speed.
Now in his third year with Chicago, Amukamara will not only continue to be a starter but look to build off his career-high three interceptions from a season ago. He also picked up his first career defensive touchdown with a 49-yard pick-six off Russell Wilson in week two of the NFL season. Amukamara also played in 15 games last season which was one shy of his career-high that he reached in 2013 with the Giants.
Projection: Starter 65 tackles 4 INT: I not only expect Amukamara to have another great season but to have a better season than last year possibly. With him being in a contract year this year he wants to prove he is still an elite player with hopes of landing one more nice deal next offseason. With that mindset and the aggressive nature of the bear's defense it would not shock me at all to see him reach levels he has not reached since coming into the NFL.
Kyle Fuller: On the other side of Amukamara stands 2014 first-round pick, Kyle Fuller. Just like his teammate on the other side, Fuller has benefitted from a much more aggressive defense in recent years allowing him to play more aggressive in the process. In return that has led to 15 career INT to go with 62 pass breakups.
The most significant difference between him and most cornerbacks is that Fuller is not afraid to hit you. Not only that, he wants to knock you out to show you his presence on the field. After bursting on the scene his first two seasons, Fuller missed all of 2016 with an injury. Since then, he has started every single game for the Bears picking up 9Int including an NFL best and career-high 7 INT in 2018. That alone was a big part of the Bears success as he killed many drives with his play.
Projection: Starter, 62 tackles 5 INT: Do I expect Fuller to have another great season? Of course, I do, but it will be hard to duplicate a seven-interception season. Despite that, it would not shock me in the slightest to see him near the NFL top once again as he thrives on being aggressive and in the right place at the right time. For the first time in career, Fuller was regarded as one of the leagues best defenders a season ago. Now it is time for him to live up to those words and get back to that level of play.
BUSTER SKRINE: After signing a three-year deal with the Bears this offseason, Skrine is one of those players who would start on most teams but maybe a reserve corner here in Chicago. At the very worst Skrine could wind up as the nickel man who would make the defense that much better as he has logged nine career INTS.
Skrine did have a down year in terms of his career play, but that hasn't stopped Chicago from believing he can once again get to a strong level on the field. After filling in as a reserve corner most of his time in Cleveland, the Jets took a chance on him in 2015 and inked him to a four-year deal to become the starting corner. He managed to pick up four career INT in four seasons with the Jets while ranking in the middle in terms of overall grades.
Projection: Starter/Reserve 43 tackles 1 INT: As stated above, Skrine would start for most teams and very well could in Chicago depending on the scheme they run. The best part about the Chicago system is that they are loaded with talent all over the secondary, which means Skrine doesn't have to be at this best to be successful. All he must do is fit in with what Pagano wants to, and he will have help from 10 other guys. That could allow him to have a breakout year for the Bears in what could prove to be a steal signing.
Look for former CFL CB Johnathon Mincy, rookies Duke Shelley, Stephen Denmark, and Sherick McManis to challenge for reserve spots on the team.