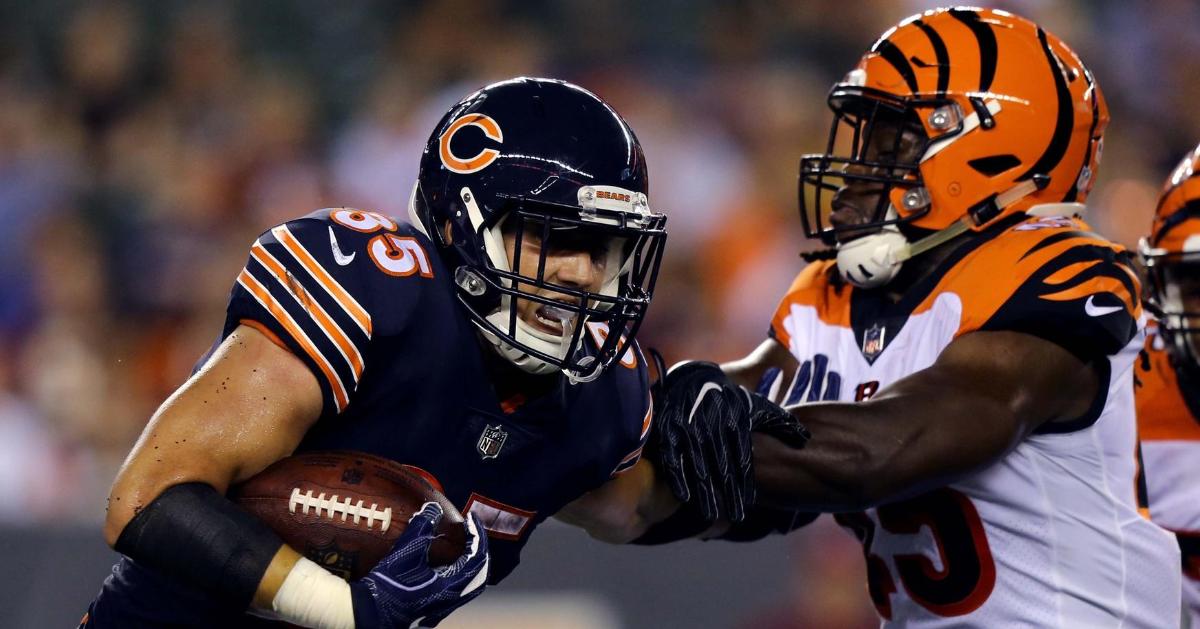 | | |
| --- | --- |
| Chicago Bears: 2019 Fullback Player Projections and possible FA targets | |
---
| | | |
| --- | --- | --- |
| Wednesday, June 19, 2019, 11:22 AM | | |
Continuing with the theme of player projections in the backfield, we move ahead to the fullbacks, which will be an exciting battle to watch all summer. As of now, the Bears have no true fullback on the roster which will make for an interesting decision in the coming weeks. Whether the Bears decide to stay in house and promote players within or find someone in free agency, this will be one of the most competitive positions to watch, despite it not being looked at as an important one.
Fullbacks: Ryan Nall: Losing Mike Burton was a huge loss for the Bears as pure run blocking fullbacks are hard to come by. One of the players to keep an eye on in terms of taking on the fullback job is 2018 undrafted RB Ryan Nall. Listed as a running back by trait, the Oregon State product was a member of the practice squad last season before being added to the active roster this year. After rushing for 2216 yards and 24 TD's in college, one may see him more as running back than a fullback.
The reason I see him as a fullback is mainly because of his body build as he is much bigger than your average running back. Nowadays, a running back generally goes 5-11 and around 215-220 give or take. Nall is not only 6-2 but pushing near 240 LBS, which would make it easier for him to put on weight versus drop weight. With a 4.58 40 time, Nall possesses some speed with that size which could turn out to be a very valuable asset all over the field. As of now, I would say he is my top option for full back if the Bears stay in house.
Kerrith Whyte Jr: This year's seventh-round pick out of Florida Atlantic; Whyte stands at just 5-11 and 200 lbs. That makes him prototypical RB size, which brings me to a player from a previous story. Under no circumstances do I see putting on enough weight to make a transition to fullback. That leads me to believe he is either a practice round player or third string back.
Given his 4.36 40 time at his pro day, Whyte may be a player that you use on special teams to use his speed. Let's say that Whyte does make the opening week roster and is moved to No. 3 back. That would mean someone is the odd man out and if that does happen, look for Mike Davis to get some reps at fullback possibly.
Davis certainly would be on the small side for FB, but if he adds around 10 pounds, he would be a big running back also which could make sense in the lone run for the team. As of right now, the Bears don't have many in-home options on who they could use at this position, so if free agency isn't there answer then, they will have to get creative on what to do.
If the Bears decide they need to test the Free agency waters to find a fullback, there are plenty of them available, but I will focus on the two that I see as the best fit in Chicago.
No. 1 FB target Tre Madden (26 years old): Madden, the former Seattle Seahawk is an interesting piece that Bears could take a look at. Standing 6 feet 235 lbs., Madden is on the smaller side for full backs, but don't let that fool you. Although not on the field a whole lot, Madden did produce well when called upon especially in the running game. With a young and still growing QB, the Bears are going to want to lean on the ground attack to take the pressure off Mitch Trubisky, and this could be one low-cost option to that.
No. 2 FB target Tommy Bohanon (28 years old): After playing for the run-heavy Jacksonville Jaguars the last two seasons, Bohanon is available on the market for a bargain price. At 246 lbs., Bohanon is a monster in terms of fullbacks and would be a substantial physical presence to have in the backfield.
Being part of a run-heavy system for the past two seasons, Bohanon is no stranger to run blocking as keeping pressure off Trubisky will undoubtedly be a key this season. One of the biggest bonuses that Bohanon would bring to the Bears is his ability to help in the passing game by catching balls out of the backfield. So far, he has logged 239 yards receiving with one career touchdown. Of course, that isn't much production, but having an emergency safety valve that can't catch passes is always a plus for any offense.
I don't see the Bears changing much on offense as of now given the success they had last year. However, if someone doesn't emerge as a clear-cut favorite in camp to win the FB job, GM Ryan Pace will not hesitate to test the FA waters to find a low-cost, but good player that can help the Bears win games in 2019.