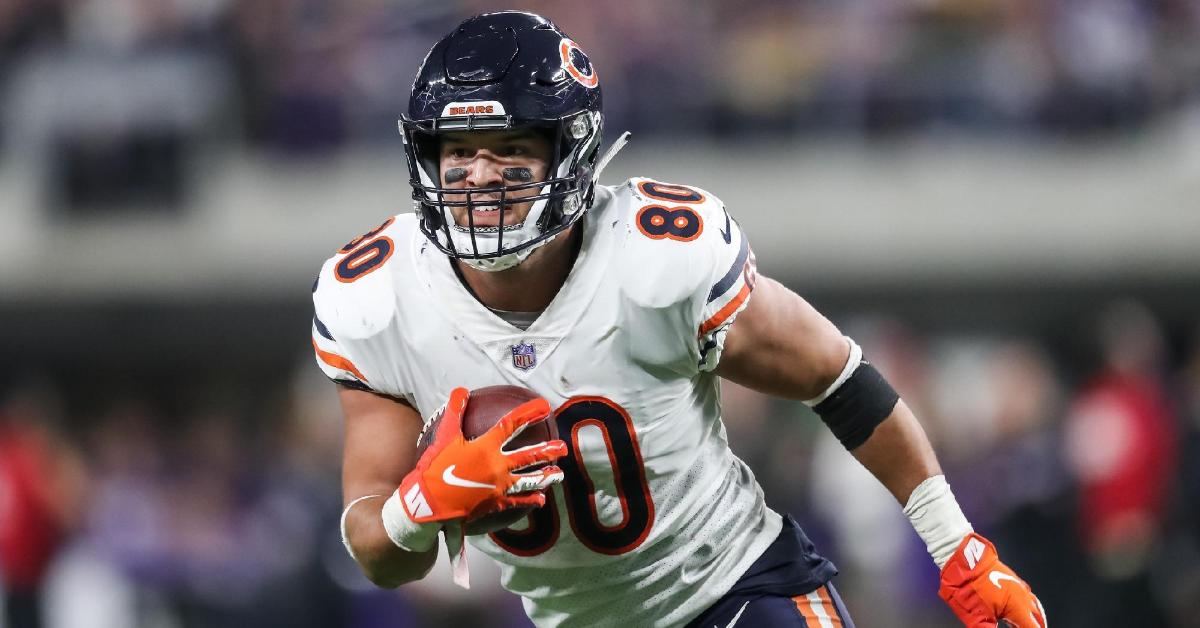 | | |
| --- | --- |
| Chicago Bears: 2019 Tight End player projections | |
---
| | | |
| --- | --- | --- |
| Tuesday, July 16, 2019, 11:22 AM | | |
The next installment for 2019 player projections will focus on the tight ends in Chicago as outside of starter Trey Burton; the rest is wide open. Tight ends are becoming a vital part of offenses across the NFL as it gives teams another wrinkle to defend. Whether you have the all-around TE Travis Kelce, red-zone threat Rob Gronkowski, blocking specialists Brandon Pettigrew or the stretch the field TE, all of them provide matchup problems that teams need to counter now.
For the Bears, outside of their starting TE, they do not have a real threat in terms of another weapon that can make things tough on a defense. That forces head coach Matt Nagy to get even more creative with his personnel, and if you look at his first season, it went very well as he seemed to push all the right buttons. With training camp about a week away, the Bears are now one of the favorites to win the division and won't be taken lightly anymore. It will be up to the entire coaching staff to get the most out of every position.
Here is how I see the tight end projections going this season pending injuries.
TREY BURTON: The former Philadelphia Eagle signed a free-agent deal with the Bears last year in hopes of becoming the starting tight end. Not only did he earn that spot but flashed his true potential in the process. After compiling just over 600 yards during his first four seasons, he burst onto the scene last year by nearly doubling his overall output. Burton finished the season last year with 54 catches for 569 yards and 6 TDS.
A smaller TE by trade 6-3 235 lbs, Burton possesses a bit more speed than what a normal TE would making him more like a smaller receiver than an actual TE. His rare ability to block well, especially for his size is what makes him an asset to this offense as they will still be a run-first team. Burton still has three years left on his deal and will only get better the more comfortable he becomes with this system. The only question is do the Bears see him as the TE of the future or will they find some new blood before his current deal is up.
Projection: 58 catches 673 yards 5TD. I expect Burton to continue to build off last season especially since he will be in this system another year. Burton may not catch as many touchdowns as the previous year, but I expect him to be targeted more and move the chains with bigger chunks of yardage than he has done in the past. If his play continues to elevate, Chicago may have found themselves an under the radar TE that could be relatively cheap when it comes time to resigning him in the future.
BEN BRAUNECKER: 2016 undrafted Braunecker from Harvard is a big dude. Standing 6-4 255 lbs., Braunecker is a prototypical TE that posses both the height and size that most teams look for in a TE. The only problem with him is outside of his experience; he is not the most athletically gifted player in the league, making it difficult for him to carve out an everyday role with a team.
Through his three-year career thus far, Braunecker has collected seven passes for 83 yards which including three receptions for 42 yards last season. He played in a career-high 15 games making two starts which was a significant step in the right direction after missing the preseason his rookie year with an ankle injury before being added to the practice squad. Since then, Braunecker has been in a constant battle with multiple players with hopes of finally securing a regular spot on the roster.
Projection: 5 catches 67 yards 1TD. Given he is now in his fourth season with the team, I would give Braunecker the inside track to become the backup TE or third TE at worst. Sure, he may not get a ton of snaps on offense, but he is valuable enough to leave on special teams where he could come in and fill in at the TE position if needed. The Bears will once again have a ton of moving parts on offense this season, so it will be up to him to stand out to the coaches this preseason to show he is worthy of a spot on the roster.
Adam Shaheen: 2017 second-round pick Adam Shaheen is an absolute monster at the TE position for the Bears. At 6-6 270 lbs, Shaheen certainly fits the mold of the Monsters of the Midway catchphrase as he truly is a monster. With just 17 catches for 175 yards and 4TD, Shaheen may be looked at as just another ordinary backup TE, but that is not the case.
Entering last season, Shaheen was slated to be the starting TE over Burton despite the big FA contract he signed. However, things quickly changed during the teams second preseason game as he suffered both a sprained ankle and foot before being put on injured reserve on Sept 2. Shaheen was activated to the roster on Nov 17, but with just five receptions for 48 yards and 1 TD, you could view last season as a lost season. Now, healthy once again Shaheen is eager to push for the starting TE job yet again with the Bears.
Projection: 27 catches 304 yards 5TD: I know that Shaheen has high hopes to be the team's starting TE, but with the production from Burton last season I don't think he can do anything to overtake that position unless Burton is lost with an injury for quite some time. Still, Shaheen should have no problem landing the backup TE spot and will see plenty of snaps on the offensive side of the ball this season. Not to mention his enormous size and you have found yourself a key RedZone target that many teams would die to have. This is a big year for Shaheen as he lost his starting spot due to injury a season ago. Who knows what may happen post this year, but a big year could spell a big future for him in Chi-town.
Bradley Sowell: Another interesting TE piece is NFL journeyman Bradley Sowell. You want to talk about a big dude, Sowell is not only 6-7 but is pushing near 290Lbs making him more of a lineman than a TE. Since being drafted in 2012, Sowell has played for five teams with both the Bears and Arizona Cardinals as his longest-tenured teams at three years each. This will be his third season with the Bears.
Sowell is not an offensively gifted TE which comes as no surprise as he has logged just one career touchdown catch in 100 games, 24 which were starts. This comes as no surprise because up until last season, Sowell was a backup offensive lineman before making the switch to TE this season. Whether that is a good decision remains to be seen, but one thing is for sure, and that is Sowell is not afraid to switch positions to have a shot with this team.
Projection: Practice squad: Sowell has had an interesting journey in the NFL so far that has seen him play all over the country. The only trouble for him has been his inability to stay with one time for very long as he has never carved out a starting role. Sometimes switching to a new position helps a player open a new chapter in their NFL lives. However, with the amount of offensive depth the Bears will have this season, Sowell will once again have a tough time carving out an opening week spot with the Bears as he may be looking for work elsewhere in 2020.
Some other names to remember for the TE position during training camp are Ian Bunting, Jesper Horsted, Dax Raymond, and Ellis Richardson. All four of these players are rookies this season, but both Bunting and Richardson have the most upside in terms of overall talent if you ask me.