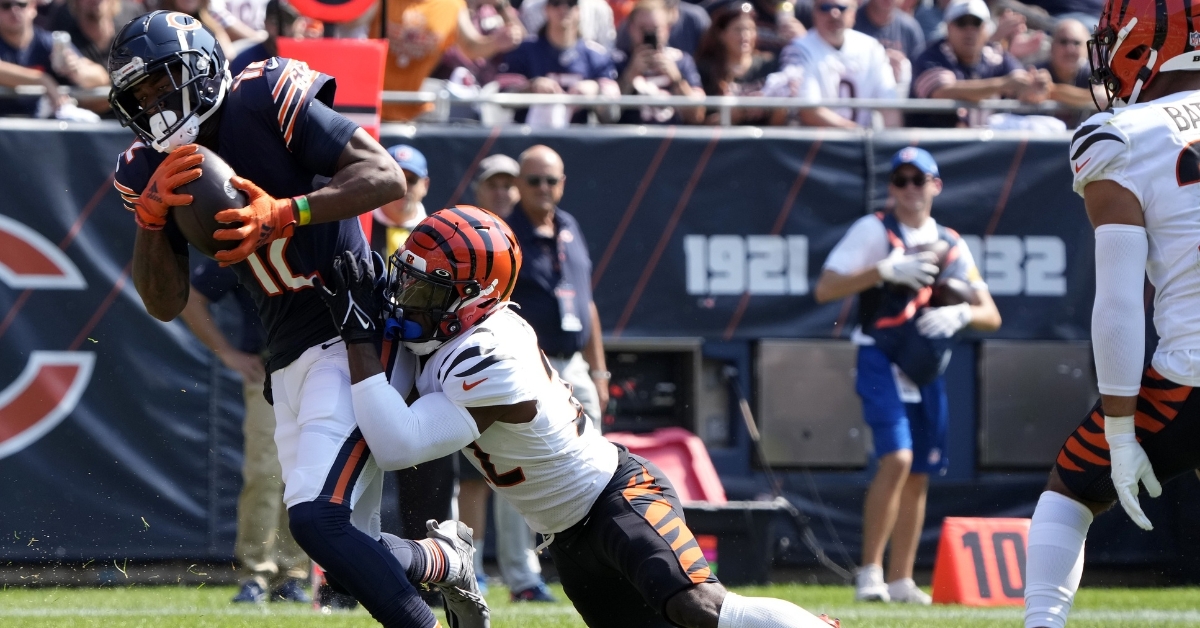 | | |
| --- | --- |
| Commentary: Allen Robinson needs to get back on track | |
---
| | | |
| --- | --- | --- |
| Thursday, November 4, 2021, 8:53 AM | | |
It is a safe bet to say the Bears have been disappointing at this point in the season. When you have a team that has invested so much over the last few seasons only to continue to underperform is a harsh reality check for Bears fans everywhere. Along with a defense who is miles away from where they once were, you have an offseason that was supposed to take the next step this season continuing to be stuck in their old ways.
Of all the offensive players that the Bears have on offense, Allen Robinson has been the most consistent player across the last three years and someone fans never had to worry about. However, after expressing his frustrations with his contract situation and settling for a franchise tag this season, Robinson is a shell of his first three years in Chicago which is a concern for Bears fans everywhere.
After averaging more than 95 catches and 1100 yards in his first three seasons with the Bears, Not only is Robinson on pace to finish with fewer than 1000 yards receiving this year, but he hasn't even accumulated 500 yards at this point with 271 yards receiving thus far. That still ranks second on the team behind Darnell Mooney and his 409, but something needs to happen for him to get back on track.
Last week, Robinson was talking about Justin Fields lack of reps during training camp, which has resulted in a lack of chemistry between the two. In some cases, that makes sense, but Mooney and others don't seem to be having these chemistry issues. Robinson is a veteran player who has been around for a while, and he needs to stop with the excuses. The bottom line is that he wanted No. 1 receiver money this offseason, and he is playing nowhere close to No. 1 receiver level.
I can handle a receiver going through a down year as long as they produce in the red zone. However, Robinson isn't even doing that as he only has one touchdown to his name so far. Clearly, Robinson has not been happy with his situation in Chicago and hasn't hesitated to make things public. However, has his frustrations reached a point where it is affecting his play on the field?
That is a fine line to cross, and I won't accuse his lack of production on that, but you have to wonder if the constant contract issues have started to weigh on him. Regardless of the problem this season, Robinson needs to step up his game now, and it is on Matt Nagy to figure out how to get Robinson to produce at the level he was the past three seasons.
When Robinson came to the Bears, he was coming off three good years in Jacksonville. At that time, no one knew how good of a player he would become, but
he proved he could be a No. 1 receiver for an organization. A big reason for his production was the sole purpose that Chicago never had another go-to option, so he was often the first, second, and third option.
Now that Mooney has emerged as a legitimate receiver, Robinson has proved he may not be worth No. 1 receiver money as his production is at an all-time low. Despite the Bears 3-5 record, Chicago is still just a .5 game out of the final playoff spot, so they are very much alive for that last spot. For the Bears to indeed overtake the Panthers, their offensive production needs to improve, and Robinson is a big part of that.
Fields continues to show potential as a QB, but he is a rookie, and his passing numbers have been less than ideal. If Robinson would even produce at half the level he has done the past three seasons, Fields would be averaging over 200 yards passing which is much more respectable. Whether the lack of reps has caused, a chemistry issue will never be known unless you are around the organization. However, it is worth nothing when you look at his overall production instead of what it was when Mitch Trubisky was here.
With the Bears set to see the Steelers on Monday night followed by a bye week in week 10, it would be the perfect time for Robinson and Fields to get on the same page. Should that happen, the Bears have enough talent to make a second-half run to make things interesting in the postseason. The final nine games could ultimately decide Robinson's future with the team, and now it is his time to prove he is worth every bit of what he was asking.