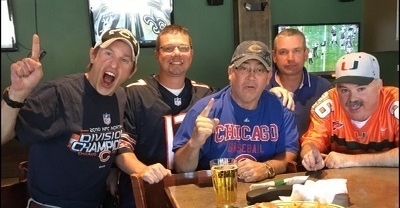 | | |
| --- | --- |
| Commentary: Bears fans stick together no matter what | |
---
| | | |
| --- | --- | --- |
| Sunday, September 4, 2022, 11:18 AM | | |
Moving to a new place is always hard. You don't know any people, and what to do. Luckily for me, when I moved to a new place in the fall of 2005, I had something that helped me find friends-The Chicago Bears.
I went to the local Sports Bar every Sunday to watch the games and was joyous as the team won the division title that year. I met a few people and heard their stories of why they loved the team, and where they were from, but nothing could match the relationships and memories that were made the following season.
As the Bears opened the 2006 season against the hated rival Green Bay Packers and destroyed them 26-0, you could tell something special was going to happen. As the game ended, the few Bears fans that were at the sports bard started a chant, that still lives on today-Super Bowl Bears!!!
As the team kept winning that year, more Bears fans started showing up, and our group became larger and larger. Suddenly we weren't only showing up for the afternoon games, but we were exchanging phone numbers, meeting at each other's house for the prime-time games, and doing are famous cheer-Super Bowl Bears!!!
As the season ended in disappointment with a loss in the Super Bowl vs. the Colts, I reminded everyone that we had a great journey, and we made friends and relationships that would last a lifetime.
That is the point of being a Bears fan. It is getting together every week with family and friends to cheer them on, and making memories that last a lifetime. Some of the friends I met back in 2006, I have even taken road trips with to watch the Bears, and as we were traveling, we laugh and talk about watching past games together, and what happened during those games.
Now, some people like myself moved away, and one of the original group members we had back in 2006 sadly even passed away during COVID, but we all keep in touch and try and get together as much as we can, and even try and establish new Bears Fans Clubs in the cities we have moved to.
So, as this fall rolls around, remember to get together with family and friends and watch the Bears. Sometimes it gives people who are down something to look forward to, slapping high-fives, cheering, and making memories and friends that last forever.
Hopefully, Justin Fields and company can make our cheer come true in the near future. Super Bowl Bears!!!