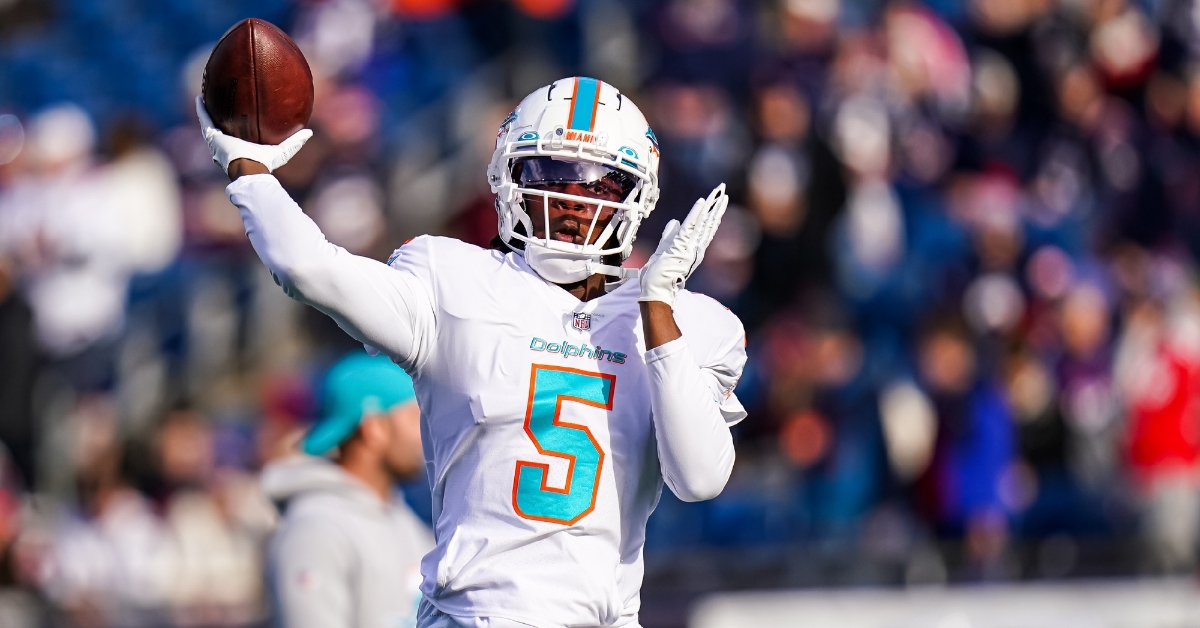 | | |
| --- | --- |
| Commentary: Bears need a veteran backup for Justin Fields | |
---
When the Bears chose to draft Justin Fields three years ago, the deal was made with the hopes of him being a franchise QB for this team. Through two seasons, the jury is still out on Fields, but he did show significant growth last season, leading most NFL experts to believe Fields is the real deal.
Fields didn't start right away as a rookie and was sitting behind Andy Dalton the first few weeks until he got his chance and ran with it. Last year, it was Fields' job to lose, and he had the job all season, minus a few games missed to do injury. The same can be said about this season, as his position is safe unless an injury could force him to miss time.
Should that happen, the Bears will be in a considerable predicament as they need a reliable backup that they can count on for multiple games. Sure, Nathan Peterman and PJ Walker have NFL experience, but neither has had much success, and you continued to see that last season. That is why having Dalton on this roster a few years ago was so crucial.
He was a long-time NFL veteran that has had success in this league and is someone you could count on should Fields go down. This Bears roster is arguably one of the more improved rosters heading into the season, but all those improvements could go out the window should Fields go down for a significant amount of time. That is, of course, unless the Bears sign a backup QB that they can trust, and there are a few out there that make sense for this team.
One un-signed QB has seen success as a starter but has also been one of the best backups the last several years. He would be the perfect addition to add behind Fields as he would be the ideal mentor and a guy the Bears could count on if they needed him. That QB is Teddy Bridgewater, who is still a free agent despite some strong games for the Dolphins last season.
Bridgewater was once a Pro Bowl caliber QB, only to have a serious knee injury derail his season in 2016, and he has never been the same since. Sure, he has gotten his opportunities, but he has never been given an outright starter job since his time in Minnesota, as he has thrived in the backup role the past seven seasons. After turning down an offer to join the Lions, Bridgewater not only remains a free agent, but many feel he is the best free agent QB left on the market ahead of guys like Carson Wentz and Matt Ryan (likely retired).
Although he hasn't been to the Pro Bowl since leading Minnesota to the playoffs in 2015, Bridgewater has thrived in his recent roles and has done well when called upon. His last big opportunity came with the Broncos in 2021, where he started 14 games and finished with a QBR of 94.9. After Denver elected not to bring him back after committing to Russell Wilson, Bridgewater chose to sign as the Dolphin's backup last year and started two games before missing time with a finger injury.
That lingering finger injury could be one of the reasons why he remains un-signed, but his talent is too good for him to be left un-signed once training camp breaks. When you look at the current state of the Bear's backup QB position, Bridgewater is a significant upgrade over both of them, and his addition puts Chicago in a better position to succeed.
He is a bigger and better version of Walker and has far more success than Peterman has shown during his handful of starts. Walker may be the favorite to land the backup job right now, especially considering he is 28 years old and is 4-3 as a starter. His problem has always been turnovers, as he has 11 interceptions in 15 career games.
On the other hand, Bridgewater is 30 and will turn 31 this season, but he still has plenty of miles left. Not only has he thrown for more than 15000 yards with a completion percentage of around 64%, but he is 33-32 as a starter. That may not be an excellent record, but it does show you the experience he brings to the table and that he can hold his own when called upon.
Another thing Bridgewater has done an excellent job of is taking care of the football, as he has just 47 interceptions. He also doesn't throw for many TDs, as he hasn't even topped 80 career scores. A big reason for that is the personnel he had to work with, although the Dolphin's offense was loaded last season.
Joining the Bears would give Bridgewater one of the better offensive units to work with, and he would come into the perfect situation. Like the Dolphins, Bridgewater would know his role with this team and would be signing as a backup. However, he would also understand the importance of giving Fields the veteran leadership that he needs.
Upgrade Your Account
Unlock premium boards and exclusive features (e.g. ad-free) by upgrading your account today.
Upgrade Now