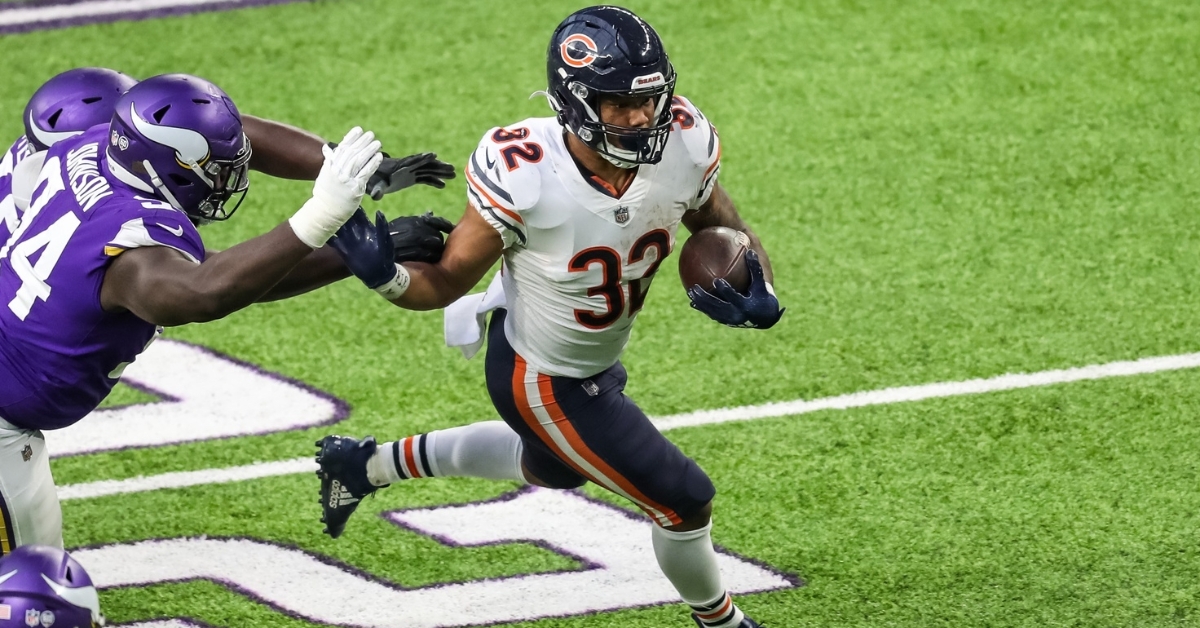 | | |
| --- | --- |
| Commentary: Bears should keep David Montgomery | |
---
There has been a lot of talk about what the Bears should do in the offseason, particularly surrounding their running back situation, as David Montgomery is set to be a free agent at the end of this season. However, they should not let him go to another team. Instead, the Bears should franchise tag or sign Montgomery to a deal.
Montgomery just finished his fourth season with Chicago, and while this season was statistically his least productive season with a career-low of 801 rushing yards, he still has consistently put up solid numbers that have shown how reliable he is. Furthermore, he is involved in the passing game with a total of 316 receiving yards. In every season in the NFL, he has finished with at least 1,000 total yards.
One other important thing to keep in mind for Montgomery is his experience within the Bears' system. He has had four seasons of working with the Bears; Montgomery has developed some chemistry with quarterback Justin Fields and has established himself as an important presence for the Bears. Honestly, he should be a team captain for the Bears next season (especially because the Bears traded two of their captains for the 2022 season with Roquan Smith and Robert Quinn). With Khalil Herbert also in the backfield, the two are a good duo and certainly complement well with Fields and his rushing ability. The three of them together is what made Chicago the No. 1 rushing offense in the NFL, the only team with greater than 3,000 rushing yards total. Busting up that trio just would not make sense for the Bears.
If Montgomery did not play for the Bears next season, he would either be replaced by rookie Trestan Ebner who only had 54 rushing yards all season, or would be replaced in the draft or free agency. Going into the draft, you are taking a risk that a player will pan out instead of sticking to a player you know fits well within the team. In free agency, many of the running backs set to become free agents are more expensive than Montgomery.
The only exception to this for someone who could be considered a replacement for Montgomery would be the Lions running back, Jamaal Williams. However, in his six years in the NFL, this was the first season where he had a total of 1,000 yards or more. Further, prior to this season, Williams only had a total of 13 rushing touchdowns in his first five seasons. Montgomery has been more consistent, and with Williams breaking the Lions' rushing touchdown record set by Hall-of-Famer Barry Sanders, they may want to keep him anyway.
So, should the Bears sign Montgomery to a contract or franchise tag him? Giving him the franchise tag does not make a lot of sense, especially since Chicago has so much money to spend now on players. Running backs do not get paid the high salaries of wide receivers; for example, elite running back Derrick Henry for the Tennessee Titans only has a base salary of $10,500,000 going into the 2023 season. As Montgomery has not run for 2,000 or more yards in a season like Henry, Montgomery probably would not have as much of a base salary as Henry currently does. There are a number of big-name running backs that are currently set to go into free agency, though, such as Saquon Barkley from the New York Giants and Josh Jacobs from the Las Vegas Raiders. Whether they stay with their teams or not, they are most likely going to get large contracts that would raise the bar for what running backs should be paid. Despite the salary of a running back like Henry, the running back position is one of the only positions that hasn't seen a massive pay raise recently. So, the Bears would be wise, if they want to sign Montgomery to a future contract, to do it sooner rather than later.
Signing Montgomery to a contract would not prevent them from spending money on other players, either. According to Spotrac, Chicago currently has $98,838,266 to spend on their players and even signing Montgomery to a $10,000,000 contract would leave them with a lot of money to spend on their other needs.
Another thing to keep in mind is that the Bears have not had a constant presence at running back since Matt Forte. Jordan Howard was a good running back who broke the franchise rookie rushing record, previously held by Forte, with 1,313 rushing yards back in 2016. He was traded to the Philadelphia Eagles back in 2019 and is currently on the New Orleans Saints. Ka'Deem Carey was drafted by Chicago back in 2014, he has not played since 2016. Jeremy Langford was drafted back in 2015; he finished his career with the Atlanta Falcons in 2018. Montgomery has been the primary back for the Bears since his rookie season and the Bears are lacking consistency at this position. While it will probably cost a little more money to keep Montgomery than drafting a rookie, there is something to be said for consistent play and a consistent presence in your backfield.