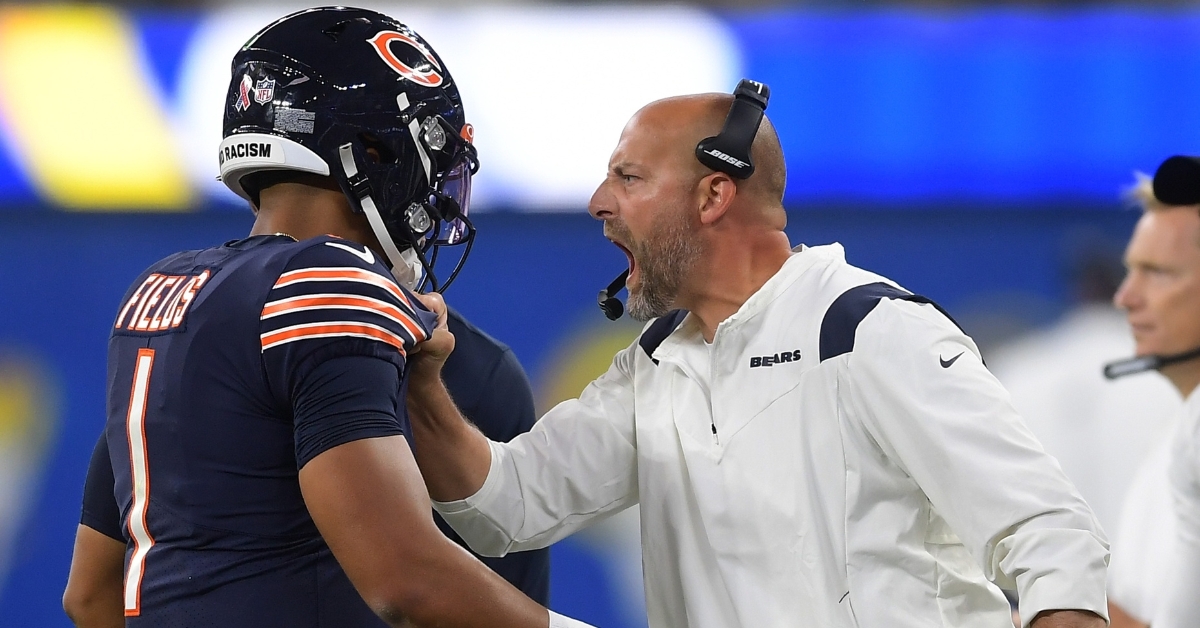 | | |
| --- | --- |
| Commentary: Drastic changes need to be done with Bears | |
---
| | | |
| --- | --- | --- |
| 2021-10-26 10:09:23.0 | | |
Reading into the title of this column, it will be music to Bears fans ears as they too are fed up with Head Coach Matt Nagy. After four years at the helm of this team, Nagy has been nothing but a .500 coach at best apart from his first season. Not to mention he had two first-round QBs in Mitch Trubisky and Justin Fields and didn't know how to use them properly.
After backing Nagy since the beginning, the Bears higher-ups may be reaching a breaking point with him, and if that is the case, they need to do something about it to win back some trust. The Bears are one of the NFL's oldest franchises and have been one of the most successful franchises in NFL history. However, the past 40 plus years haven't gone as smoothly, with the Bears winning one Superbowl during that time and reaching another before losing to Peyton Manning and the Indianapolis Colts.
The better part of the last decade has been even worse, with wins hard to come by, which is now reoccurring again with Nagy. Sources close to the team have indicated that the mood inside the ownership room is intense and they are becoming fed up with the play and performance of this team. That falls on Nagy and his ability to get this team ready on Sundays, so if they are getting fed up, the time is now to do something about it.
Fans have already seen Nagy and his staff potentially ruin Trubisky's career by not using him correctly. So far in his five starts, Fields is going backward, and his development appears further behind than anyone expected. Could that be a result of Nagy's coaching? If so, Chicago needs to ax him immediately before he destroys another promising young QBs career.
This is not something out of the blue, as fans have heard this story before. The problem is, nothing has ever come from it as the Bears ownership group appears content to be in mediocrity. Going back to last season, there were reports that there was a lot of tension surrounding Halas Hall during the Bears by week, given the lack of offense they were showing.
None of those tensions were addressed publically, but many felt that both Nagy and GM Ryan Pace were on the hot seat the rest of the way. That didn't seem to be as accurate as some thought, as not only did both return once again, but now the Bears are sitting in the same position for a third consecutive season. At some point, you need to face your problems head-on, and Nagy and Pace are the problems.
If I were an owner of the Bears or part of the ownership group and expressed being fed up with this team, I would make drastic changes to prove a point. Whether firing the coach, GM, or both, I would look to send a message to say we are no longer tolerating subpar play. For some reason, I think the Bears will wait until the bye week to see where they are at before making any significant changes, if at all. Why not make the changes now if you are this fed up?
Ironically, with Nagy testing positive for COVID, this could be a blessing in disguise for Chicago. Currently, no one knows the status of his coaching situation for Sunday, but let's say he is not on the sidelines Sunday. Chicago will need to look for someone to lead the way, and it could be all the Bears need to see.
Say what you want about Bill Lazor calling the plays. Nagy still has some input on that, and you can see it based on how the team plays and responds. Without Nagy on the sidelines, it will be Lazor's game plan, and he will be in charge. Let's say the Bears not only go out and win without Nagy, but the offense plays great while the team looks better than they ever have. Would you then point the finger back at Nagy to say he is the issue?
I never want to wish any ill on anyone, but if the Bears are genuinely fed up and want to move on from Nagy, this could be their opportunity. With COVID possibly keeping him out of Sunday's game, the Bears will get a chance to see how the team performs without him on the sideline. You can bet that if they look miles better, there will be a lot of heat on the Bears front office regarding Nagy as his seat will be on fire at that point.